Digital Experience Monitoring (DEM) provides insight into the experiences of employees and customers as they interact with applications and devices. DEM provides a comprehensive view of the end-user experience and the factors that influence it, allowing digital transformation to be translated into successful business outcomes and a digital competitive advantage.
Digital experience monitoring assesses the availability, performance, and quality of what an end user encounters when using apps and contemporary business systems. It focuses IT on the core purpose of making technology work for its users, allowing them to be more productive and efficient.
Digital experience monitoring helps IT operations teams resolve issues by monitoring the health of all systems between end users and applications. It quickly pinpoints degradations by comparing real-world user experience with application and network performance.
DEM helps IT understand the user experience in the context of a modern IT infrastructure, while traditional tools monitor and manage technology performance.
Employing a combination of viewpoints and technologies, digital experience monitoring begins with the actual user experience and then relates it to the underlying network and cloud infrastructure. This guarantees that IT organisations are focused on issues that affect productivity rather than warnings and alarms.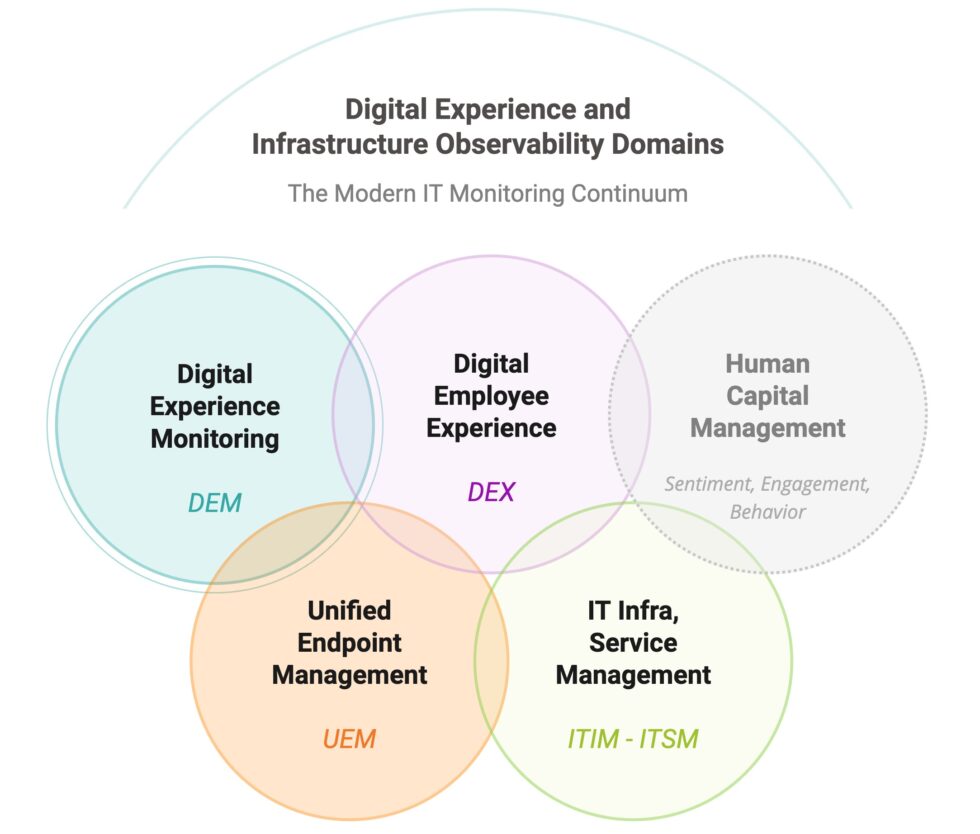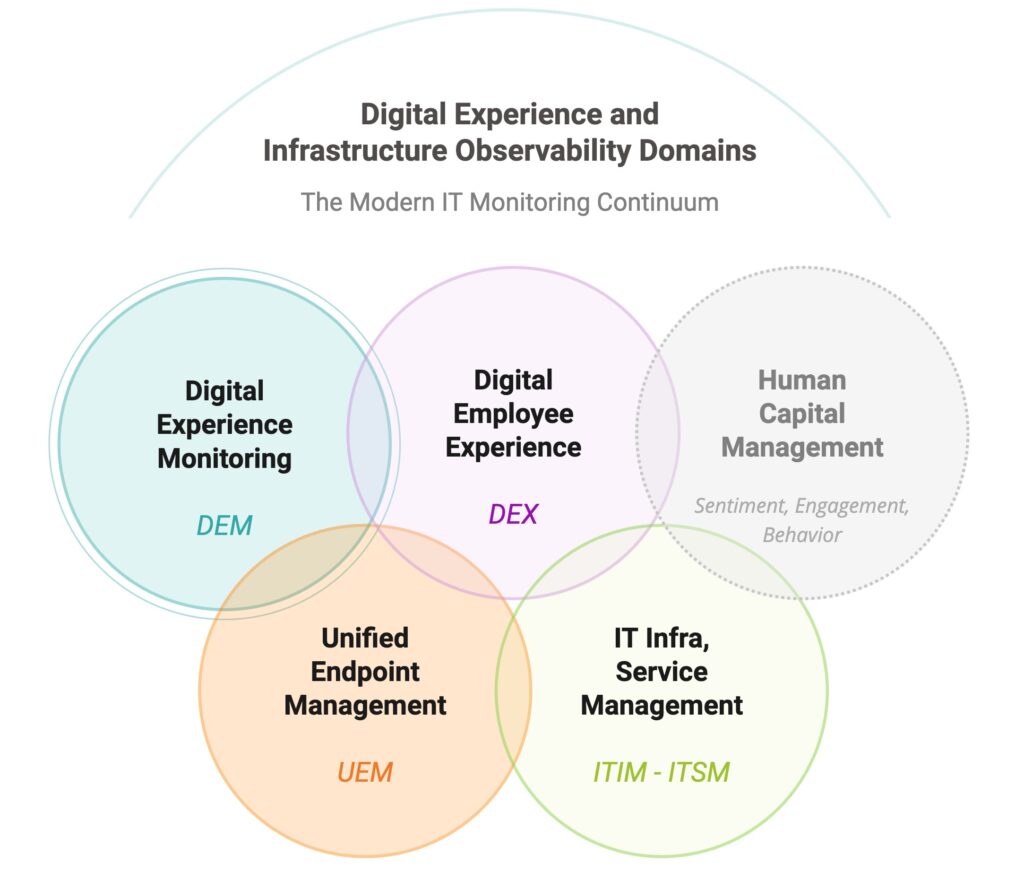 Why is Digital Experience Monitoring Important?
Digital experience monitoring provides deep insight into the end user experience, proactively monitoring performance and pinpointing issues, whether they are in the local network, on an end user's device, with the ISP, within private or public clouds, or SaaS applications, such as Salesforce, ServiceNow, SAP or MS Teams or Office 365.
With the massive adoption of SaaS, PaaS, and the cloud, tying legacy systems' limited viewpoints to the real user experience has become increasingly complicated. Since SaaS and cloud services have no access to infrastructure or apps, DEM is necessary to monitor them and deliver an optimized digital experience.
A variety of issues can lead to a degraded user experience, from the user's device or browser to an ISP or an issue with cloud hosting. Understanding why a problem occurs is the first step toward solving it. DEM tools are designed to rapidly identify problems and point teams toward the most effective solution.
This capability can reduce the mean time to resolve issues from weeks to minutes, as evidenced by DEM deployments at leading multinational enterprises.
DEM Adoption Accelerates
Remote work, digital workplaces, and digital transformation are driving demand for digital experience monitoring technologies. According to Gartner's Market Guide for DEM, at least 60% of I&O leaders will use DEM to measure application, service, and endpoint performance from the user's perspective by 2026, up from less than 20% in 2021. By 2025, 70% of digital business initiatives will need in-depth digital experience metrics, up from 15% today.
Improving and ensuring employee productivity is a central objective of DEM. For organizations implementing hybrid and work-from-anywhere models, measuring the employee experience has become critical to improving productivity, engagement, and retention.
How Does Digital Experience Monitoring Work?
The increasing use of externally hosted and SaaS applications and endpoints operating outside of corporate offices and networks results in IT's responsibility for services over which they have less control. Traditional monitoring technologies, such as APM or NPM, can fill some needs but leave visibility gaps, such as internet routing, DNS, CDN and edge infrastructure. DEM measures performance from the user's point of view and can uncover the impact that degraded performance has on productivity, revenue generation, brand reputation, and customer loyalty.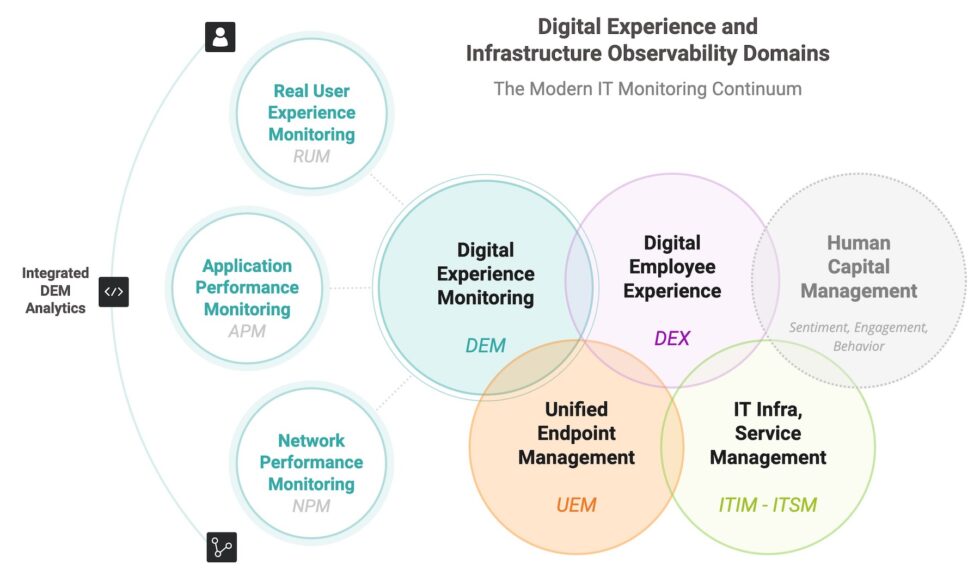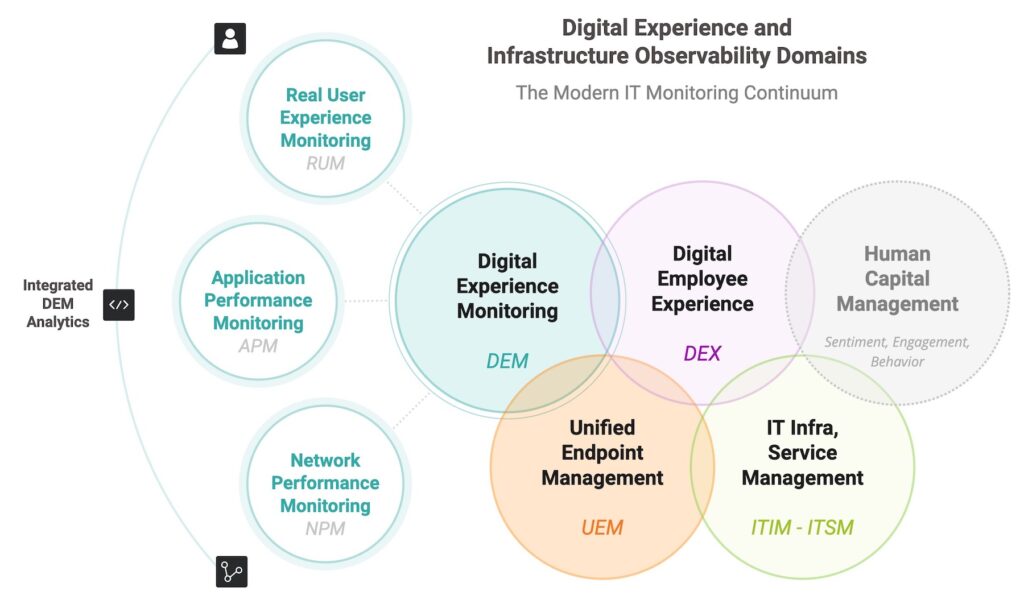 As a result, DEM combines multiple monitoring approaches and vantage points to provide a clear view into the digital experience of the end user and all of the different infrastructure components that can affect it. There are three main components to DEM tools that each play a unique role in improving observability for IT:
Application performance monitoring (APM)
Real user monitoring (RUM)
Network performance monitoring (NPM)
Seeing things from multiple vantage points reveals the dependencies and bottlenecks that ultimately define SaaS application, cloud, and hybrid working performance. A diversity of perspectives provides 360-degree visibility into the SaaS user experience, and the domains and infrastructure that can impact it.
By integrating these technologies, DEM creates a comprehensive view and analysis of the employee and customer experience and, ultimately, the impact on business efficiency. This insight becomes critical as more applications and workloads move to the cloud, and IT loses visibility and control of the applications' and services' infrastructure components.
Application Performance Monitoring (APM)
APM focuses on monitoring performance from the standpoint of the technology itself, rather than the user's experience with the application while using it. APM tools typically instrument code or use packet-based flow analysis to capture transactions and identify bottlenecks in application delivery chains.
This method is largely ineffective for monitoring the performance of SaaS and web-hosted applications, where code cannot be instrumented, network traffic is encrypted directly to the user's browser, and hosting users are widely dispersed. Instead, SaaS and cloud-native application performance monitoring methods directly measure transactions from users' browsers, providing in-depth insight into all host names related to the activity they are performing, as well as network performance to all of those locations. This approach resembles real-time user monitoring more than traditional APM solutions.
Real User Monitoring (RUM)
SaaS-centric RUM (also known as "end-user experience monitoring" or "EUEM") refers to the collection of data from real users interacting with SaaS and web applications. RUM solutions typically collect real-time data about page load times, HTTP requests, response times, events, app crashes, and other factors using a JavaScript snippet or a browser extension.
Best-in-class solutions avoid deploying agents on end user devices because doing so can degrade performance and is also not possible with Chromebooks, mobile devices, or when employees use unmanaged devices. Real user insight is invaluable for identifying issues affecting the customer journey and experience, as well as performing root cause analysis.
Network performance monitoring (NPM)
Because network performance is so important to the digital user experience, DEM tools must be able to provide end-to-end network path performance and visualisation from the user to the application, including all intermediate hops in between. In addition, the DEM solution should be able to monitor SD WAN, direct internet access, private, cloud, and hybrid networks, as well as the impact of SASE/CASB zero trust network access solutions (ZTNA).
By leveraging full path insight into the performance of each interaction, IT operations teams can understand what is occurring at each step along the service chain, ultimately allowing them to identify and resolve bottlenecks, improve uptime, and deliver a better user experience.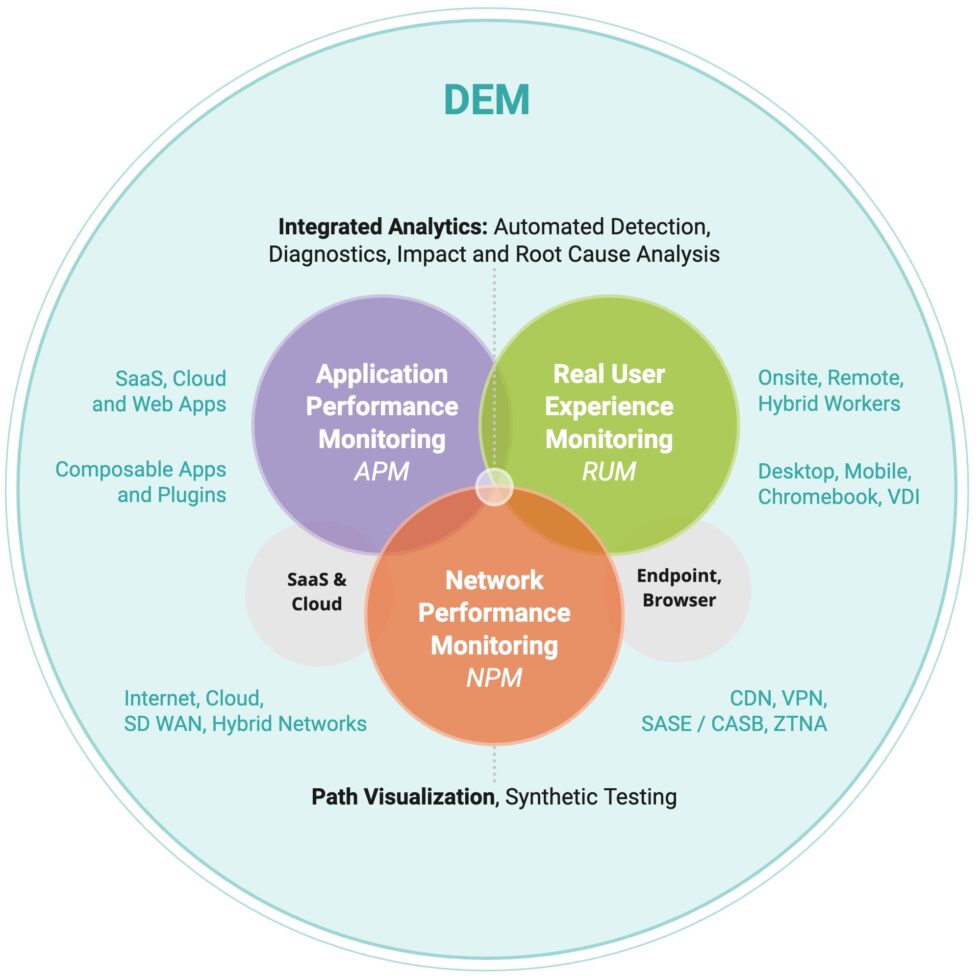 Integrated Analytics
The goal of these technologies is to understand the actual user experience by gaining a top-down perspective into application and network issues. The ability to analyse and align various data sources for actionable insight provides complete visibility into the performance of SaaS, web, and cloud applications.
Integrated analytics that correlate network, application, end-user device, and experience data allow IT teams to run diagnostics, perform root cause analysis, and proactively fix performance issues to improve business outcomes.
Benefits of Digital Experience Monitoring
The main goals of an effective digital experience monitoring strategy are to accelerate troubleshooting time for complex SaaS, web, and hybrid applications and to enable IT organizations to proactively optimize performance of applications and the resulting digital experience.
Some of the key business benefits include
Accelerated problem resolution: DEM solutions allow IT, development, and QA teams to start troubleshooting by determining if the device, network, or app is the issue. It's easier to identify and prioritise performance issues.
Improved productivity: User behaviour and the user journey are crucial to productivity. An effective DEM strategy can help your organisation reduce downtime and outages.
Increased IT efficiency: DEM supports digital transformation initiatives by assisting desktop, security, network, and helpdesk operations teams with triaging and resolving user experience issues. ITOps teams can focus on more productive tasks and solve problems more quickly thanks to DEM solutions.
Reduced complexity and cost: A unified view of digital experiences reduces reliance on expensive, complex point monitoring solutions that only add more noise and technical debt to already overworked organizations.
Increased customer satisfaction: When your company is performing at its best, you can better serve your customers, deliver a higher net promoter score (NPS), differentiated products, and more competitive pricing.
Enhanced digital workplace: Workforce digital performance—the ability to use technology to improve business outcomes—drives the digital workplace. Robust digital performance creates an engaging, intuitive workplace and employee digital experience.
Characteristics of an Effective DEM Platform
Effective digital experience monitoring tools monitor, benchmark, and directly measure the digital experiences of every end user, whether on-site or working from home, as well as the infrastructure that drives performance. Legacy monitoring solutions like APM, NPM, and RUM fail to scale to modern cloud applications or resolve all infrastructure domains and their interactions.
A new generation of DEM solutions is emerging to address the complexities of web-based applications, modern devices like Chromebooks, tablets, and "bring your own device" users, and hybrid connectivity that relies heavily on internet and cloud network interconnection.
Modern DEM solutions can be deployed in minutes and scaled up to meet global enterprise needs without new hardware, agents on devices, complex packet brokers, or tapping schemes. Integrated analytics allows advanced alerting, proactive detection, and automatic diagnosis of the most likely root causes.
Kadiska Digital Experience Platform
The Kadiska platform directly measures SaaS application performance—response times and errors for every transaction, host, and user—to identify connectivity, security, browser, and hosting issues affecting onsite and remote employees across all business regions. Dynamically detect, diagnose, resolve, and optimise SaaS application performance, employee digital experience, and productivity with uninterrupted visibility.
Get a demo and try Kadiska for free. We guarantee you will see things differently.