IT Operations hybrid networks and hybrid cloud performance monitoring, SaaS and web application digital experience monitoring for IT ops management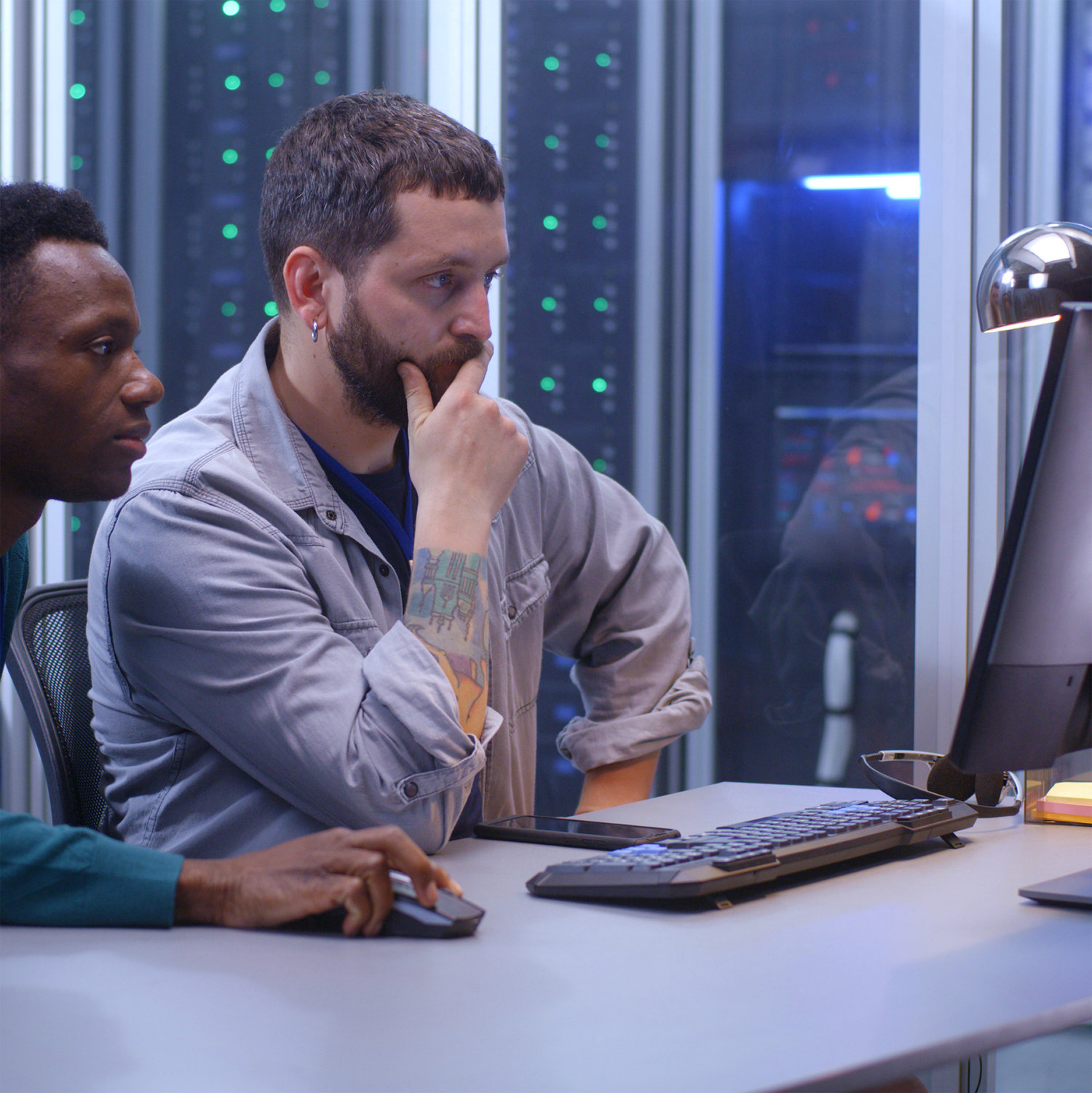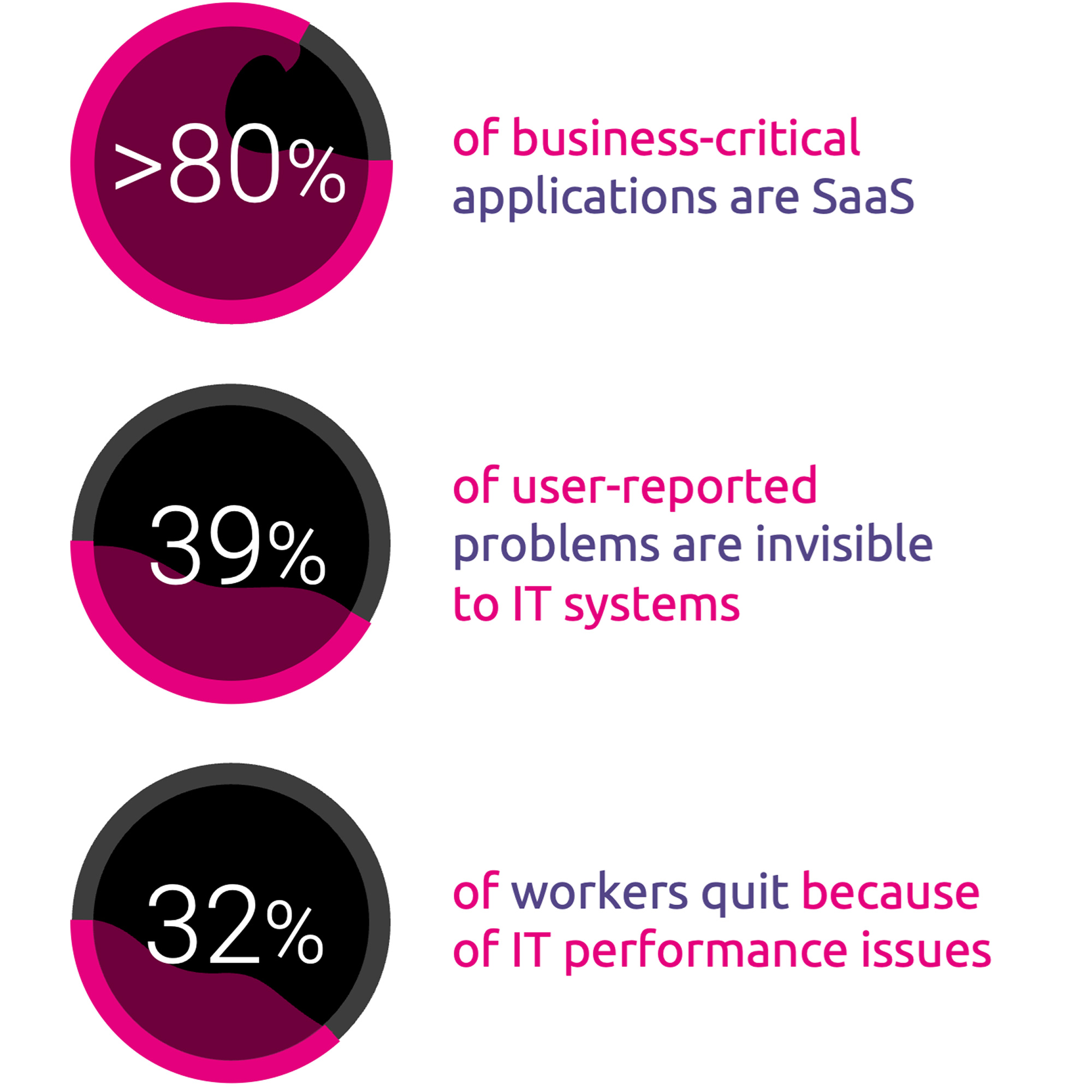 IT operations management is more complex than ever with hybrid cloud, SD WAN and hybrid connectivity, SaaS and modern web applications and work from home employees. Information technology operations management faces a new reality where existing Network Performance Monitoring (APM), Application Performance Monitoring (NPM) and Real User Monitoring (RUM) software solutions struggle to keep up with IT ops visibility challenges.
What is IT Operations Today?
IT Operations management has changed with SaaS accounting for more than 80% of business critical apps¹. Visibility is fading, with IT operations reporting that they can't detect 39% of user reported issues with their existing performance monitoring solutions². When issues are difficult to resolve it has an important impact on the business. Last year 32% of workers quit because of IT performance issues, at a time when talent is scarce³.
IT ops needs to deliver a flawless user experience to onsite and work from home employees, optimize the performance of SaaS applications, web and hybrid apps, and manage multi-cloud connectivity across SD WANs and cloud networks.
IT operations management is facing a visibility gap. Existing NPM and APM tools are blind to much of this modern infrastructure.
The IT Ops Visibility Gap
SaaS and PaaS applications and IaaS prevent code-level instrumentation
Encryption and highly distributed hosts and users prevent effective traffic analysis
Real user monitoring agents can't be deployed on BYOD used by work from home employees
Synthetic testing struggles to keep up with evolving cloud native and SaaS applications
Hybrid networks are subject to dynamic route changes that are difficult to diagnose
DNS resolution and SASE/CASB proxy redirections introduce regional performance issues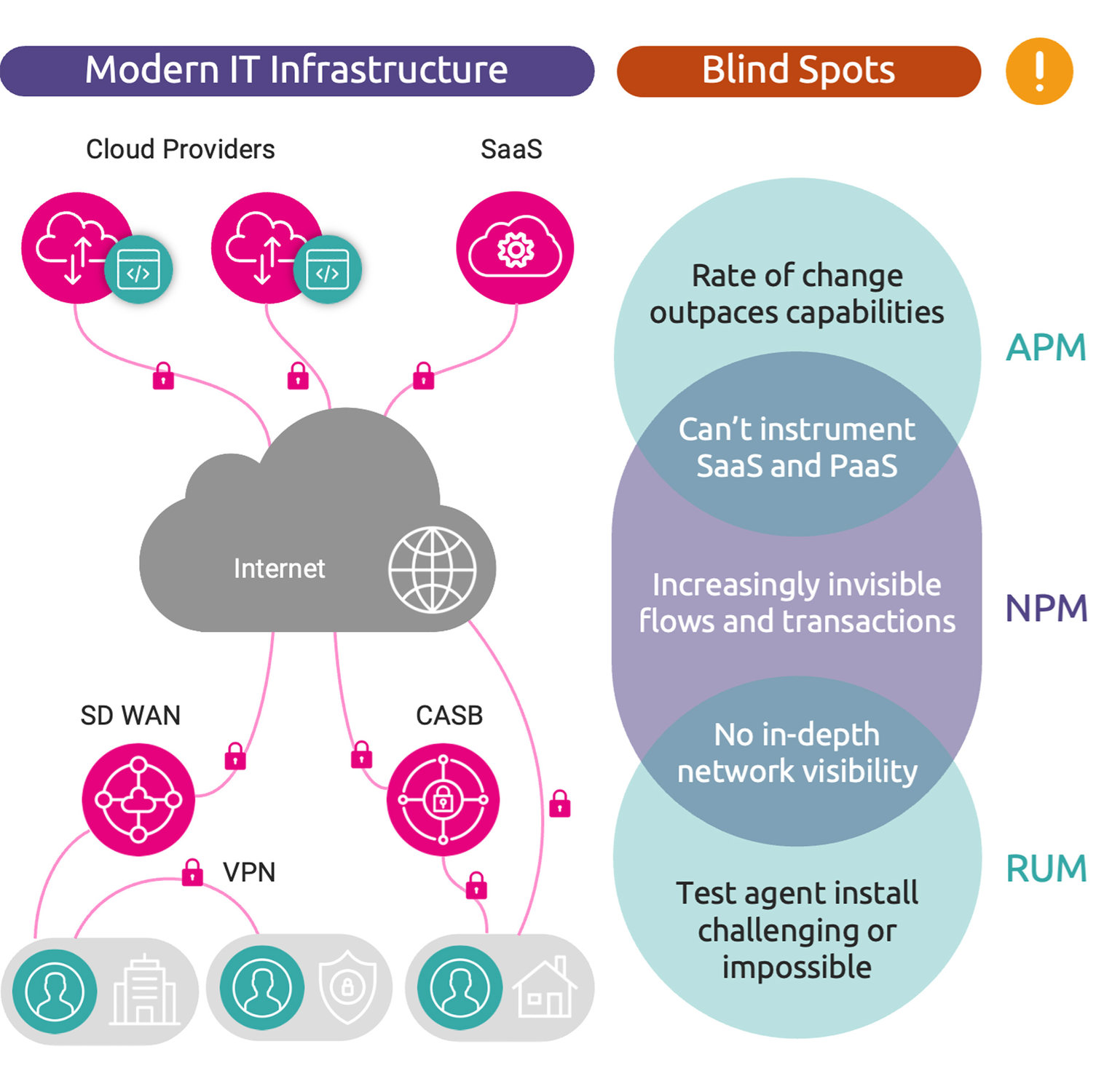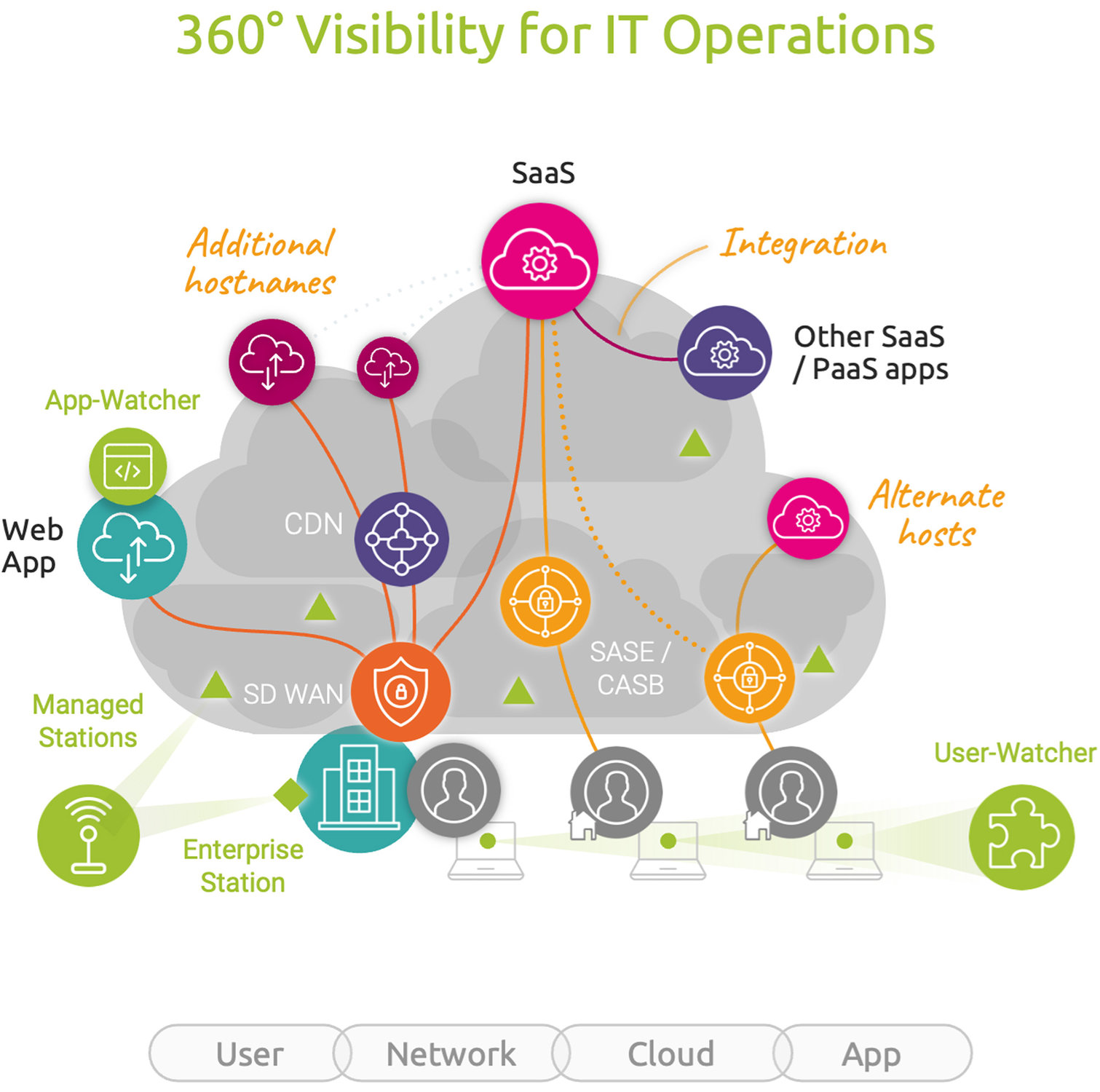 IT Operations Monitoring Solution
IT operations needs to monitor and analyze user digital experience and hybrid network performance from every user device, across any network connection to SaaS and web app cloud hosting infrastructure.
Unlike traditional NPM and APM solutions, Kadiska was designed to monitor the performance of cloud native applications and services and users' digital experience. IT operations teams regain control over SaaS and cloud native applications, hybrid networks and multi-cloud connectivity to deliver a competitive business advantage.
Monitoring Visibility for IT Operations
Kadiska offers 360° visibility across these layers and domains so IT operations can rapidly detect, troubleshoot and optimize performance issues and enforce SaaS, cloud and provider SLAs. Intelligent insight allows IT operations to optimize onsite and remote worker productivity, and to deliver an amazing digital experience to local and global customers.
Digital Experience Platform for IT Operations
Kadiska's self-driving monitoring platform delivers 100% visibility into the performance of modern applications from both user and network perspectives. It offers IT operations integrated insight across devices, connectivity, cloud infrastructure and applications to simplify performance troubleshooting and optimization. It helps IT operations focus resources on delivering important business benefits.
Benefits to IT Operations Performance
Grow digital business faster with optimized apps and infrastructure.
Optimize performance and productivity of customers and employees.
Reduce churn and enhance customer loyalty.
Extract the most value out of end-to-end IT infrastructure.