Android Enterprise Mobility Performance Monitoring
Mobility performance management for Android enterprise devices: fix app and WiFi issues, boost mobile workforce productivity and enterprise mobility management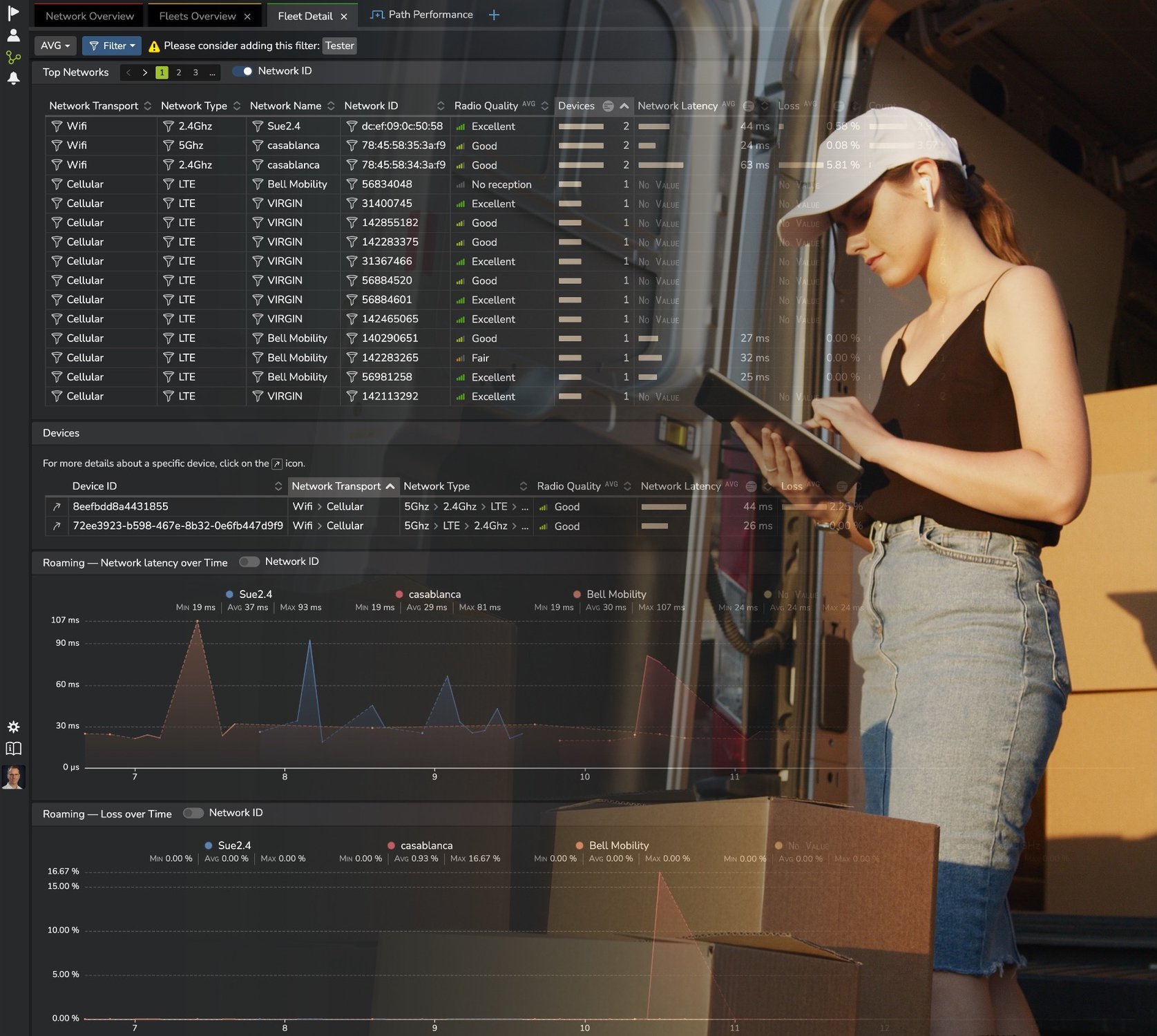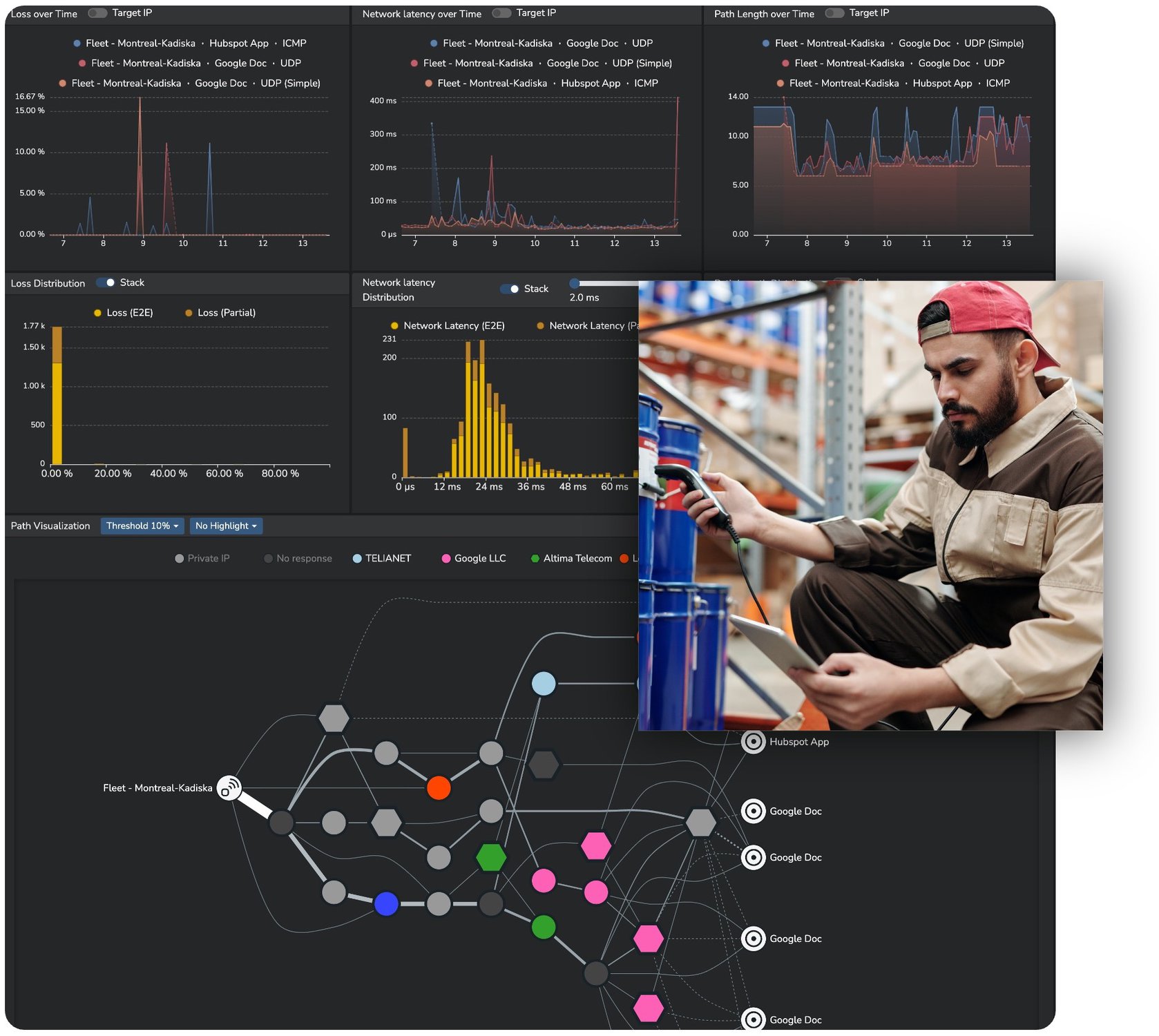 Enterprise Mobility Performance for a Productive Digital Workforce
Mobile Workforce Performance is Essential
Mobility performance drives productivity for 80% of the digital workforce in retail, logistics, healthcare, manufacturing and banking, where 72%—178 million—use Android enterprise devices. Every day a quarter of the mobile workforce are impacted by performance issues totalling 50 hours of lost productivity per employee, annually.
Top Mobile Device Performance Management Issues
Mobile device management (MDM) is complex; performance issues can result from many sources:
Connectivity issues (Wi-Fi, mobile, internet)
Hardware problems and poor battery life
App conflicts and performance issues (device / cloud)
Enterprise mobility management (EMM) teams often struggle to identify performance issues and quickly isolate their origin, resulting in frustrated employees, delays and lost business.
* Sources: Dimensional Research, IDC and Strategy Analytics, 2022
Enterprise Mobility Management Performance Visibility Gap
EMM vs. Mobile Performance Management
79% of organizations say they lack effective mobile performance visibility. EMM/MDM solutions–essential for device deployment, management, and security–lack detailed performance monitoring to troubleshoot and optimize mobile workforce productivity.
Monitoring Mobile Connectivity to App Performance
When mobile apps are slow or unresponsive, poor network performance is often to blame. Basic Wi-Fi, LTE / 5G metrics are insufficient to detect the origin of issues, as the end-to-end connectivity path between device and app often includes:
Wi-Fi / cellular connectivity
Enterprise LAN
VPN / secure cloud gateways (SASE / CASB)
Direct internet access / ISPs
SD WAN, MPLS and hybrid networks
Cloud networks and CDNs
When any part of this complex network path degrades, mobile users suffer. The Kadiska platform continually maps and monitors all network segments between devices and applications to rapidly detect and pinpoint complex connectivity issues.
* Source: Netmotion 2022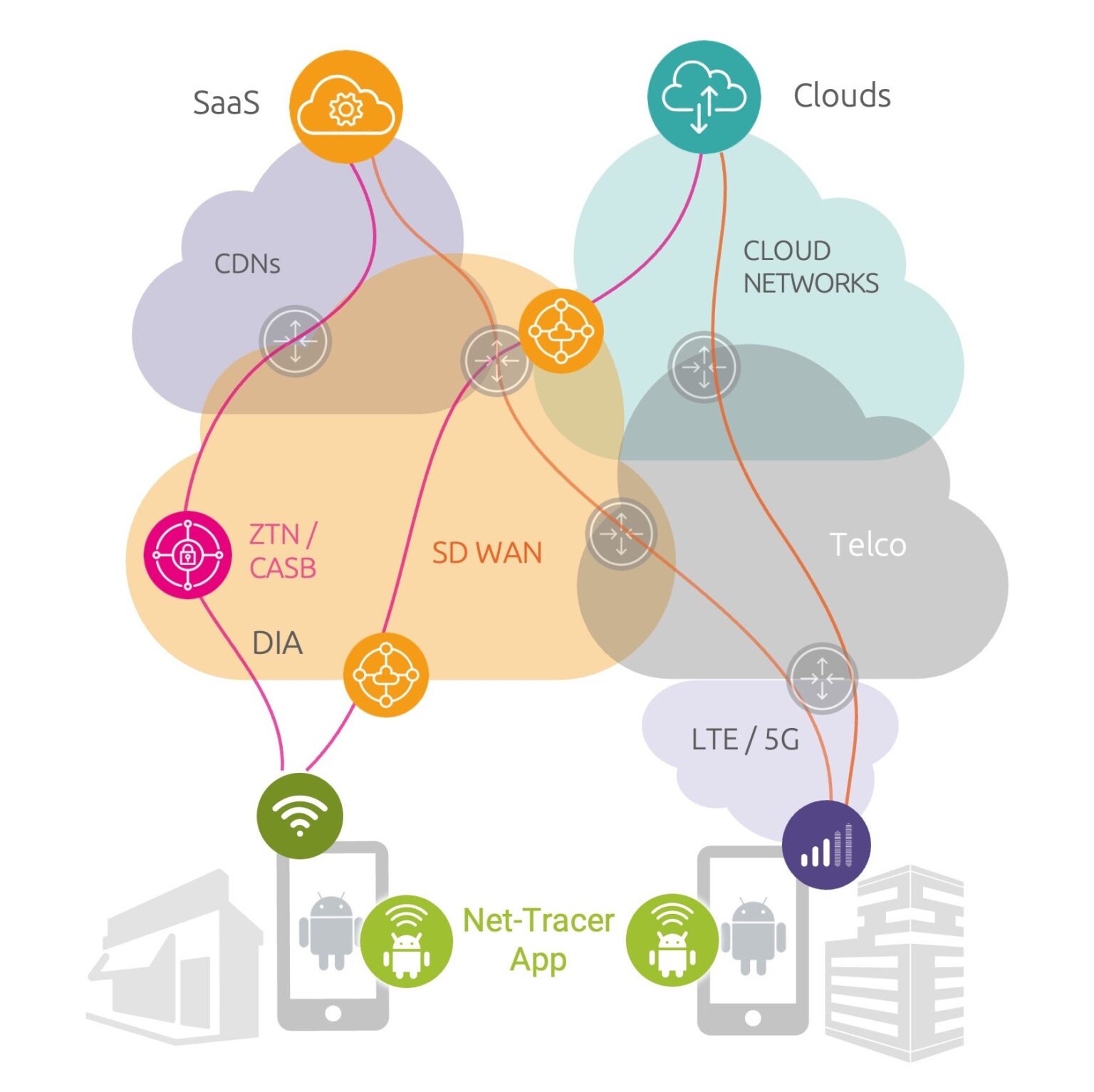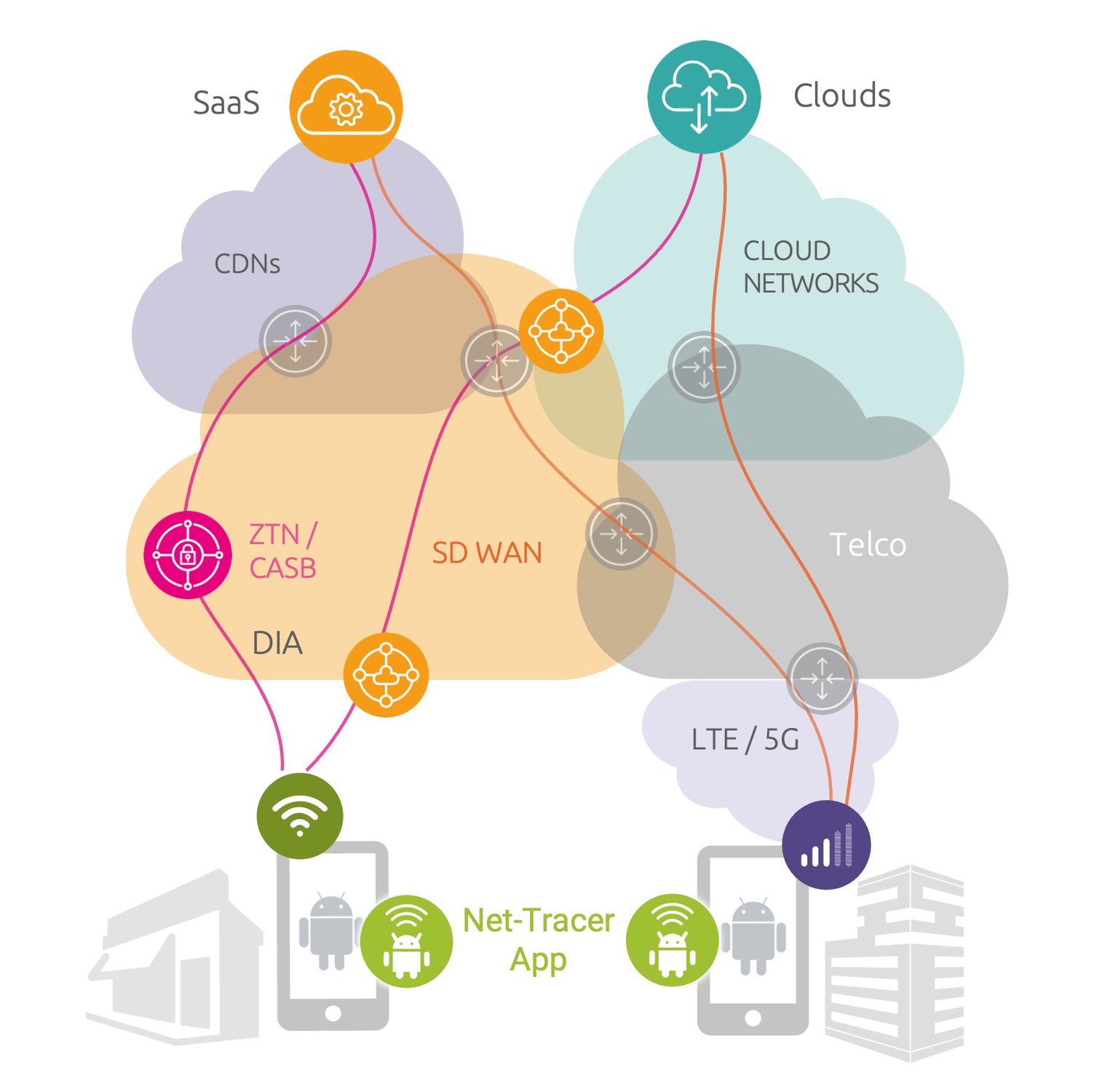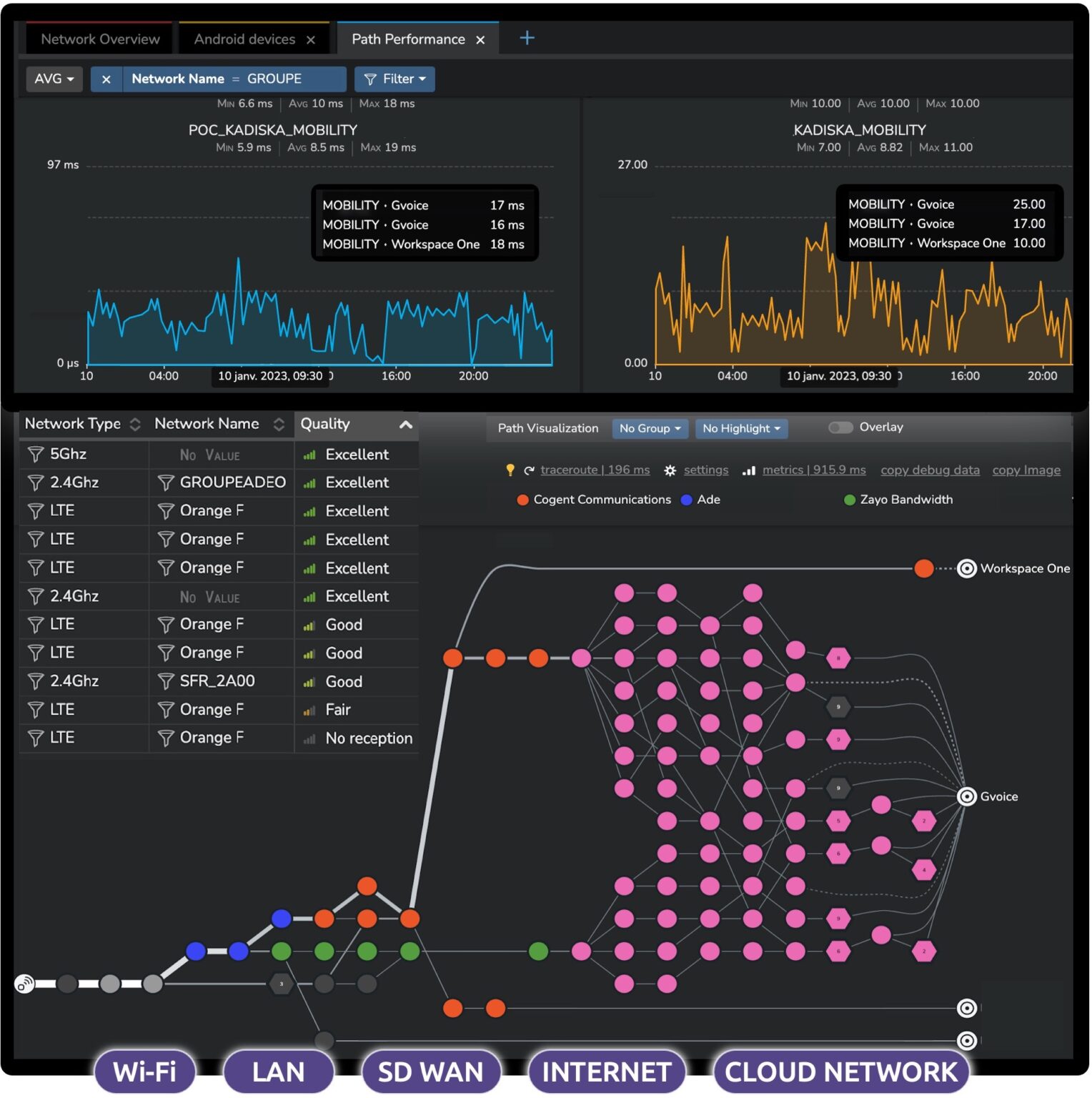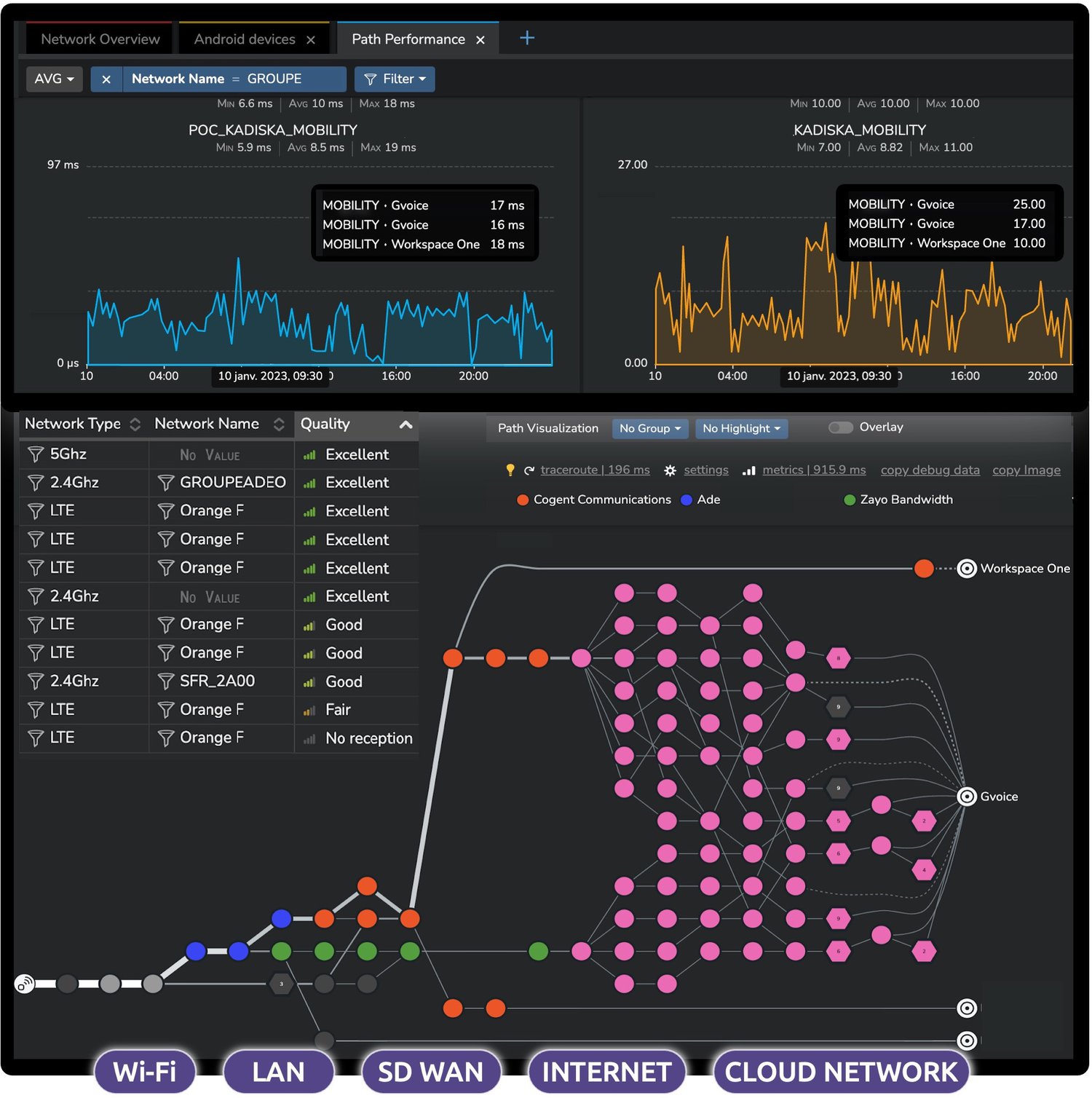 Monitor Mobility Performance from Device to Cloud
Android Enterprise Fleet Performance Monitoring
Kadiska's Android Net-Tracer app efficiently monitors end-to-end network performance to cloud-hosted apps without impacting battery life.
Wi-Fi, Mobile, Internet, SD WAN and Cloud Network Monitoring
Be alerted when issues occur, and where they originate:
Eliminate blind spots, end-to-end
Determine root cause: network, app, or device
Monitor Wi-Fi, LTE and 5G connectivity and roaming
Identify Wi-Fi access point issues
Track performance across ISPs, MPLS, and cloud networks
Detect latency from DNS / TLS and CASB/SASE proxies
Reduce MTTR from weeks to minutes
Real-time and historical performance data by device, fleet, site-branch-store, and app and provides evidence to quickly assign the right team, and to effectively resolve issues with app vendors and service providers.
Enterprise Mobility Digital Experience Monitoring Platform
The Kadiska digital experience platform was designed to continuously monitor application and network performance to accelerate remediation and proactive performance optimization. Integrated analytics across application, device, and network path eliminates guesswork by alerting IT and mobility management teams to the source and scope of performance degradations affecting employee digital experience and productivity.