Hybrid working digital experience monitoring for optimal hybrid workplace and work from home productivity, work from home application and internet performance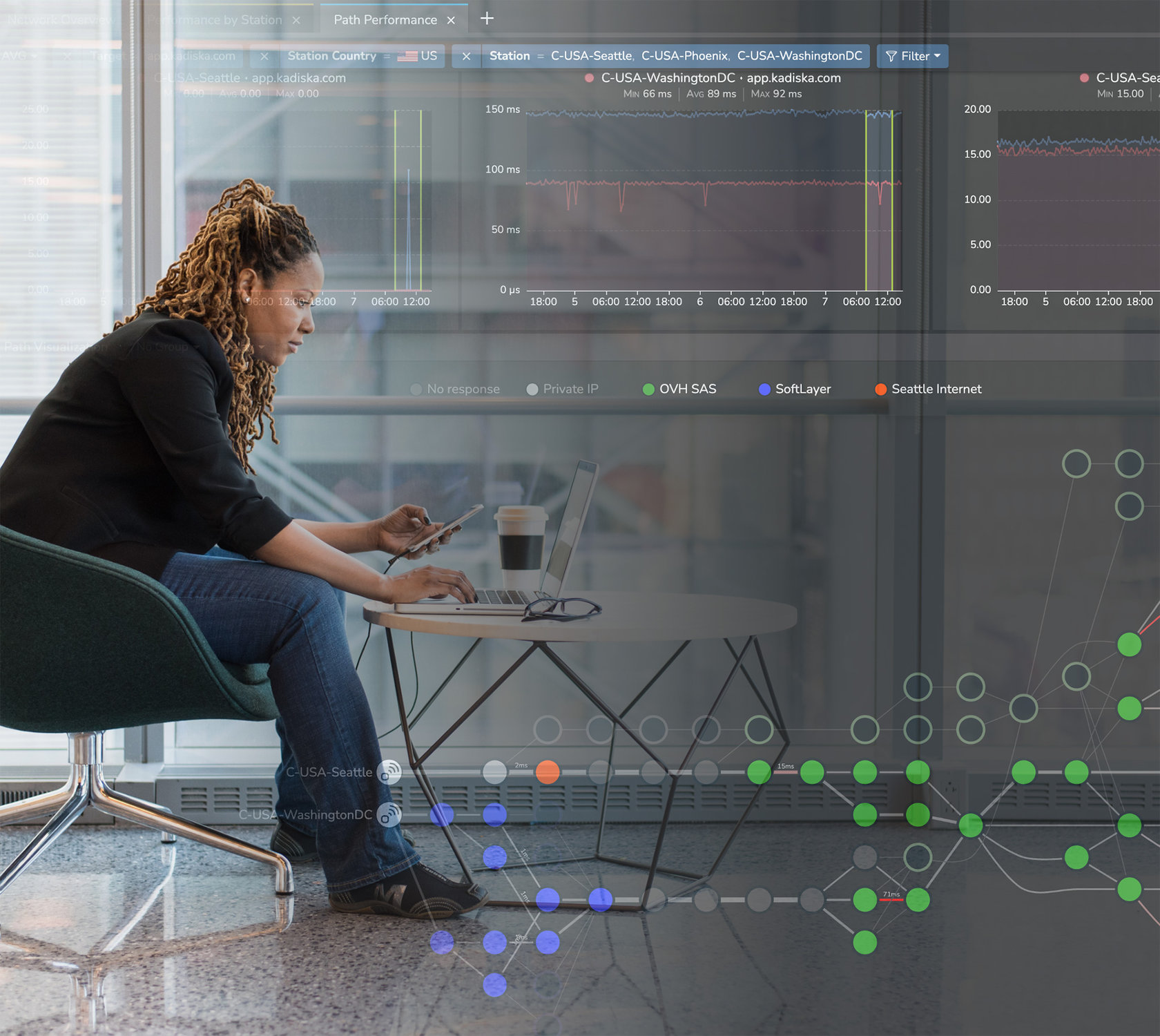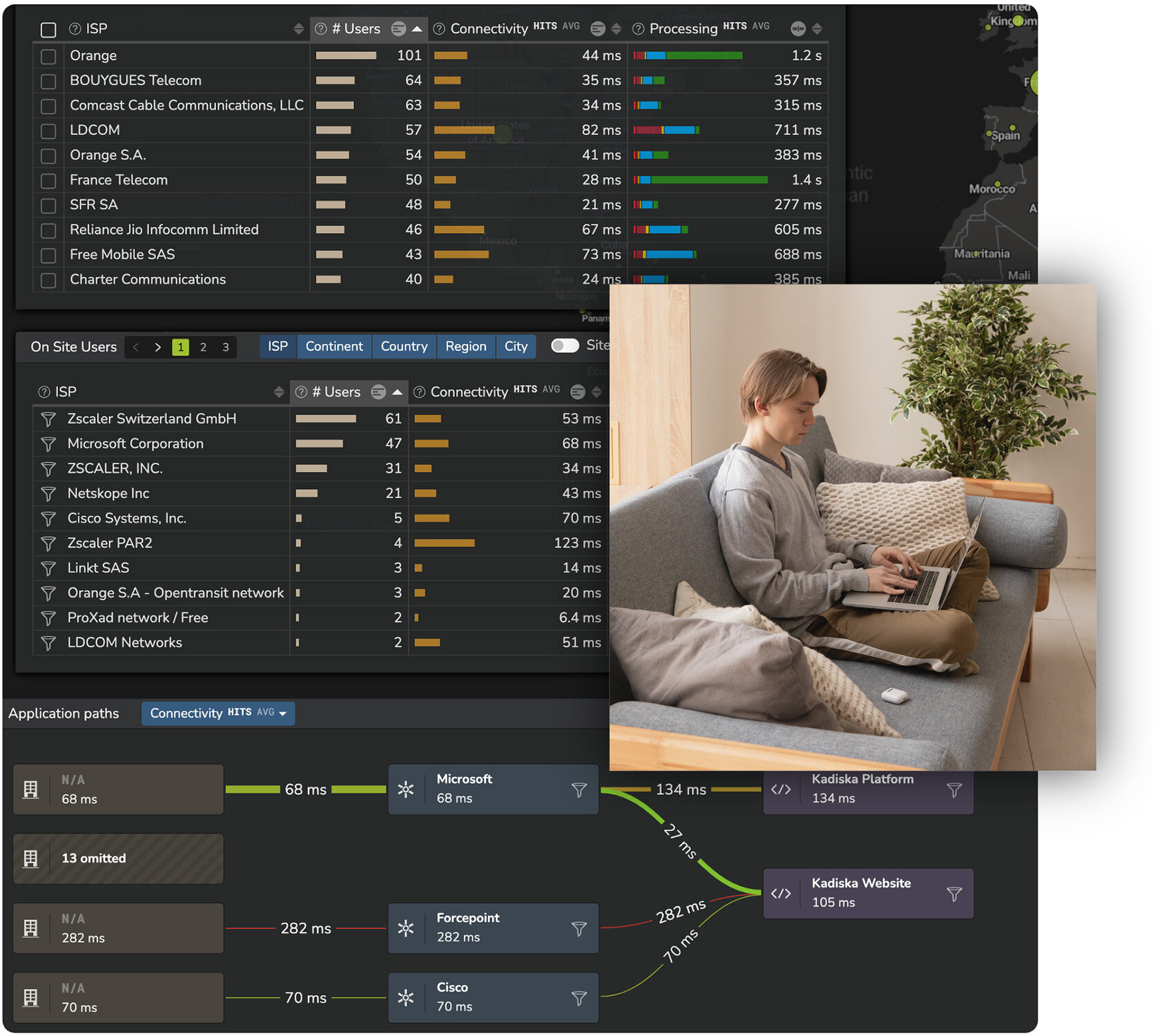 Hybrid Working Performance
Hybrid workers expect to be equally productive in work from home and onsite locations, with important consequences if they can't perform. Hybrid working comes with new challenges for IT, including BYOD adoption, work from home WiFi, internet, VPN and CASB security performance. By taking control of this new infrastructure, hybrid working strategies can deliver a competitive edge.
Work from Home Monitoring Essentials
Digital experience monitoring for hybrid working requires an integrated view of user experience, application and network performance adapted to SaaS, cloud, SD WAN, hybrid and zero-trust networks–in the context of each employee's location, the applications they use, and how they connect:
Latency, loss and path performance between users and applications across hybrid, public, SD WAN networks and CDNs
Processing and redirection delays from CASB security and DNS providers
Device, internet and browser performance issues
SaaS, private, packaged and composed application performance: transactions, loading and response times
Digital experience of web collaboration apps and office suites (Zoom, Teams, Office 365, Google Workspace and Meet, Slack)
Refactoring Visibility for Hybrid Working Productivity
Traditional NPM and APM tools were not designed for the hybrid working application reality of encrypted traffic, highly dynamic public and hybrid networks, distributed SaaS applications and users' devices that can't be instrumented.
Kadiska's Net-Tracer and User-Watcher eliminate this visibility gap so your teams can efficiently collaborate to optimize work from home and on premises worker performance.
Benefits of Hybrid Working Performance Monitoring
Optimize hybrid worker digital experience and productivity
Understand the impact of workplace context on user performance
Trend employees' application usage and how they connect
Deliver peak SaaS and internal app performance to all locations
Rapidly detect, scope, diagnose and resolve performance degradations impacting applications, sites, regions, ISPs or devices
Effectively manage CASB, SD WAN, telecom and SaaS providers, and their commitments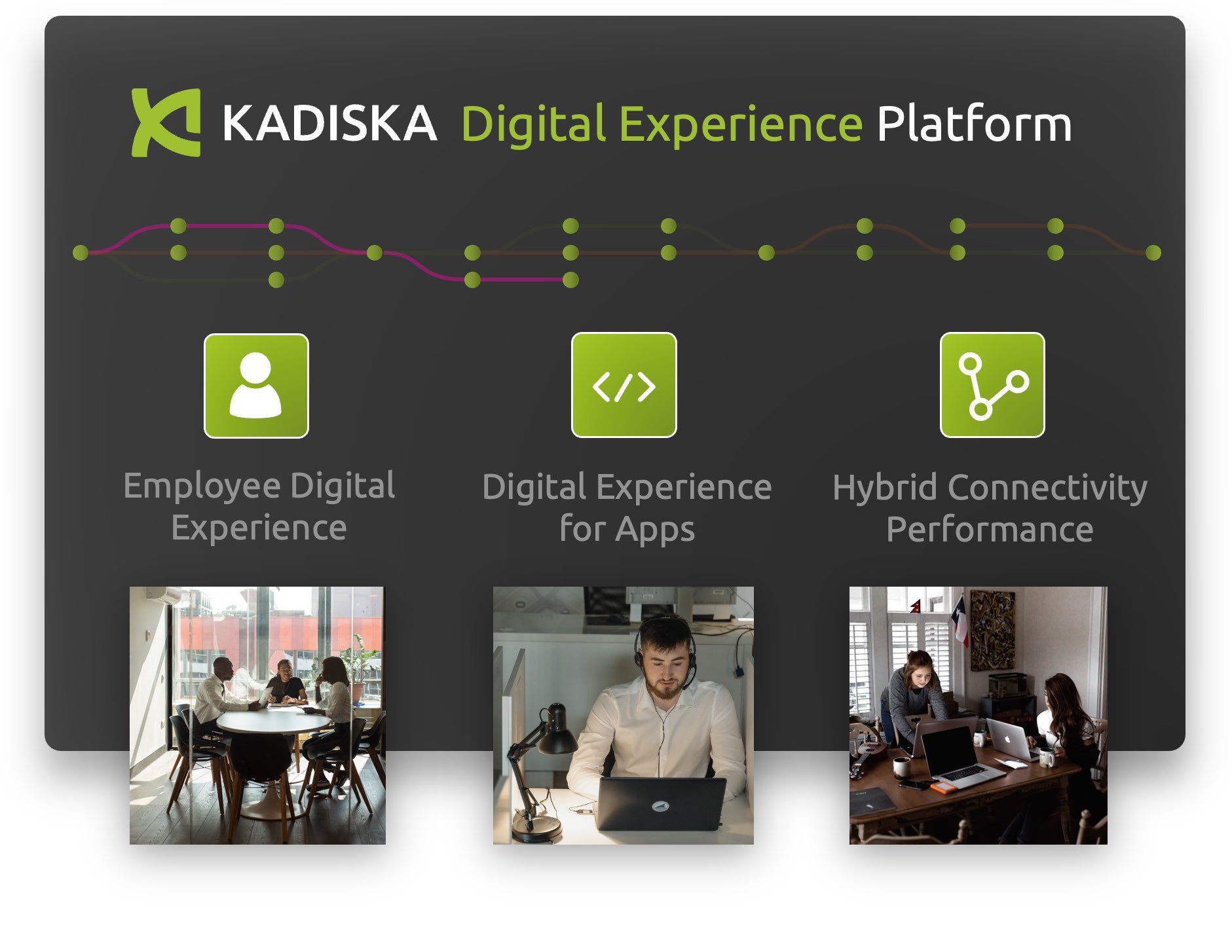 Hybrid Working Digital Experience Monitoring Platform
The Kadiska digital experience platform was designed to monitor the hybrid working digital experience with agentless real user monitoring, web and SaaS application performance monitoring and a global footprint of test stations. See work from home, onsite and remote employees' experience to optimize productivity across all locations and connections.