SaaS Performance Silently Impacts Productivity
SaaS applications are business critical, but user experience and application performance are difficult to troubleshoot and maintain. IT and Network Operations teams' existing tools (APM, NPM, RUM) are incapable of instrumenting SaaS applications and the dynamic, hybrid networks that deliver them (SD WAN, SASE / CASB) to onsite and remote employees.
There are lots of moving parts in the SaaS application delivery chain that makes it difficult to understand if SaaS performance is degrading, and what to do about it. See this infographic for an overview of how legacy approaches have a hard time coping.
There's no doubt that it's a critical issue: 42% of SaaS users report consistently poor performance, while IT reports that 39% of user experience issues aren't detected by existing systems.*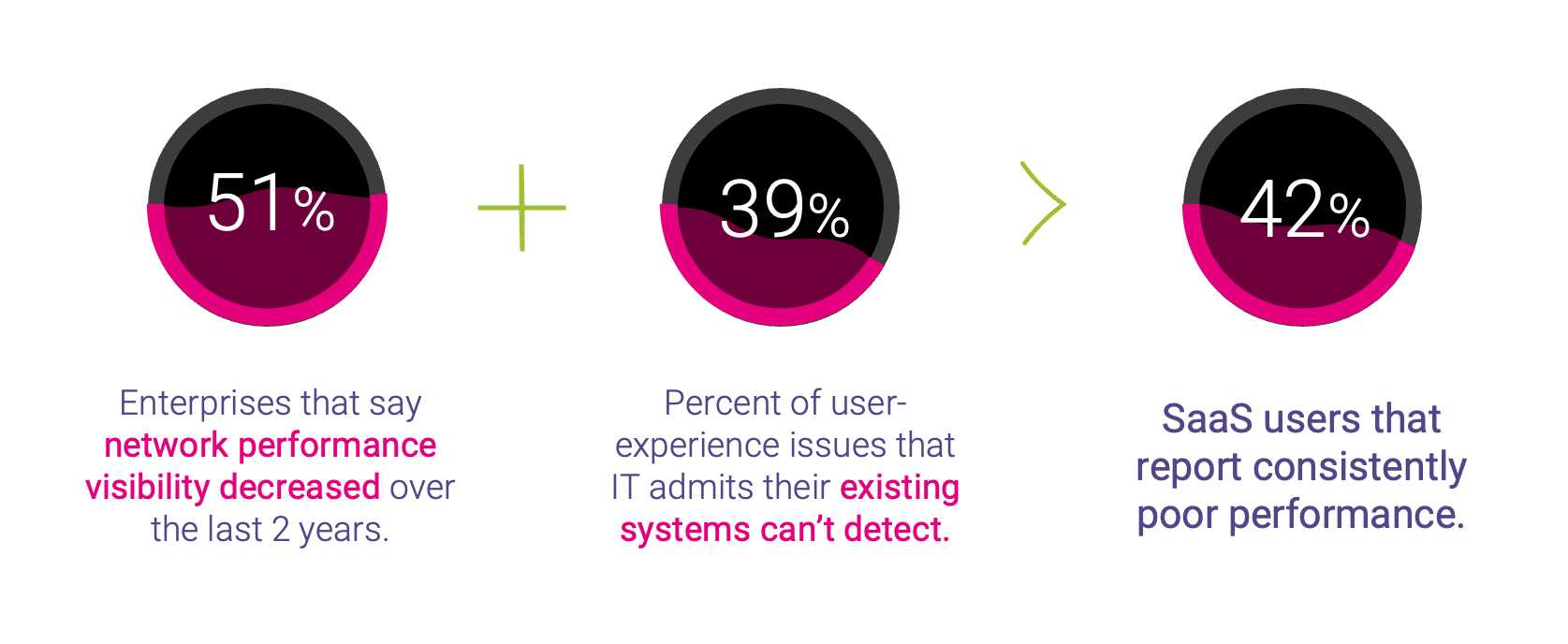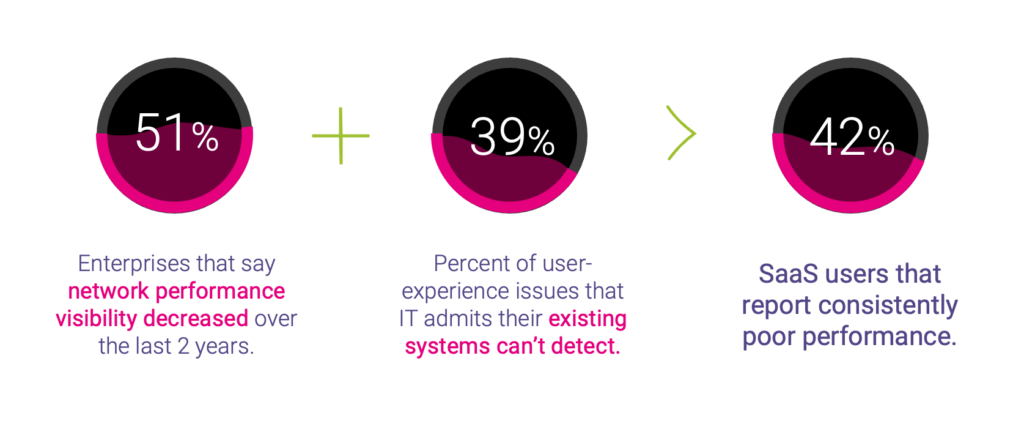 What are the SaaS Performance Challenges?
SaaS application performance is a challenge as it relies on a unique stack of modern, cloud-centric and hybrid network infrastructure. When you add work from home employees, it appears that much of SaaS performance may be out of the control of network and IT operations teams.
There is, however, a way to get around these challenges, but first let's take a look at the context SaaS operates in.
The top 6 SaaS performance challenges:
No control over the hosting infrastructure

: SaaS providers don't offer any way to monitor applications server-side – they can't be instrumented with agents or scripts. SaaS applications like SalesForce are hosted on a mix of public and private clouds and legacy data centers.

Encryption everywhere:

Whether employees are onsite or at home, accessing via private networks, VPNs, the internet or CASB-secured connectivity, SaaS applications enforce TLS 1.3 encryption end-to-end, rendering DPI-centric traffic analysis approaches ineffective. 

Distributed users

: SaaS is heavily adopted by multinationals, many having hundreds of locations and thousands of teleworkers. This makes it hard to assess the regional SaaS performance experience.

Distributed platforms:

You may think you're connecting to mail.Google.com, but behind the scenes are dozens, sometimes hundreds of hosts and third-party services that support its functionality. Identifying which

define

 the user experience for specific individuals or locations is a big-data problem.

Geolocation-based redirections:

It's not uncommon for DNS or CASB proxies to direct users to SaaS hosts across the country–or another continent–even when there is a much closer host. BGP routing across the internet adds to route complexity and latency, as

covered in this article

.

SaaS apps are SPA:

Not a therapeutic spa, a Single Page Application! Once the application loads, performance is dictated by transactions, queries and script execution more than content and page load metrics. This makes it difficult to capture the real user experience.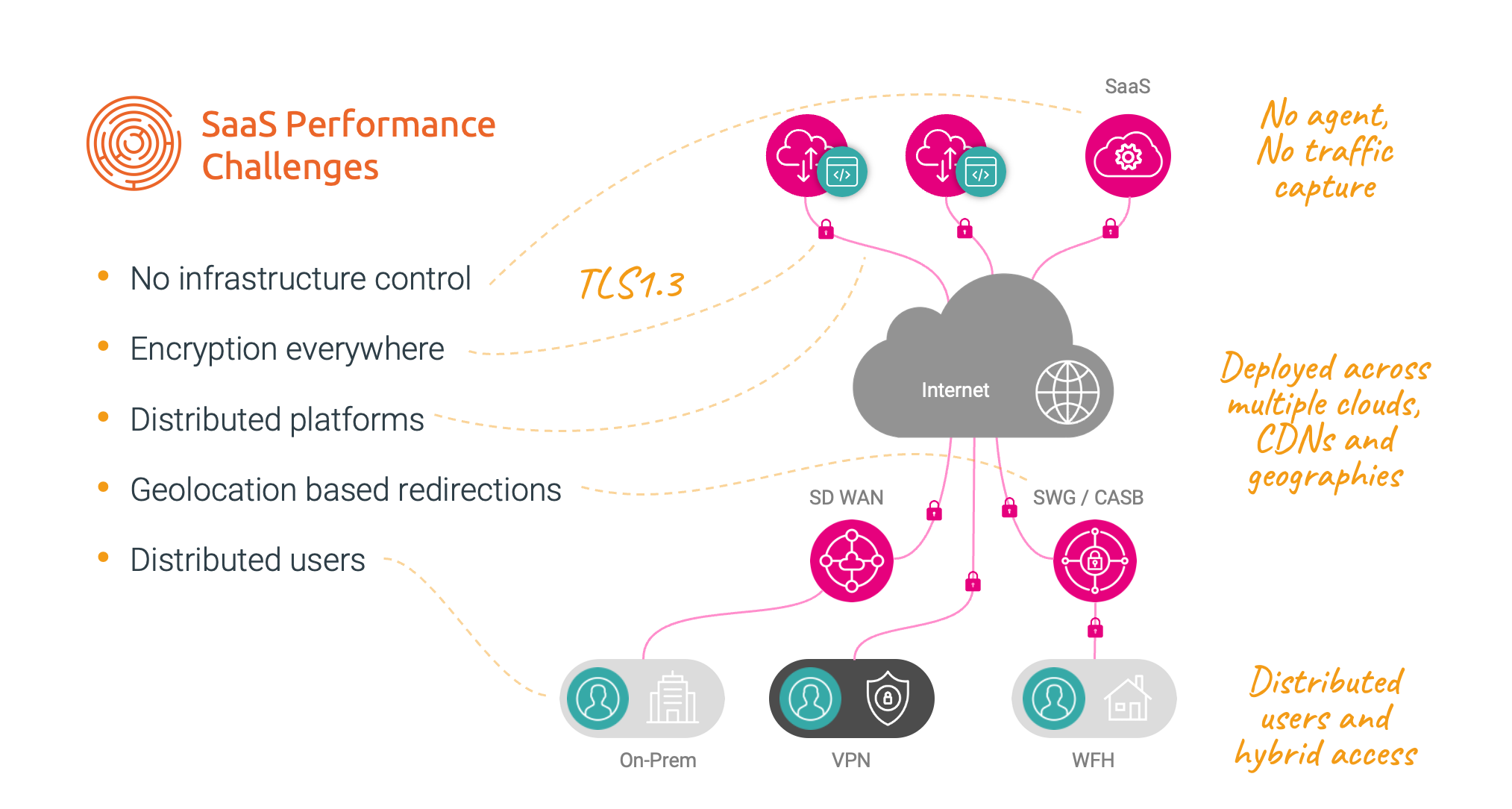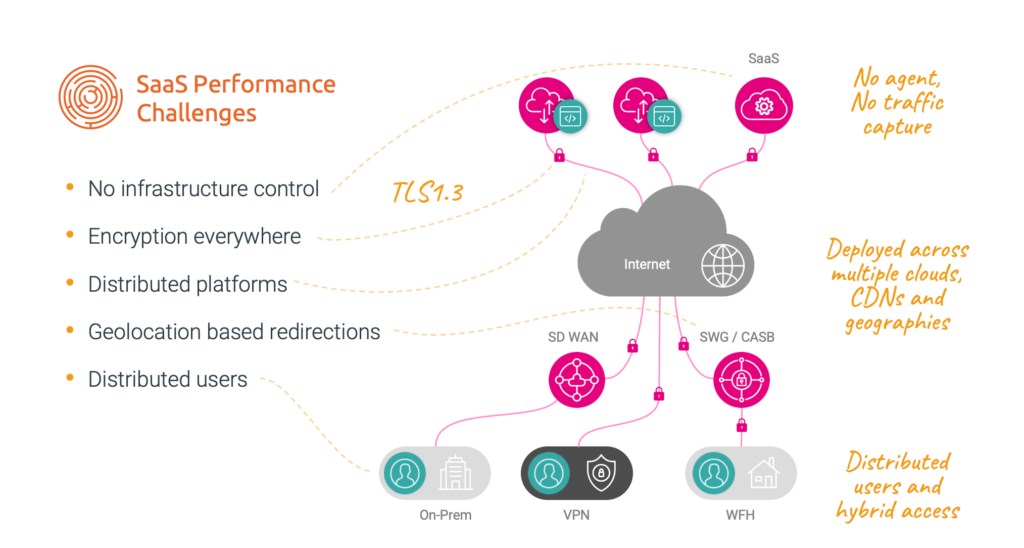 SaaS Performance Drivers
SaaS application performance is sensitive to latency and loss from any of the hosts involved, processing delays from CASB / SASE and secured gateways, network route and provider performance, browser and server processing time. Here's a visual summary of these performance drivers: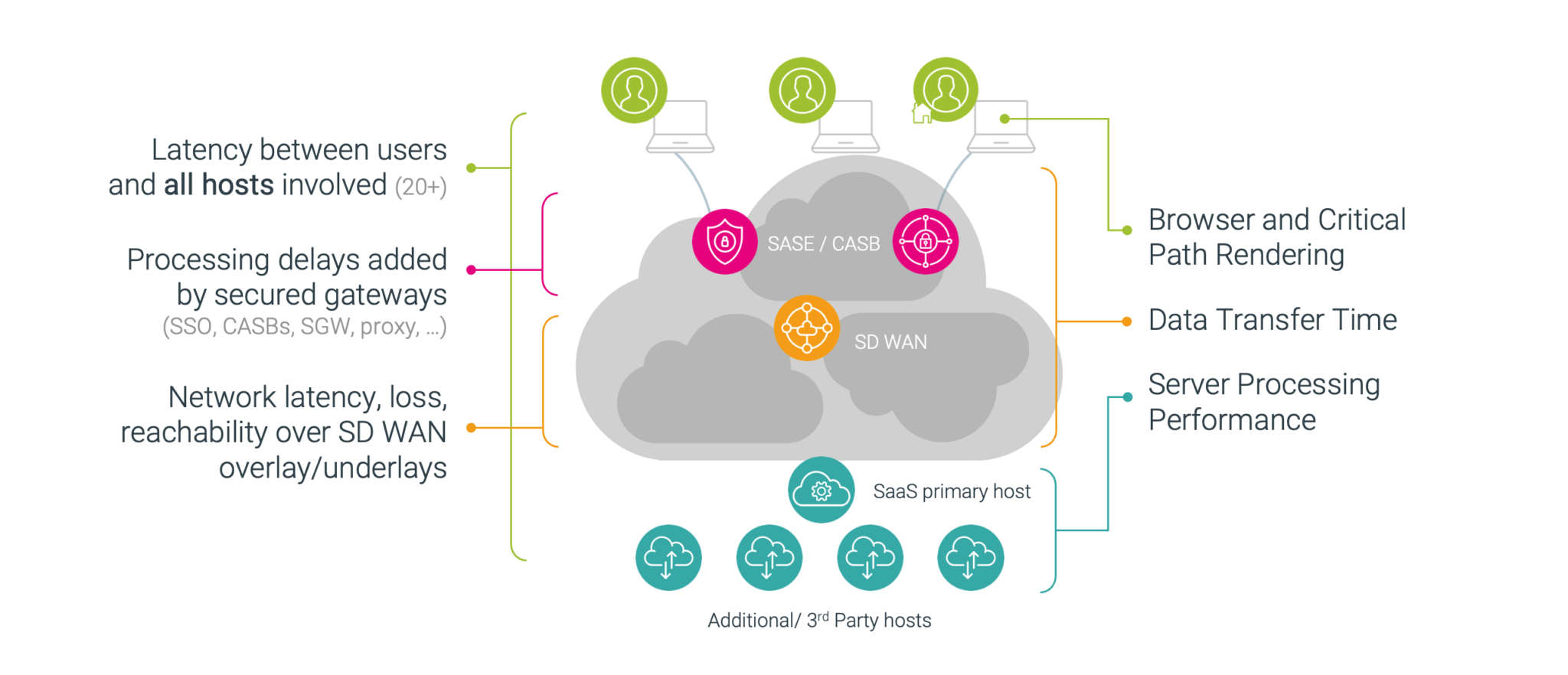 You can see that you will need a new approach to keep an eye on all these domains and factors.
SaaS Performance Monitoring – What's Required?
There are five key attributes of a comprehensive SaaS performance monitoring solution:
Real user experience from the employee / regional perspective

Continuous, segmented network path tracing

Real-time performance degradation detection and alerting

Guided diagnostics to quickly drill down to the underlying issue

Ability to pinpoint the infrastructure layer and location responsible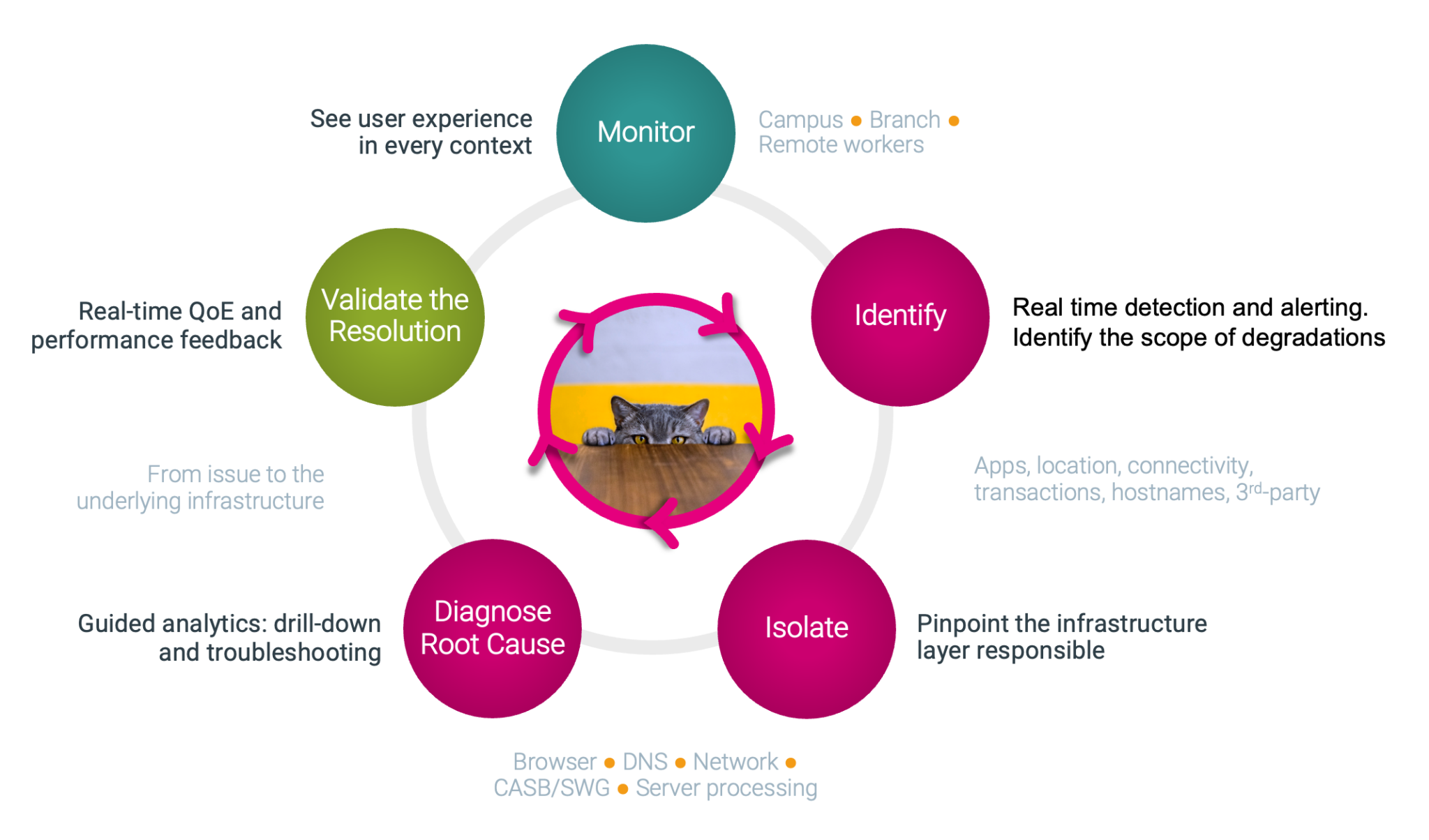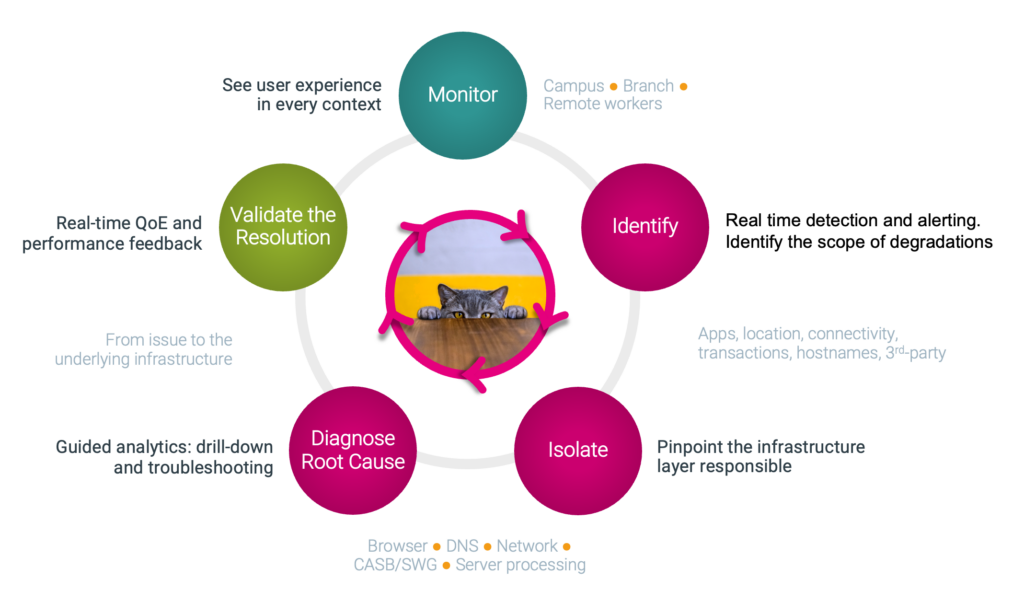 Once you've determined the source of the problem, you will also need to be able to verify if corrective actions resolved the issue. This is especially important when troubleshooting intermittent degradations that frequently impact remote employees using low bandwidth connections or ISPs with limited peering arrangements.
SaaS Performance Monitoring – Best Practices
How can you monitor SaaS performance? Let's look at the best practices we've learned by working with leading Fortune 1000 enterprises that have heavily adopted SaaS: large retailers and manufacturers in aerospace, automotive and natural resources to name a few.
Combine Multiple Monitoring Methods
To effectively capture detailed network insight and the SaaS user experience for all employees, a combination of monitoring methods is required:
Synthetic / active network testing:

per hop and per provider/ISP for both overlay and underlay networks

Agent-free digital experience monitoring:

ensures simple deployment and 100% user coverage on any device: PC, Mac, Chromebook, Linux, etc.
Combine Multiple Data Sources
Just as no single test approach captures all relevant data, neither does any particular infrastructure layer, host or location. Seeing things from multiple vantage points reveals the dependencies and bottlenecks that ultimately define SaaS application performance.
Real user experience monitoring

from their context and device

Network tracing

from user to all SaaS and third party hosts impacting performance

Session setup and delivery

performance to capture impact from DNS / TLS, SASE / CASB, VPNs, CDNs on latency, routing and stability

In-depth transactional monitoring

to measure SaaS responsiveness
This diversity of perspectives provides a 360º visibility into the SaaS user experience, and all domains and infrastructure that can impact it. Automated, ML-based analytics are required to make sense of all this data in real-time.


Delivering Amazing SaaS Performance
With this level of visibility you have the essential tools to troubleshoot SaaS performance issues. To learn about troubleshooting poor SaaS performance in depth, see this article.
We invite you to learn more from this Kadiska webinar, where we give a live demo of SaaS application troubleshooting using live data from a global organization by using a combination of in-depth network and SaaS host performance data captured from the end-user perspective.
There's nothing quite like seeing it for yourself!  See Webinar here.
* Statistics from: NTT Global Services report 2021, ESG insights, EMA, Digital Enterprise Journal and Workfront 2021