Solution Brief: Enterprise Android Mobility Performance
Optimize workforce productivity and Android mobility performance with Wi-Fi, network and enterprise app performance monitoring for mobile device management
The Enterprise Mobile Performance Visibility Gap
Enterprises need mobility performance monitoring to ensure application, network, and device performance issues are quickly identified, diagnosed, and resolved. 
Android is the mobility platform of choice, accounting for over 70% of all mobile devices in enterprise, retail, logistics, manufacturing and healthcare. Despite having mobile device management (MDM) and enterprise mobility management (EMM) solutions, 4 out of 5 organizations say they lack effective mobile performance visibility.*
* sources: IDC, Netmotion 2022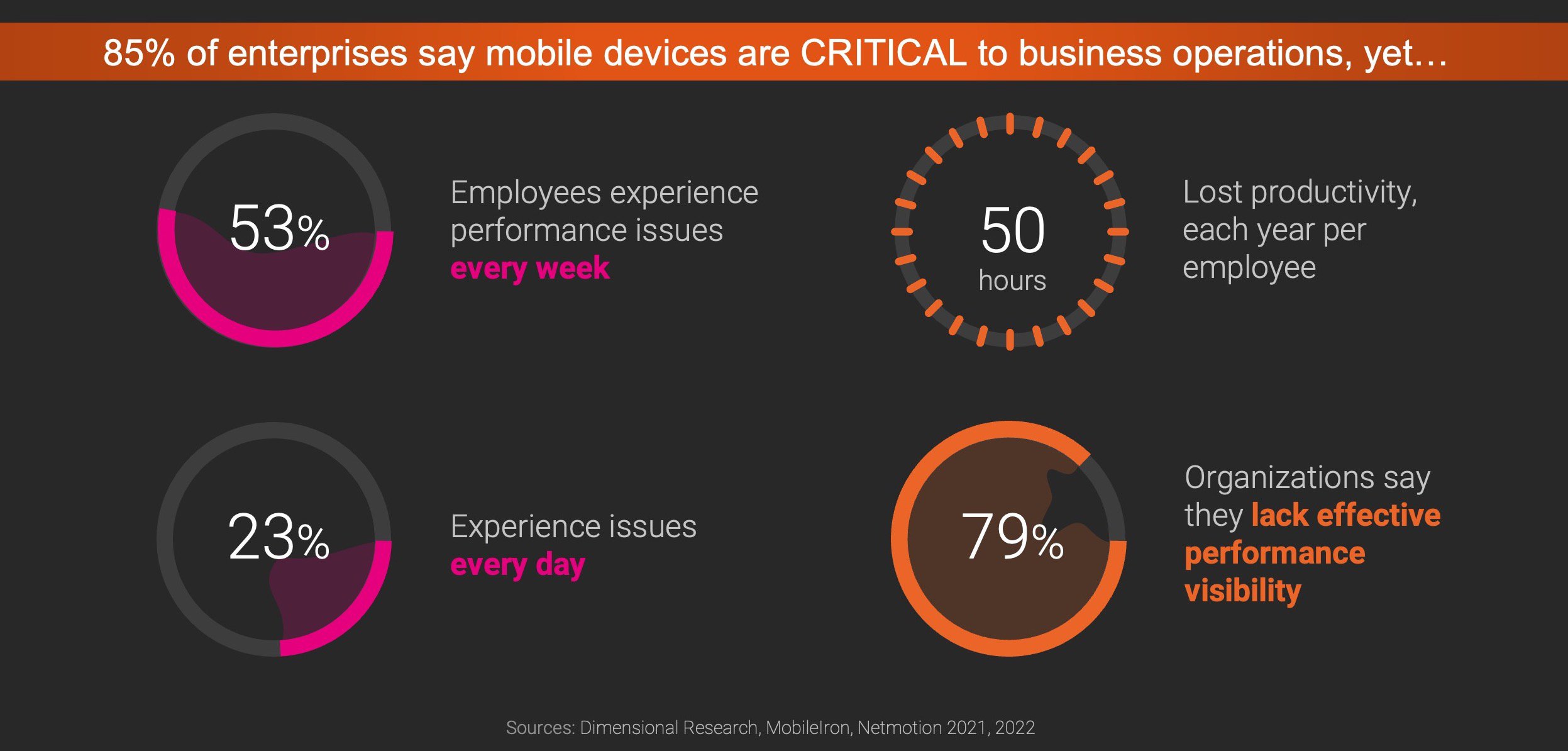 By implementing an Android-based mobile performance monitoring solution, IT organizations can ensure their mobile workforce is operating at peak efficiency, resulting in improved business outcomes. 
Android Mobility Performance Essentials
Mobility performance monitoring ensures that application, network, and device performance issues are rapidly identified, diagnosed, and resolved. Since most app performance issues are network-related, effective monitoring must provide real-time visibility into the entire network path between devices and cloud-hosted applications:
Wi-Fi / cellular connectivity and LAN
VPN / secure cloud gateways (SASE / CASB)
Direct internet access (DIA, ISPs)
SD WAN, MPLS and hybrid networks
Cloud networks and CDNs
End-to-end insight helps enterprise mobile management teams determine if Wi-Fi is to blame, and where to focus when it isn't.

The Solution : Android-to-App Performance Monitoring
Kadiska's Android Tracer app tracks network performance from Wi-Fi to cloud without impacting battery life. It continuously maps and monitors all network segments between Android devices and apps to rapidly detect and pinpoint complex connectivity issues.
The Kadiska platform provides automated analytics that identify the scope and root cause of issues impacting business performance with:
Wi-Fi, internet, SD WAN and cloud network performance visualization
Alerts when devices lose connectivity, become slow or unresponsive
Metics per device, fleet, application and location: site, branch or mobile
Auto-diagnostics to quickly assign the right team
Evidence to resolve issues with app vendors and service providers
Benefits
Proactively Optimize Performance
Automated baselining and the ability to correlate degradations by site, device and network provide the insight required to eliminate bottlenecks and optimize network, Android and app configuration to avoid downtime and continuously improve business performance.
Accelerate Time to Resolve
Focus the right team on the right problem to fix performance issues the first time. Eliminate guesswork and finger pointing. Prevent wasted support cycles on issues outside your control. Hold app vendors, cloud and service providers accountable.
Maximize Capital Efficiency
Target Wi-Fi, device, internet, app, security and hosting upgrades that will directly improve mobility performance. Establish clear performance benchmarks, and drive projects with real-time insight to reduce risk, budget and deadline overrun.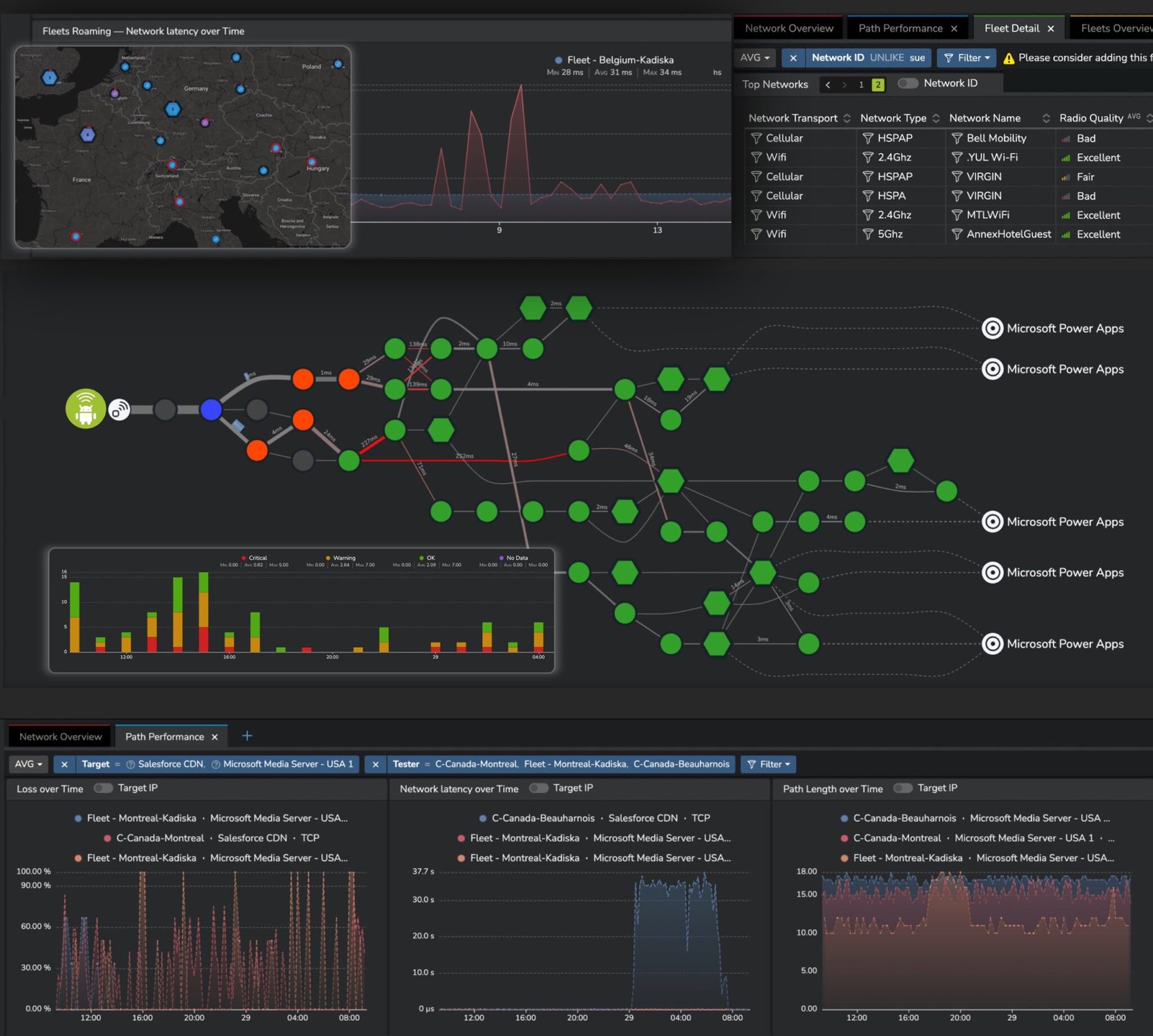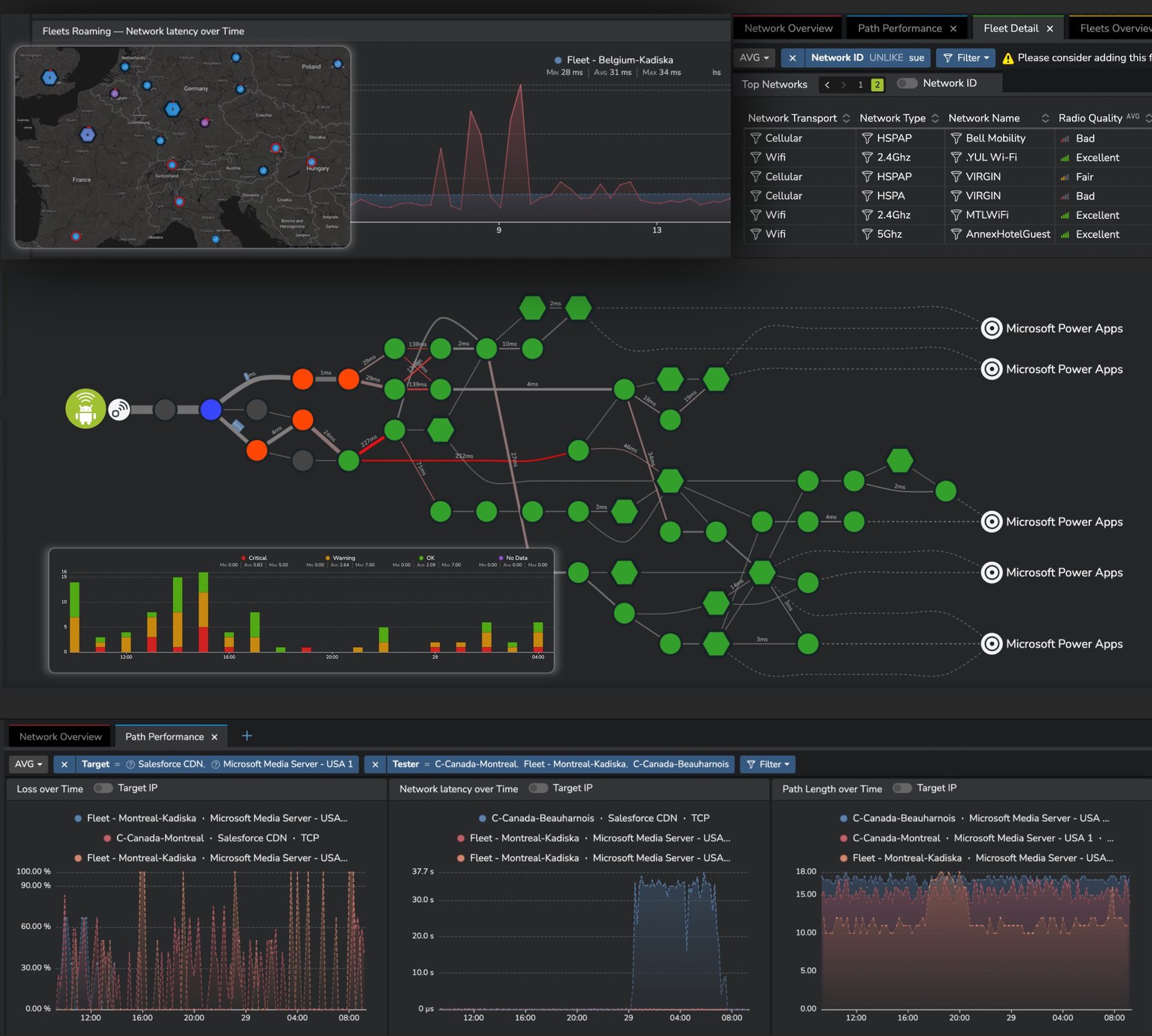 Beyond Wi-Fi Visibility
End-to-end network performance and path visualization from device to app
Segment Wi-Fi, LAN, internet, SD WAN, CASB/SASE and cloud network performance
Correlate issues to specific apps, device types, APs, network nodes, ISPs or cloud locations
Real-Time Alerting
Be notified immediately when degradations occur
Access the original context of the issue immediately
Understand if Wi-Fi, network, device, app or cloud are the origin
Alert the correct team and respond before issues escalate
MDM, EMM, FMS and Service Desk Integration
APIs and webhook alerts for open integration
Add mobility performance insight to fault management, ticketing and enterprise mobility management systems
Provide uniform visibility across endpoint management, NetOps, IT ops, service desk, and DevOps teams
Total Mobile Performance Visibility
Kadiska designed its digital experience platform to accelerate proactive optimization and troubleshooting of modern networks and cloud-based applications. Monitor every destination, SaaS, and internal web app your business depends on from Android, Chromebook, Windows, Linux, or virtualized endpoints. Integrated digital experience monitoring correlates real user web and SaaS application performance with network connectivity observability to give you a 360° view into your users and the infrastructure it depends on.
Set a free trial in five minutes to get a new level of visibility into your devices, apps, and networks: