Leroy Merlin is a leading multinational home renovation, decoration and gardening supply retailer with over 250 stores in 15 countries across Europe, Brazil and South Africa, supported by over 30,000 employees.
Leroy Merlin transformed their retail operations to launch a multi-channel sales model, increase in-store services and to optimize customer experience, employee productivity and store efficiency. In this context, many in-store services were digitized and shifted to the cloud. Services delivered from SaaS and cloud platforms are integrated with private data centers and third-party services.

A New Essential: Store to SaaS and Cloud Connectivity
The network performance between stores, digital retail applications and cloud-hosted business systems has a direct impact on the usability of self-service checkouts and employees' ability to stock shelves and serve customers. It also impacts in-store advertising, supply chain efficiency and each store's ability to reach their monthly sales objectives.
To assure success, Leroy Merlin 's IT organization decided to adopt an analytics-driven reliability engineering approach to proactively optimize the performance of business applications and SD WAN connectivity.
However, they discovered that existing monitoring solutions were unable to detect and diagnose network performance issues between stores, clouds, data centers, SaaS apps and third-party services.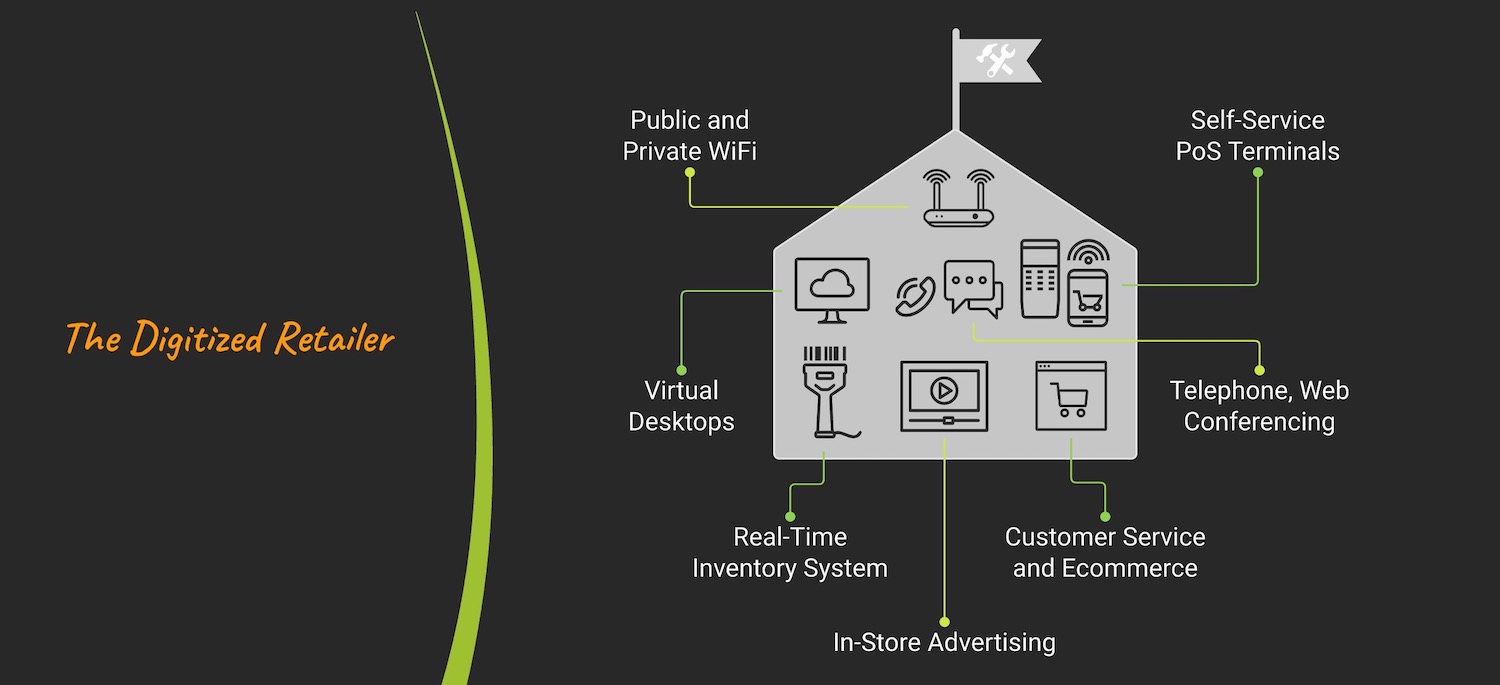 Objectives
Leroy Merlin needed a new level of monitoring to eliminate visibility gaps induced by SD-WAN, 3rd party services and SaaS/cloud applications to:
Optimize store connectivity to clouds and SaaS services
Reduce incident impact and resolution time
Effectively collaborate with vendors and service providers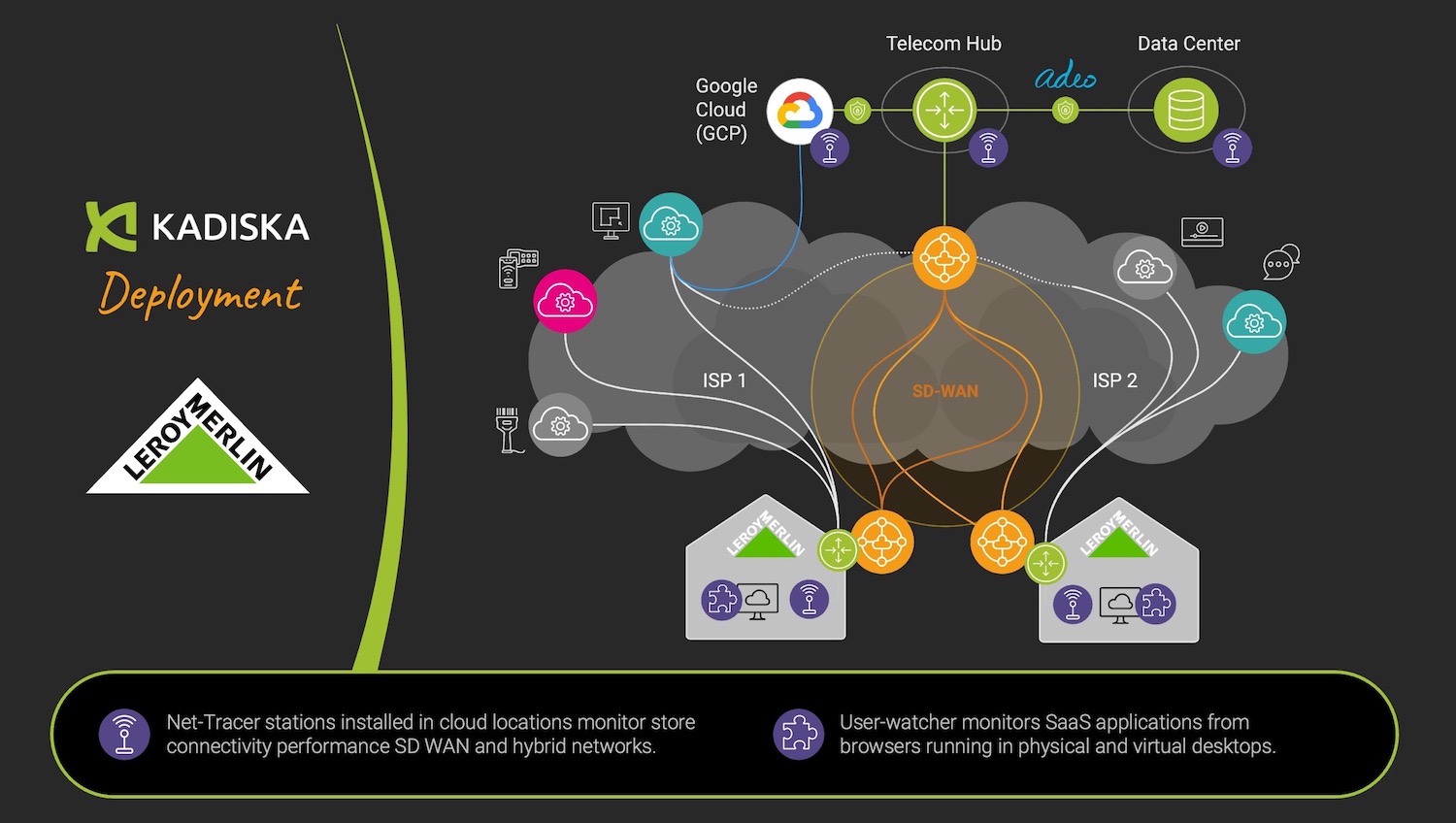 Kadiska Solution
Kadiska uniquely monitors SD-WAN connectivity and SaaS application performance across digitally transformed retail infrastructure.
Net-Tracer stations installed in cloud locations monitor store connectivity performance SD WAN and hybrid networks.
User-watcher monitors SaaS applications from browsers running in physical and virtual desktops.
Results
Leroy Merlin was able to reduce the impact and resolution time of network issues while improving the performance of SaaS applications.
Instant detection of network degradations from stores to Google cloud and SaaS applications
Reduced SD-WAN degradation resolution times from weeks to hours
360° visibility into SaaS app performance and more effective vendor management
Optimized digital experience for customers and employees
Rapid root cause diagnosis of performance issues in SD WAN underlays and domains managed by other teams
Production of SLO dashboards for store management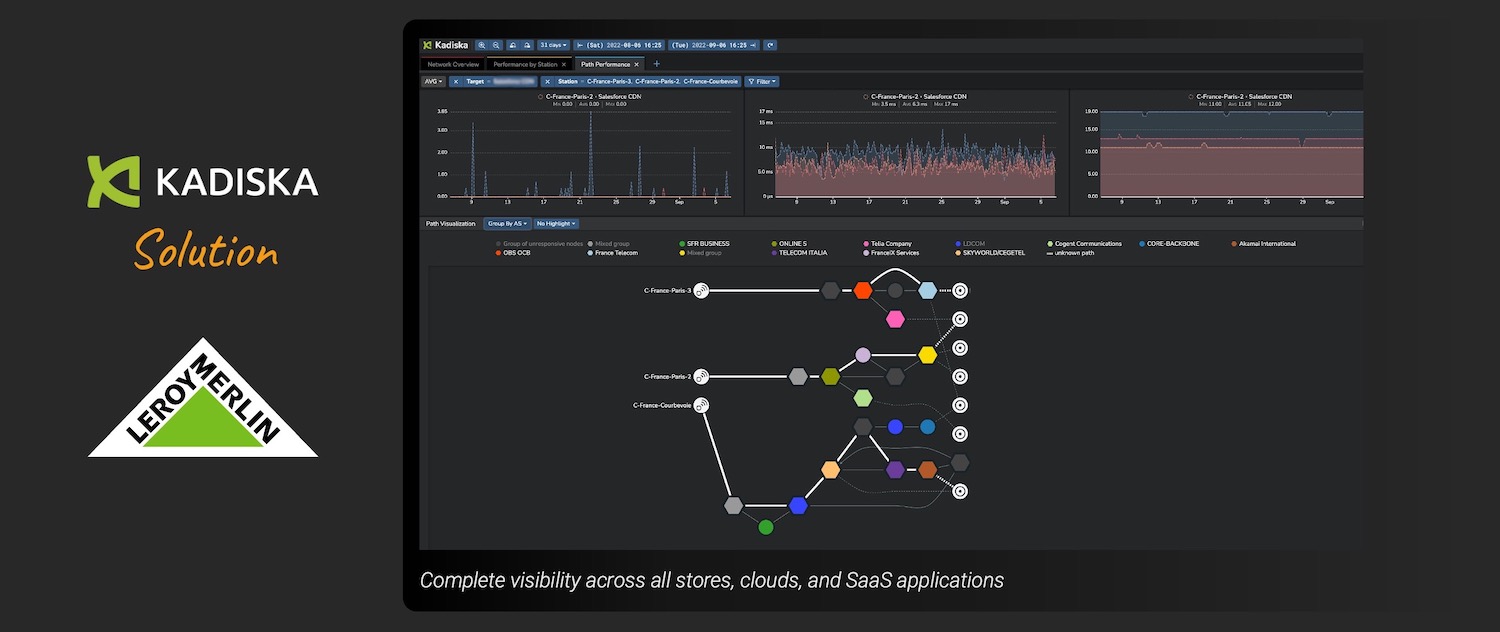 "Kadiska has been instrumental in enhancing our monitoring capabilities and initiating concrete actions to improve network connectivity performance to our sites."

Aurélien Dubois,IT Manager, Leroy Merlin

Benefits
Improved business performance
Enhanced employee productivity
Resolution times reduced from weeks to hours
Learn more about how Kadiska helps Leroy Merlin gain complete visibility into SD WAN network performance and SaaS digital experience so they can deliver an amazing experience to their customers.

‏‏‎ ‎‏‏‎ ‎‏‏‎ ‎‏‏‎ ‎‏‏‎ ‎‏‏