In the wake of the pandemic, the work landscape has undergone a seismic shift, propelling the advent of a hybrid work model. This model is no longer a temporary solution but a permanent fixture for over 70% of knowledge workers worldwide¹.  As businesses scramble to adapt, the synergy of Human Resources (HR) and Information Technology (IT) emerges as a critical factor in driving a successful transition to a digital workplace supporting the hybrid work model.
HR, IT and the Hybrid Work Paradigm
The role of HR in a digitally-enabled work environment is complex and multifaceted. HR teams must craft a culture of inclusivity and engagement, foster productivity, maintain a robust company brand, and attract and retain top talent within a digitally connected work setting.
Yet, HR's capacity to meet these objectives is significantly influenced by the quality of the digital experience provided, underscoring IT's pivotal role.
According to an MIT Sloan Management Review study, 80%² of an employee's engagement during their workday is determined by their digital experience. This statistic underscores the fact that IT's role extends far beyond merely providing tech support; IT is the linchpin enabling HR to meet its objectives in a hybrid work model.
The seismic shift has redefined the responsibilities and roles of Human Resources (HR) and Information Technology (IT) in businesses globally. This new work paradigm demands a comprehensive, multifunctional approach, centered around fostering employee engagement, boosting productivity, and bolstering company branding, all within a seamless digital work environment.
HR and IT Alignment
Achieving these objectives hinges heavily on technology. The effectiveness of communication and collaboration, a vital component for engagement and productivity, depends on seamless connectivity and robust unified communication tools.
The company brand must be consistently communicated and embodied digitally, to engage both employees and customers effectively. Additionally, the wide talent pool, accessible due to remote work options, must be navigated digitally, using modern HR tools and platforms.
IT as the Backbone of the Hybrid Work Model
In this digitally connected era, IT acts as the critical backbone supporting HR objectives. It enables effective communication, secures the distributed workforce's data, enhances digital experiences, and supports HR operations with digital onboarding, recruitment, and analytics tools.
A positive digital experience is pivotal for employee productivity, engagement, and retention. IT is responsible for ensuring the performance of cloud-based solutions and addressing any potential technological barrier.
This includes maintaining the performance of unified and web collaboration tools, office suite performance, access to CRM, MRP, and ERP tools, and ensuring employees are secured and equally productive both in and out of the office.
As the workforce spreads geographically, ensuring data security also becomes a paramount concern. IT plays a crucial role in implementing Secure Access Service Edge (SASE), reducing dependency on VPNs, and safeguarding data in highly distributed cloud and remote employee locations.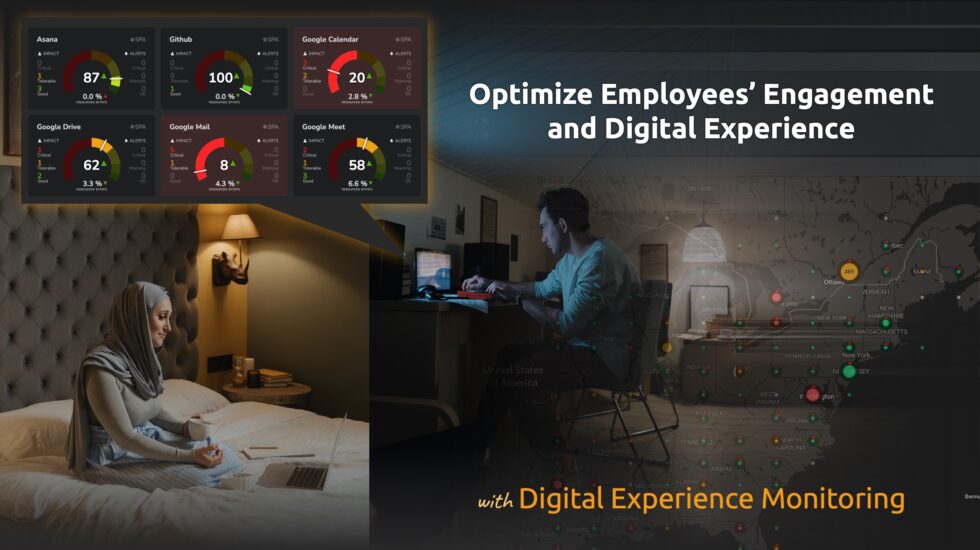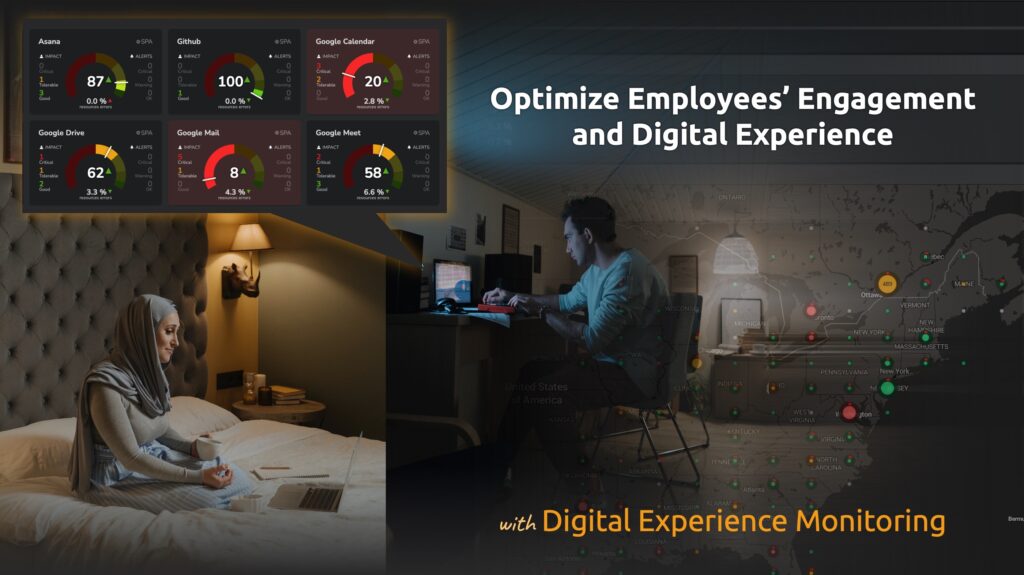 Digital Experience Monitoring – A Unifying Solution
In this digitally connected context, Digital Experience Monitoring (DEM) emerges as a game-changing tool. DEM allows HR, IT, and business leaders to align their strategies, offering a clear understanding of how technology can enhance or inhibit digital efficiency and productivity.
EMA Research reports that businesses leveraging DEM experience a 45% improvement in employee productivity, a 44% increase in customer satisfaction, and a 42% reduction in IT-related costs³. These impressive figures reveal DEM's potential in driving tangible business outcomes including a significant return on investment (ROI exceeding 300% over three years4.
The Cost of Inaction
Business leaders must recognize the cost of inaction. A recent study found that inadequate digital experiences can lead to severe productivity loss, equivalent to over 100 hours per employee per year.
Additionally, the study noted that 40% of office workers would consider leaving their job due to technology frustrations5. In a competitive talent market, such figures should serve as a wake-up call for businesses lagging in their digital transformation journey.
HR and IT Collaboration Drives the Digital Workplace
The era of hybrid work has set the stage for a new business imperative: digital workplace transformation. By enhancing the digital work environment, organizations can foster productivity, promote engagement, and ultimately drive business success.
These outcomes are no longer theoretical possibilities but quantifiable realities. The transition to a digital workplace model is not just an option; it is a business necessity. As HR and IT navigate this new terrain, tools like DEM are essential for ensuring a smooth transition.
Digital Experience monitoring is a transformative capability that is easy to deploy and accessible to multiple groups within an Enterprises organization. It sees the real user experience and real user connectivity from the employees' perspective to the key business applications they rely on to be productive.

Read the IT Guide to a High-Performance Digital Workplace
Deliver a productive digital workplace with practical strategies to optimize app and network performance for remote and onsite employees.





Blog Article Sources
Gartner Remote Work Survey, Gartner, 2023
MIT Sloan Manage ment Review, MIT Sloan, 2022
The Impact of Digital Experience Monitoring, EMA Research, 2021
The Economic Impact of DEM, Forrester, 2021
The Future of Work Global Survey Riverbed, 2022