ThousandEyes
offers hop-by-hop network path performance monitoring, the ability to detect internet outages, synthetic testing capabilities to sites, clouds, SaaS and hybrid applications, and end-to-end visibility from users to applications.
ThousandEyes internet outages maps are an example of how the solution can trace network routes across multiple service providers to help enterprises locate hybrid network connectivity issues, and their impact on user digital experience.
Enterprises use ThousandEyes to view and comprehend underlying dependencies over the Internet and into the cloud. It also offers insight into the delivery of web applications across SD WAN, cloud, internet and hybrid networks to help identify problems early on and quickly resolve them.
Despite these capabilities, ThousandEyes customers and enterprises looking for advanced network and application performance monitoring often search for alternatives to ThousandEyes.
This article covers ThousandEyes alternatives based on technical capabilities, deployment and cost considerations.
Cisco Acquires ThousandEyes
ThousandEyes was acquired by Cisco in August 2020, with the goal to "incorporate ThousandEyes capabilities across Cisco's core Enterprise Networking and Cloud, and AppDynamics portfolios."
This plan is progressing, with ThousandEyes test agents now compatible with some Cisco routers, and initial integration between ThousandEyes, AppDynamics, and Cisco SD WAN products. ThousandEyes is now often bundled with other Cisco offerings, which can be challenging for enterprises not fully committed to "everything Cisco", or who prefer to integrate best of class solutions into their own systems.

Reasons to Look at ThousandEyes Alternatives
Existing ThousandEyes customers and enterprises that have evaluated them often look for ThousandEyes alternatives for these reasons:
High cost – a complex licensing model and premium Cisco pricing
Complex deployment – modules, test agents and features require careful configuration
DEM capabilities – ThousandEyes offers limited digital experience monitoring capabilities, with a mix of synthetic testing and basic real user monitoring using an endpoint agent
You're not 100% Cisco – Companies managing a multi-vendor infrastructure, integrating acquisitions, and embarking on modern networking and security approaches may prefer a neutral, vendor agnostic monitoring solution to provide visibility across CASB / SASE, SD WAN, hybrid and cloud networks
Employees work from home – ThousandEyes has limited coverage of WFH, BYoD, and Chromebook users' digital experience
Mobile apps are business-critical (e.g. for retail, manufacturing, etc.) and need reliable network and application performance to ensure employees are productive
You need to monitor customer performance and digital experience to your applications and websites
You don't want to manage synthetic testing approaches to monitor SaaS and web applications
You don't want to–or can't–install an endpoint agent on users' devices to perform synthetic testing or collect base-level user metrics
While reviews of ThousandEyes are largely positive, the following user comments from peer review sites echo these points:
| | |
| --- | --- |
| "Endpoint agent based data collection method is complex to deploy and maintain" | "Maintaining agents is cumbersome, as these are NUC and VM-based on PCs/Laptops" |
| "Complicated for first time users" | "It's more expensive than other comparable solutions" |
| "If you dive deeper (e.g. integrations such as the Cisco agents) it can become fairly significant to deploy and maintain" | "Great for network path monitoring and status of ISP/providers but if EUM is the goal, it might need additional consideration" |
| "Unsupported Nexus switch, no integration with Cisco SmartNet, exclusive for Cisco devices" | "Need more advanced synthetic monitoring to go beyond the basic login screen" |
| "Loss insights per link and billing model are not ideal" | "The alerts are sometimes deceiving and scary for operations teams monitoring clusters" |
What are ThousandEyes Alternatives?
There are not a large number of competitors with similar capabilities. Here are a few alternatives:
Kentik offers network tracing and packet-based real user monitoring requiring high-volume packet inspection. Traditional APM techniques are not suitable for SaaS and web applications where traffic is encrypted.
Netscout nPulse and Keysight Hawkeye offer synthetic testing in an aging platform that is also difficult and are costly to deploy and maintain. These on-prem solutions haven't evolved to keep pace with modern offerings.
Kadiska is a new entrant to the space and offers comparable network monitoring capabilities with complete digital experience monitoring capabilities for SaaS, cloud and web applications.
With leading customers in retail, manufacturing and Fortune 500 enterprises, Kadiska is a viable ThousandEyes alternative. Let's take a closer look at how Kadiska compares with ThousandEyes:
Network Performance Monitoring – ThousandEyes vs. Kadiska
If you compare based on network performance and path analysis ThousandEyes and Kadiska appear quite similar. They both provide in-depth, hop-by-hop network path and routing analysis, and can visualize complex network connectivity in near real-time.
Both companies offer multiple test agent deployment models: on the endpoint, on premises, or in cloud or data centers via VM/container deployment models, and both offer a large number of managed test endpoints that can be employed by customers who wish to test network performance from diverse locations and service providers around the world.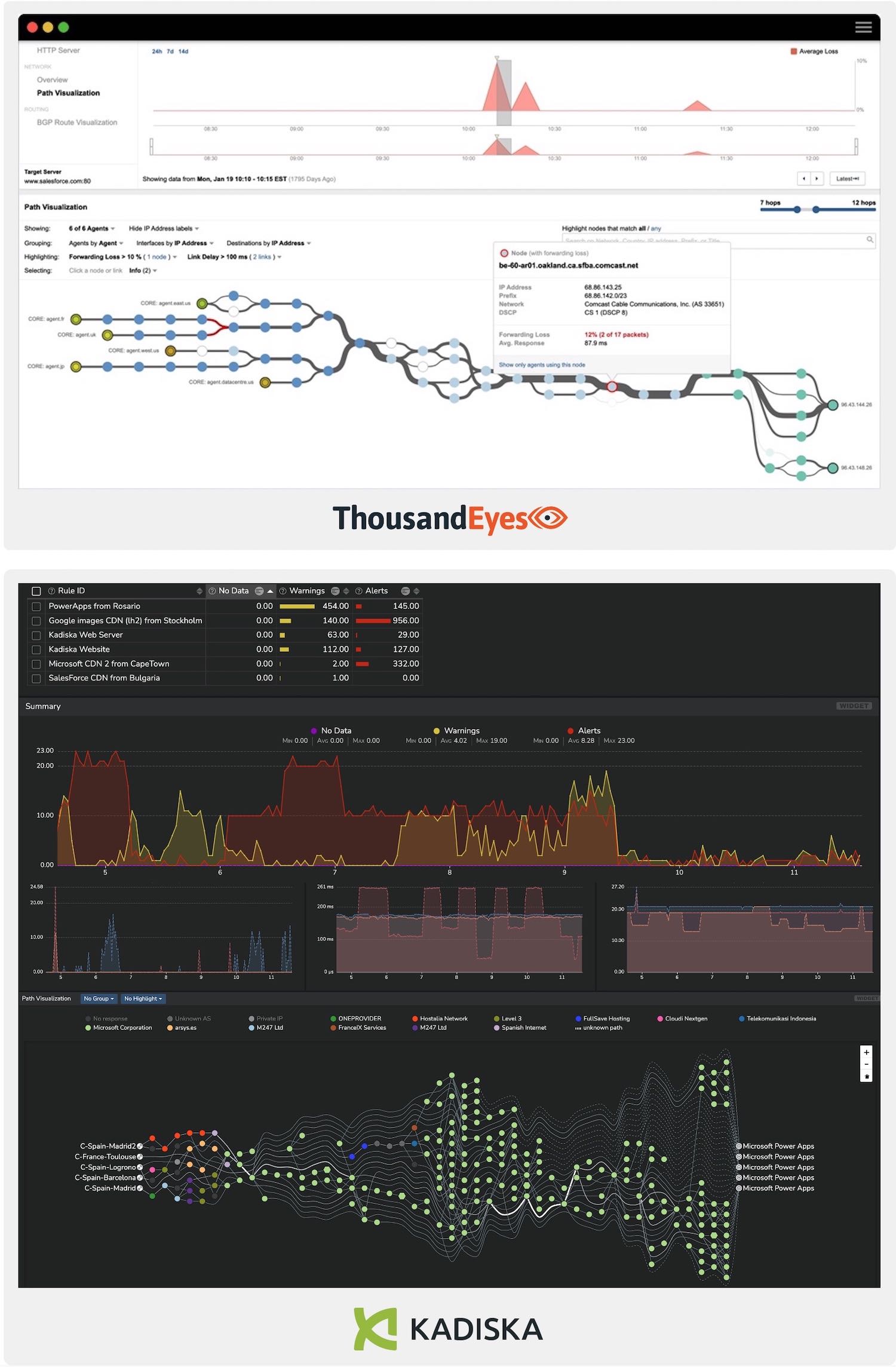 In conversations with large enterprise customers that have used both ThousandEyes and Kadiska network performance monitoring, most IT professionals consider them to be largely interchangeable from a technical perspective.
Kadiska is known to be less expensive, however, which allows enterprises that limit testing to only critical sites with ThousandEyes to expand their monitoring coverage to 100% of all business, cloud, data center locations and SaaS applications without increasing budgets.
Additional Tester Deployment Options
In addition to each having a large base of managed test stations, Cisco has added network path analysis from a subset of Cisco routers and SD WAN appliances. ThousandEyes also has WiFi network monitoring features that help with troubleshooting.
ThousandEyes' Cisco integration allows testing from selected Cisco routers, but users find this capability difficult to implement in practice. Kadiska offers similar test capabilities with its Net-Tracer that can be installed on white boxes, SD WAN endpoints and uCPEs, as well as mobile devices.
With an exceptionally lightweight footprint, Kadiska also uniquely offers network tracing capabilities from and Android devices, consumer devices (e.g. set top boxes) and can be implemented via an SDK into native mobile apps.
This Android testing capability is popular with manufacturers and retailers whose employees use Android mobile devices to check inventory, serve customers and manage logistics in warehouses, factories and stores.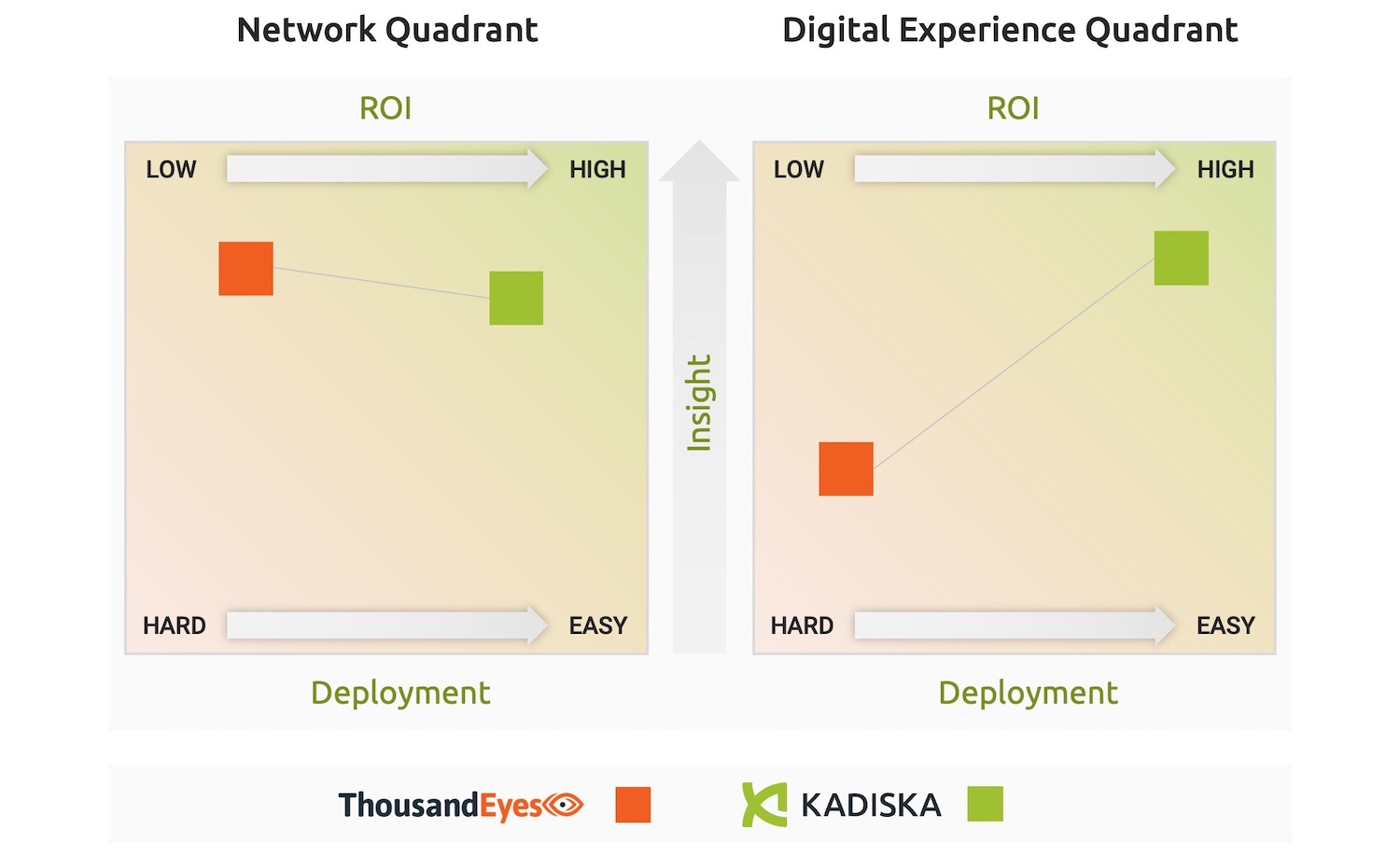 Digital Experience Monitoring – ThousandEyes vs. Kadiska
The combination of SaaS, web, and hybrid applications hosted in the cloud dominating business applications with work from home and increasingly distributed enterprise locations have resulted in a digital experience visibility gap that traditional network and application performance monitoring tools fail to address.
With 39% of user complaints invisible to existing monitoring solutions, IT operations and service desk teams are looking to digital experience monitoring (DEM) solutions to monitor real user activity to help them determine who's impacted and where problems originate: device, browser, network, cloud, or SaaS provider.
The ability to rapidly isolate fault domain and who's responsible is best addressed by a combination of network, application performance and real user monitoring, capabilities that are combined in Kadiska's digital experience monitoring platform.
As illustrated in the diagram below, there are many dimensions to an effective real user monitoring solution.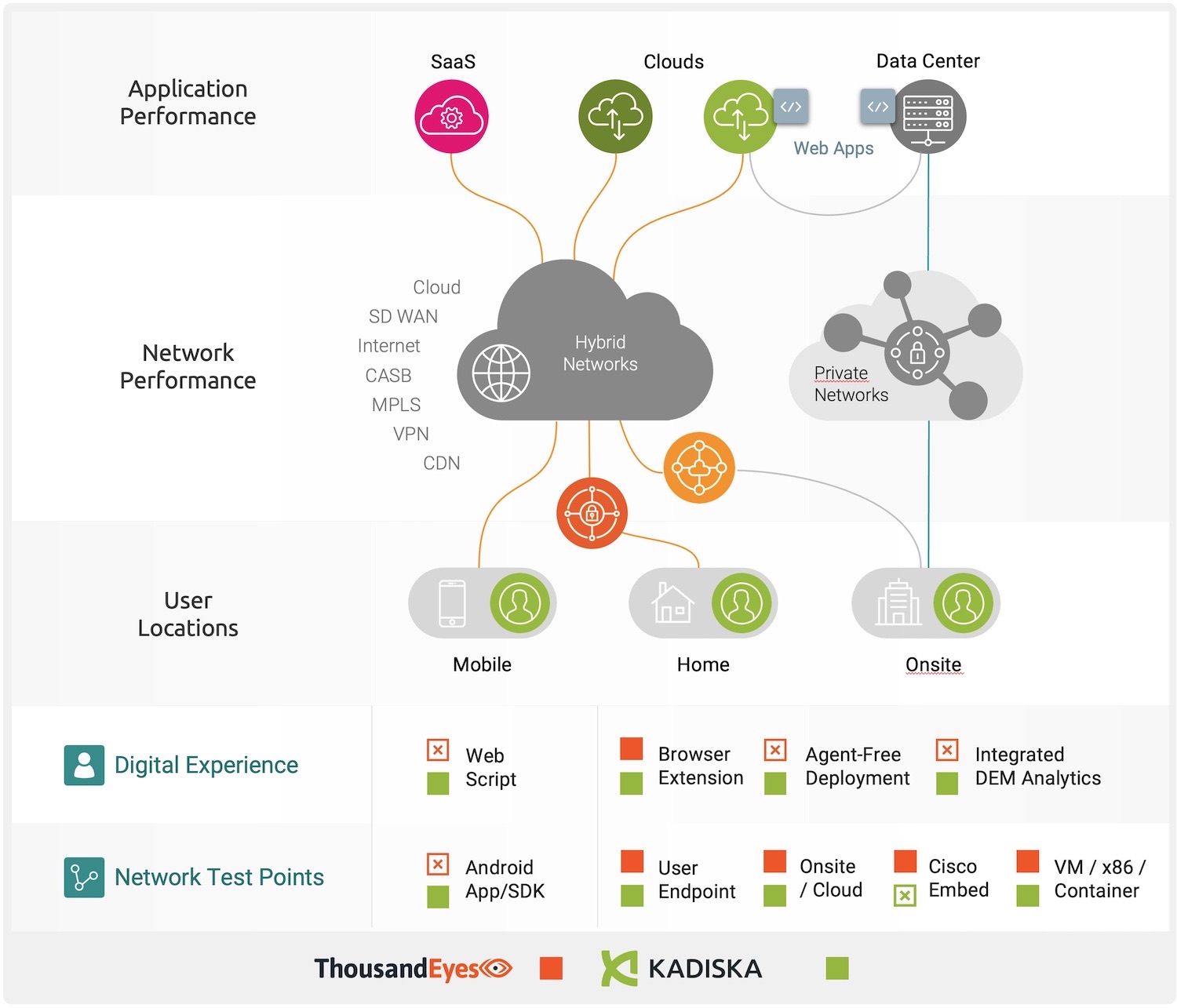 ThousandEyes Digital Experience Monitoring
ThousandEyes' digital experience monitoring techniques rely on the installation of an endpoint agent on users' PCs. Endpoint agents can negatively impact device performance–and as a result, application performance–if the machine is running low on CPU resources or RAM.
The ThousandEyes agent provides synthetic (robotic) web performance and user experience testing by following scripted scenarios that simulate real-user actions (e.g. loading and navigating web pages and SaaS applications). The agent is also required to install a ThousandEyes browser extension that collects transactional and page load performance data from real user browsing.
Synthetic testing is ideal for SRE/DevOps teams who need to validate the performance of new features across diverse locations, machines and browsers. However, any script-based approach is too coarse to provide detailed insight into the ways real users interact with complex applications. Imagine trying to simulate how different users with different roles use Office 365, Salesforce or SAP! The permutations and combinations of transactions real users execute are virtually impossible to simulate.
In addition, scripted scenarios that go beyond "home page testing" can be labor-intensive to maintain, as SaaS and web applications regularly add new features and change their user interface.
Just as Wireshark experts claim, "packets never lie", accurate digital experience monitoring requires real user insight in the context of their location and the diverse ways they use applications. Although ThousandEyes includes a browser plugin that records actual user activity and app performance metrics, it is limited to expert-level troubleshooting due to the lack of high level reporting and comprehensive user experience analytics.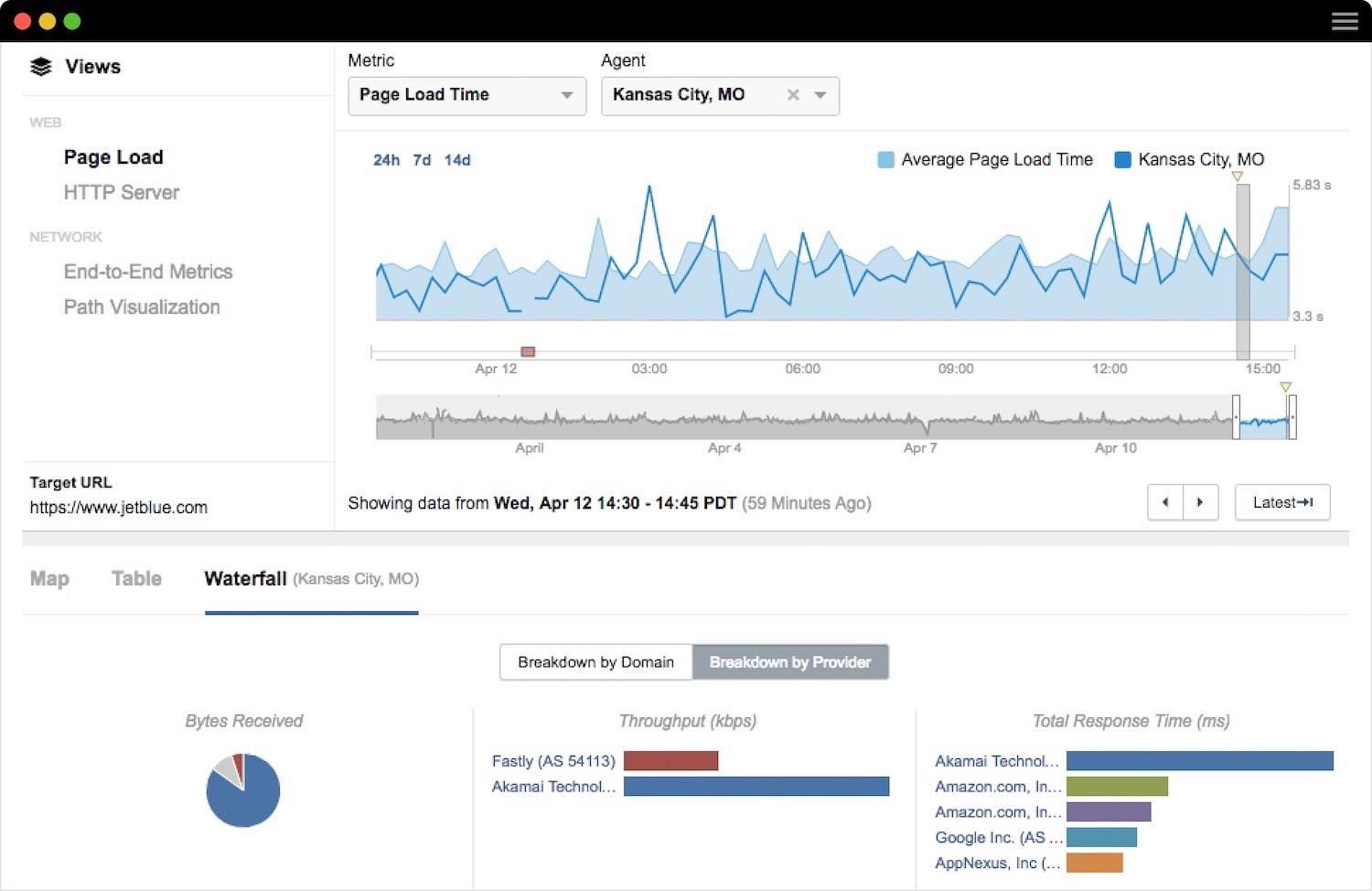 ThousandEyes Alternative: Kadiska Digital Experience Monitoring
Why simulate user performance and digital experience when you can measure it directly?
Kadiska uniquely offers an "agent-free" browser extension (User-Watcher) to collect 100% of transactions to any SaaS or web based application. It creates actionable insight from this highly detailed information with comprehensive user experience metrics, and correlates them with browser, network, and host/server performance analytics.
The User-Watcher plugin can be installed on Chrome, Edge or Safari from their respective web stores, or can be centrally deployed with managed browser policies (e.g. via ADMX GPO with Active Directory integration)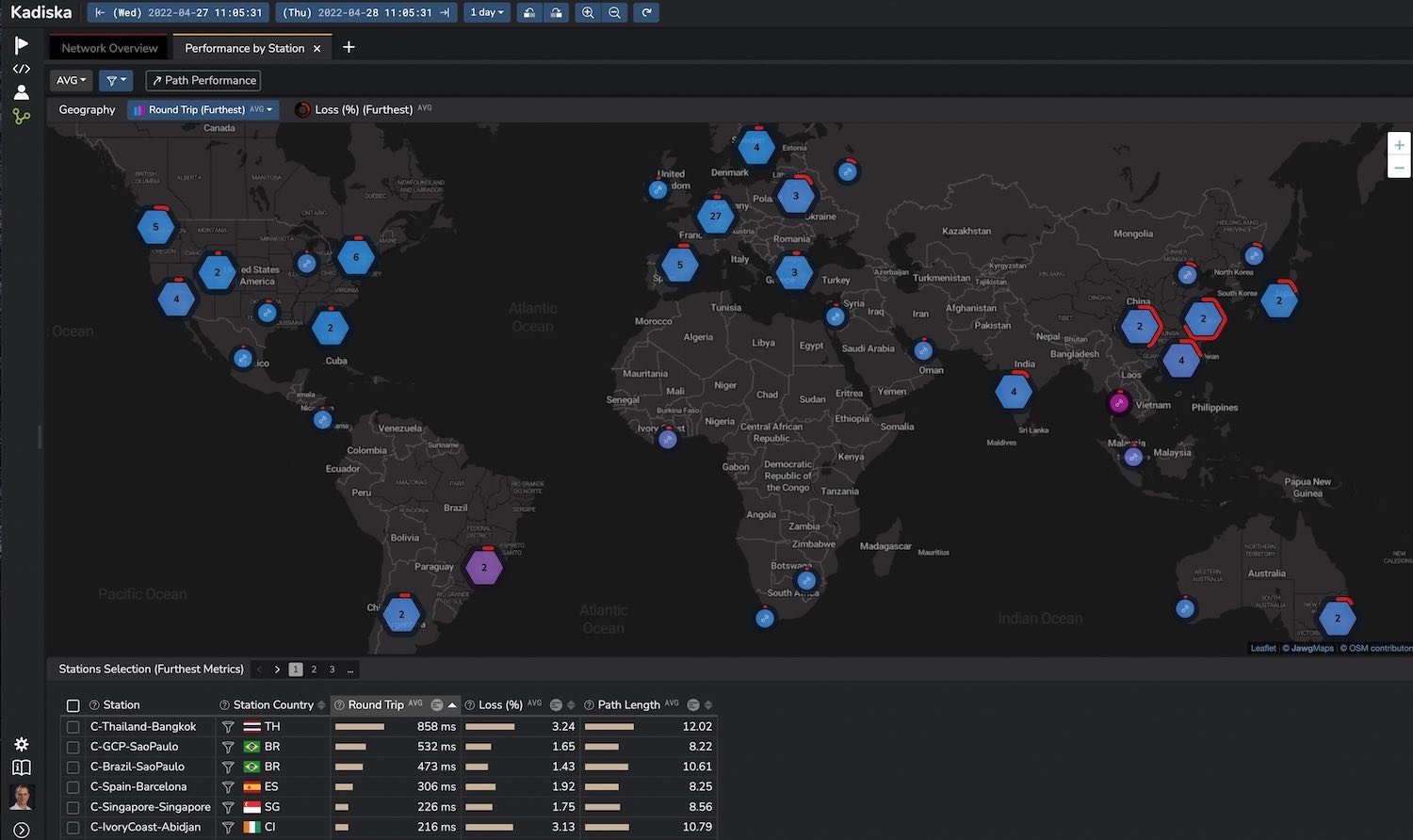 Kadiska's platform also offers a simple server-side script (App-Watcher) that monitors the digital experience of users accessing websites and customer applications from any device: mobile, PC, tablet, iPad, etc.
Both approaches give in-depth transactional and page load performance on a per-user, device, browser, location, ISP and application basis.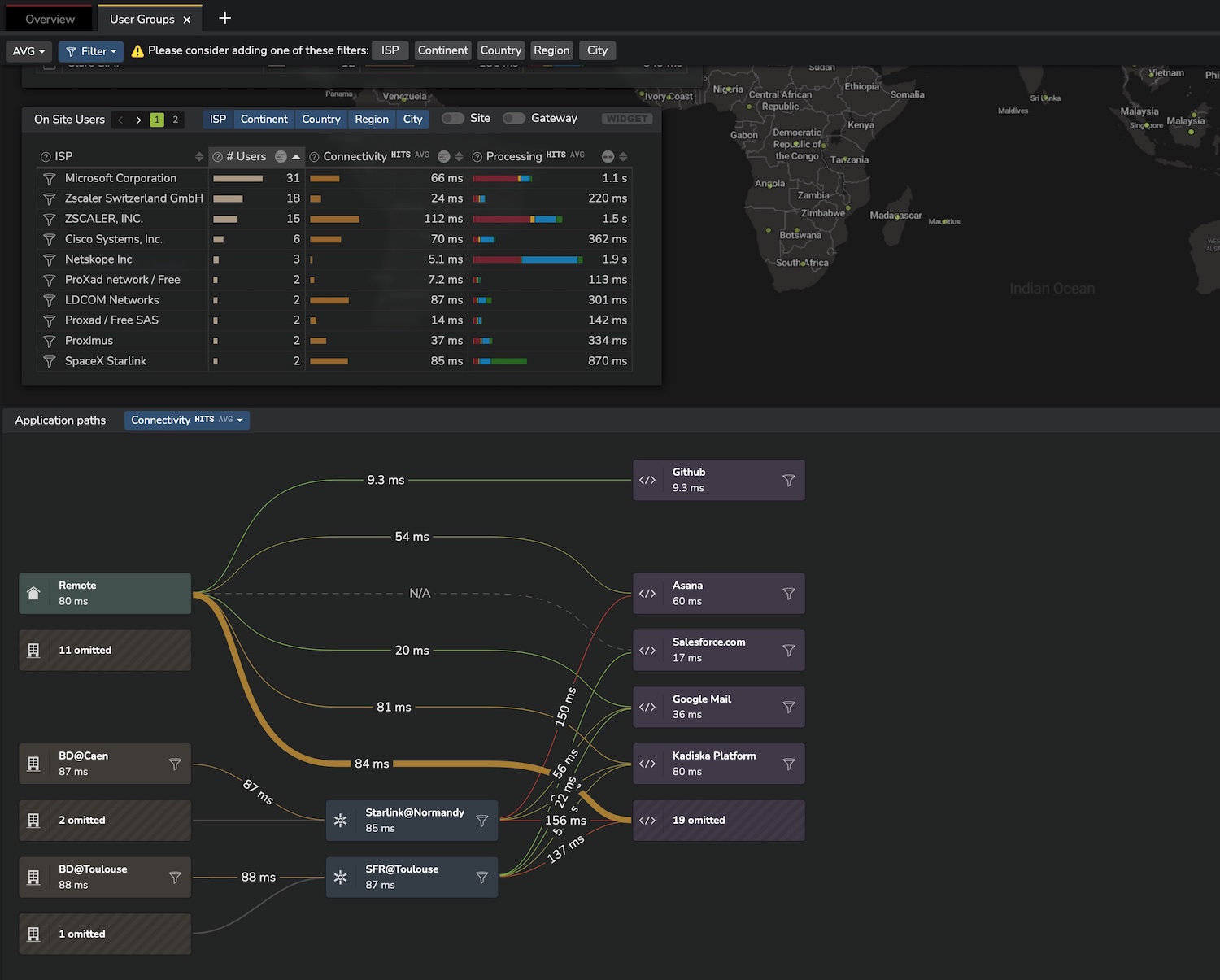 With this level of insight, IT professionals can detect any productivity-impacting degradation within seconds, and can determine its root cause within minutes: whether it user device or browser, ISP, extended network (SASE/CASB, VPN, SD WAN, hybrid network, etc.), cloud, SaaS or third-party solution provider. Kadiska customers say they can reduce MTTR from weeks to hours for even their most complex It issues.
Other Considerations
While Cisco has complementary solutions that can provide different degrees of monitoring (AppDynamics, Titration, etc.), users find they are expensive and specialized to implement, and not fully integrated without significant configuration.
Kadiska's SaaS-centric platform can be deployed in minutes, and scaled from a regional footprint to global coverage cost effectively. Its surprisingly simple licensing model makes it easy to predict and manage cost without the premium pricing Cisco is associated with.
Kadiska, Try it for Free
See Kadiska in action or get a free trial to explore how it works in your environment. It's a ThousandEyes alternative that's gaining traction and recognition within large multinational enterprises
It's worth a look if you're facing a hybrid workforce, SaaS and web applications, a complex hybrid network and a multi-cloud infrastructure.