Why Retail Digital Transformation is Essential
The retail industry needs to digitally transform to remain competitive in today's rapidly changing retail landscape. While ecommerce and omni-channel selling takes off, retailer locations are more important than ever to differentiate from online-only retailers. Traditional retail chains that have successfully embraced digital transformation deliver significantly more shareholder value from more efficient operations, have a higher employee retention rate and drive down the cost of inventory.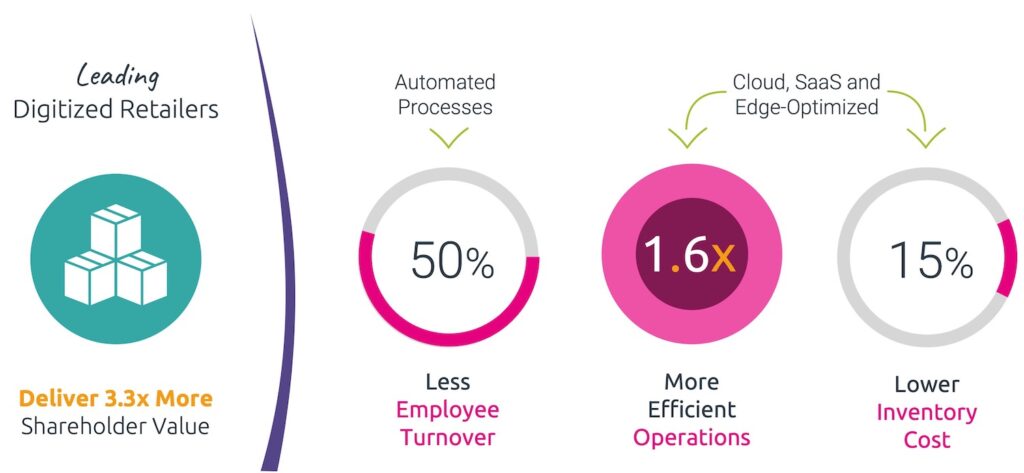 Source: McKinsey 2021
All of these changes are made possible by cloud-based retail applications, retail PoS systems, digitized retail operations, and a retail app ecosystem that enables employees to be more productive and serve retail clients better across their retail locations. It's clear that digital transformation for retailers benefits their customers, same store sales and the bottom line.
Modern Digital Retail Locations and Applications
Retail digital transformation results in a more complex IT infrastructure, with retail apps and systems powered by cloud, SaaS and PaaS. Self-checkout and advanced point of sale terminals depend on third-party payment processing solutions. In-store WiFi has become critical for both employees and customers. Phone and conferencing solutions rely on cloud VoIP and unified communications-as-a-service (UCaaS) systems. Inventory is stored in the cloud to synchronize all stores, warehouses, logistics and suppliers.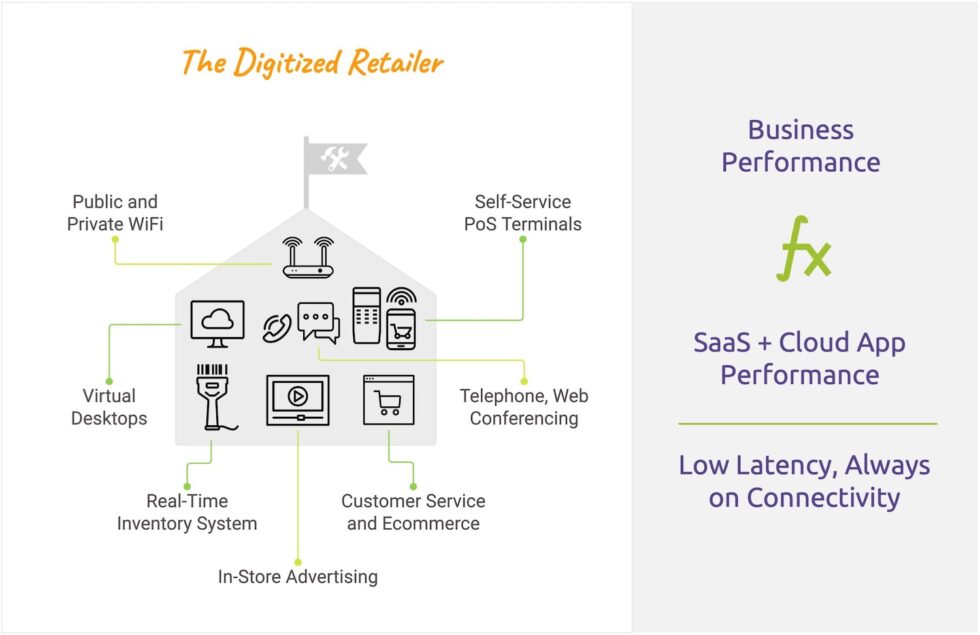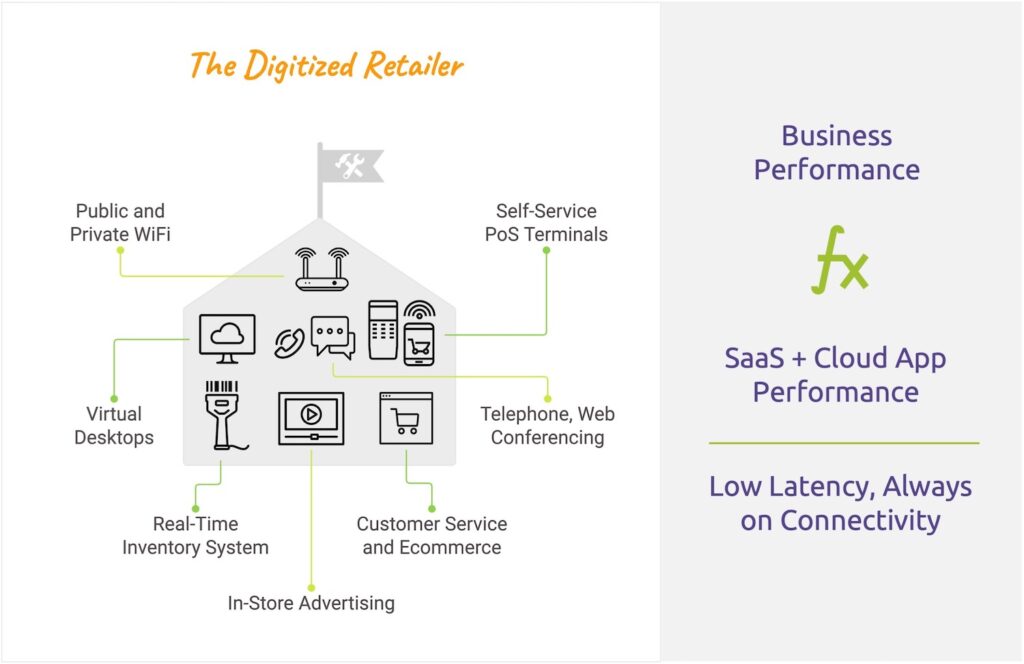 In these new digital retail locations, nearly all retail apps and systems require high-performance network access between branches, data centers, SaaS applications and the cloud. Business performance becomes a function of application performance, which depends on low-latency, always on connectivity.
Cloud-Based Digital Retail Infrastructure
Great connectivity means productive staff, connected customers and retail applications. The adoption of cloud and SaaS require more bandwidth than legacy systems, and connectivity to cloud and the internet are now more important than the WAN between stores. Security is also a major concern, with highly private customer and retail data that are now a retailer's most precious asset.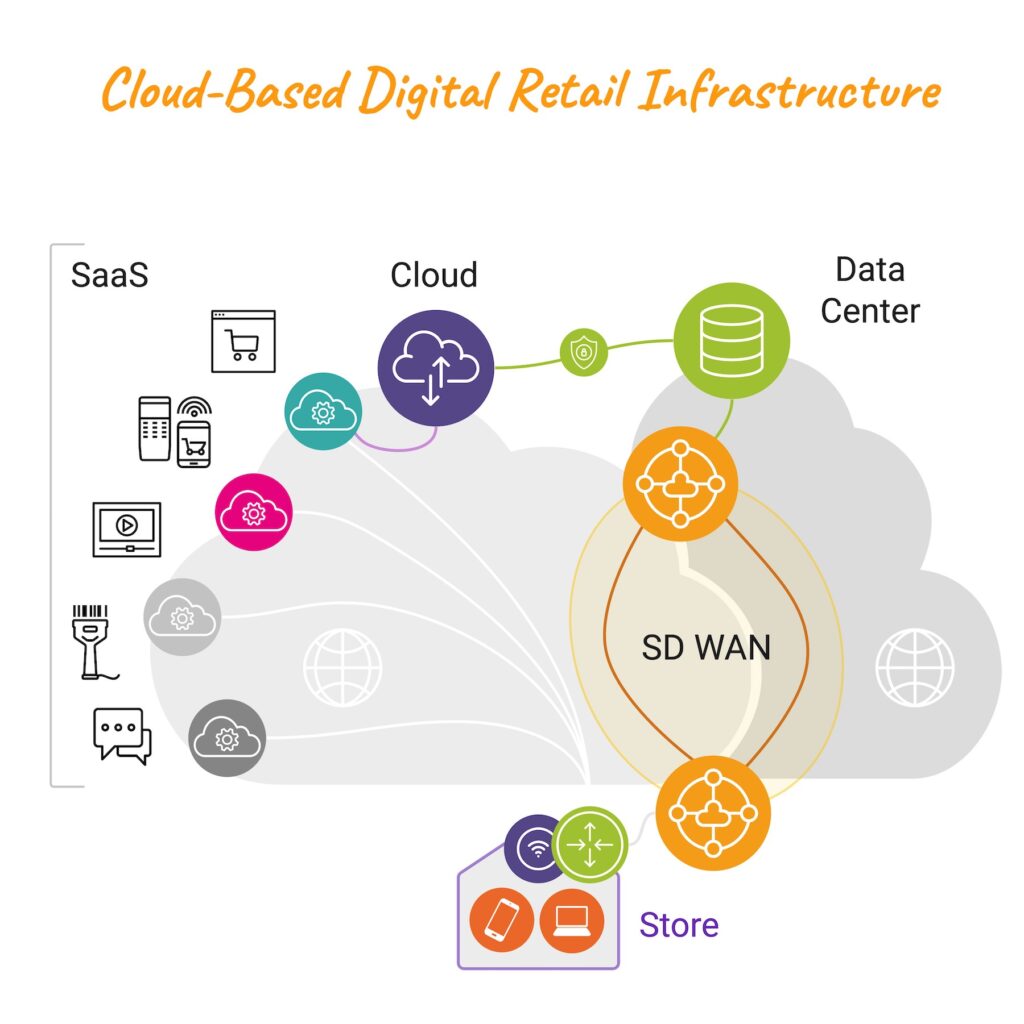 MPLS and private line connections that traditionally formed the backbone of retail WANs is a costly option in the face of this new connectivity matrix and the increased capacity digital retail locations require. This has fueled retailers to migrate retail locations' connectivity to SD WANs that leverage and combine multiple internet connections (and mobile, private Ethernet and other access technologies) to provide highly reliable, high bandwidth connections at a fraction of the cost.
Retail Industry Digital Performance Challenges
SD WAN, SaaS, the cloud and the adoption of mobile retail applications create a more demanding, dynamic digital infrastructure for retailers' IT teams to deploy and maintain. The complexity of this new, modern digital retail platform results in new challenges that all need to be addressed to ensure retail applications run at peak efficiency. Here are the top retail industry digital performance challenges: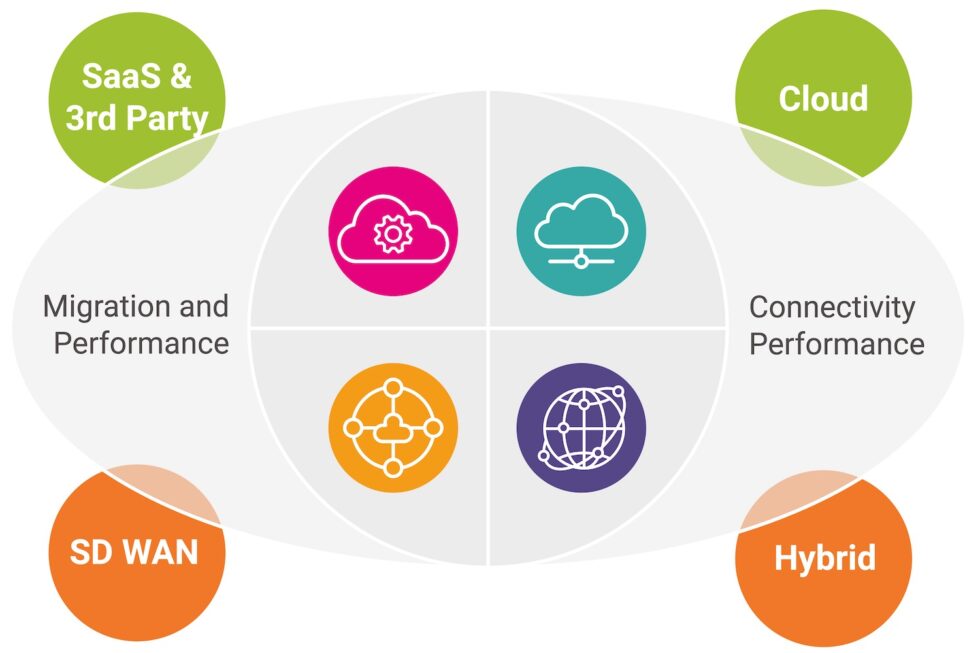 Efficient SD WAN migration and performance optimization
Optimized SaaS deployment and application performance
Reliable, low latency cloud connectivity (between clouds, data centers and retail locations)
Hybrid application and connectivity performance
Delivering best-in-class digital experience to employees and customers
Traditional network performance monitoring and application performance monitoring (NPM/APM) systems were designed for traditional, private applications and data center connectivity, resulting in significant blindspots across this new, cloud-powered digital retail infrastructure. A new approach to network performance monitoring, retail application and digital experience monitoring (DEM) is required to ensure retailers can maintain peak business performance.
Monitoring Digital Retail Industry Infrastructure
Retailers' IT organizations' embracing digital transformation quickly discover visibility gaps that prevent them from efficiently migrating to cloud, SaaS and SD WAN. Without the ability to understand the relationships between network performance, application performance and digital experience they suffer setbacks due to unforeseen performance degradations, project delays and long problem resolution times. While inconvenient in some industries, this kind of disruption impacts business continuity in retail, where margins are razor thin.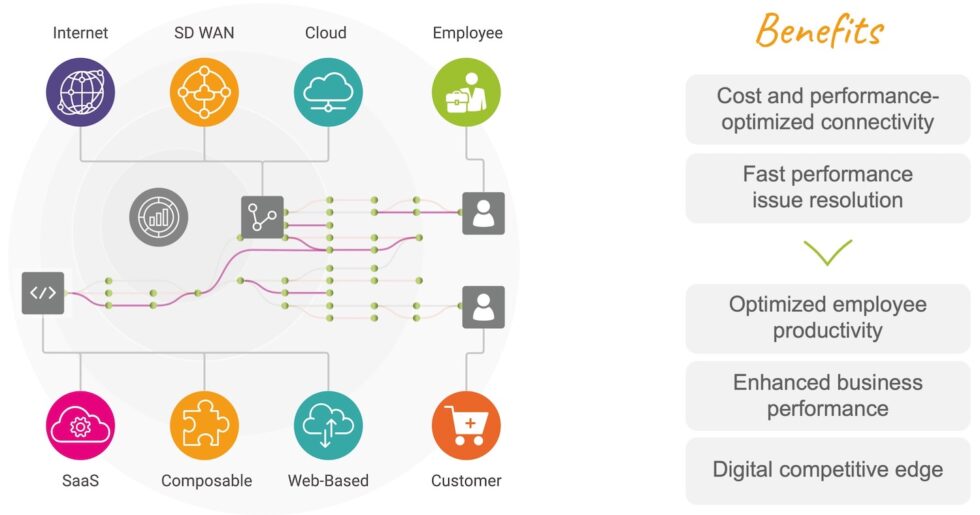 An effective digital retail infrastructure and application monitoring platform needs to cover the following use cases:
In-depth network path and performance visibility into hybrid networks, in-store WiFi, SD WANs and the underlay networks they employ. It's critical that retail IT teams can identify the origin and scope of network performance issues so they can efficiently collaborate with service providers to resolve them.
SaaS, web and cloud-based application performance monitoring, so issues affecting app responsiveness and availability can quickly be isolated to their underlying root cause: device, browser, network connection, cloud hosting, application provider or integrated third-party services.
Real user digital experience monitoring (RUM / DEM) to put performance issues into context: who's affected, for what applications, across what locations, and for what kinds of application transactions? Are network issues affecting retail app performance or not?
When integrated analytics combine these three viewpoints, retailers gain 360° visibility into their digital retail infrastructure. This allows different teams (NetOps, DevOps, IT Ops, suppliers and service providers) to collaborate efficiently: The domain(s) or group(s) responsible can be accurately identified without having to manually correlate data from multiple monitoring systems and tools.
Case Study: Maximizing Digital Retail Performance at Leroy Merlin
Kadiska works with a variety of market leading retailers who use our platform to monitor their digital retail platforms. Leroy Merlin–a leading home improvement, decorating and gardening retailer—is a Kadiska customer that faced many of the challenges that digitally transforming retailers encounter.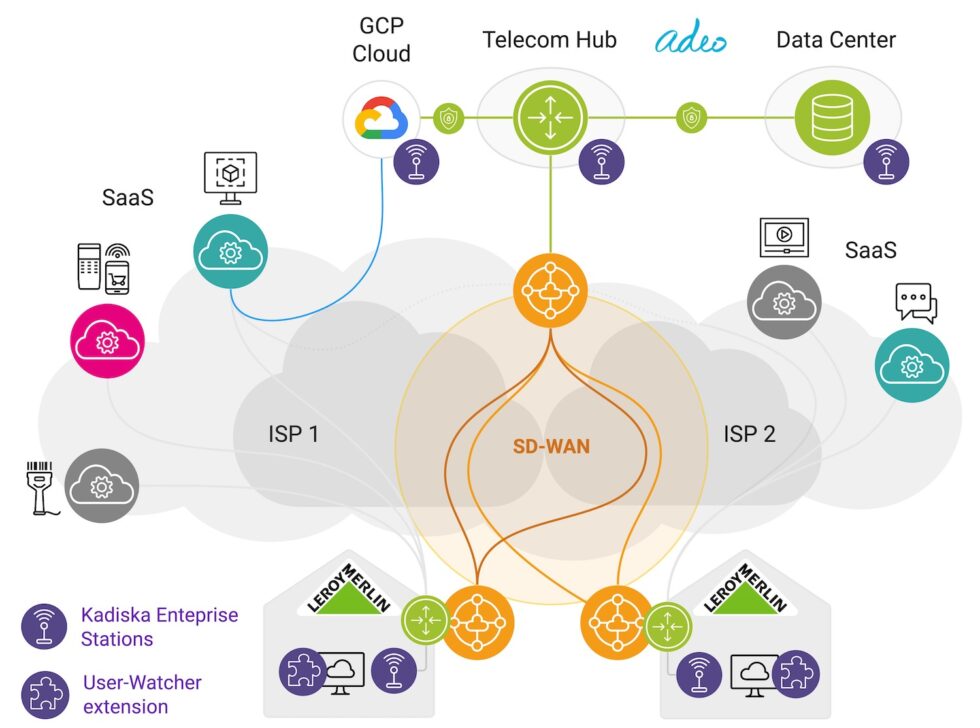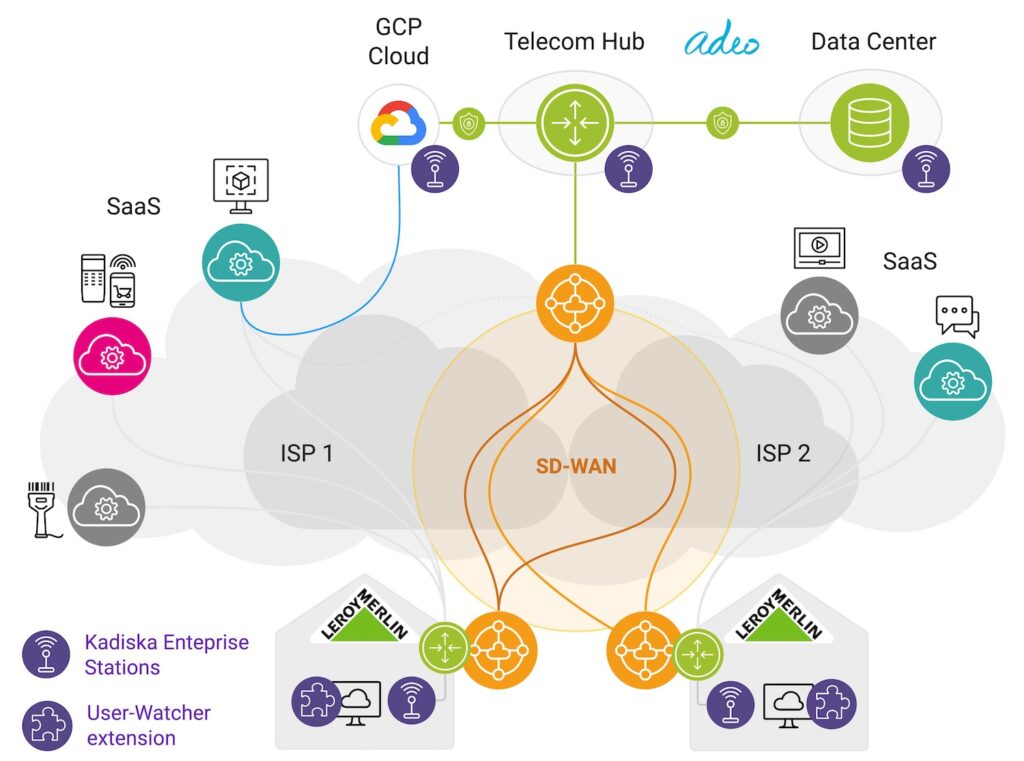 Leroy Merlin, a member of the Adeo Group, has over 250 retail stores across 15 countries, and 30,000+ employees that rely on a wide variety of cloud, SaaS and mobile apps to stock shelves, serve customers and run their stores. Akin to Home Depot or Lowe's home renovation retail chains in North America, Leroy Merlin is a household name that consumers trust and depend on.
Leroy Merlin faced two key challenges:
Resolving SD WAN performance issues across stores, sites, clouds and SaaS providers
Enhancing digital experience of employees accessing cloud and SaaS retail applications in-store from virtual desktops and mobile devices
Their main objectivs were to reduce mean time to resolve incidents (MTTR), enhance network performance and collaborate more effectively with cloud and connectivity providers. Kadiska worked with Leroy Merlin and Adeo's IT organizations to gain end-to-end visibility across all applications, retail locations and users. After only a few months, they achieved their goals and deliver important benefits to the business:
Reduced MTTR from weeks to hours
Improved business performance at retail locations
Enhanced employee productivity and decreased turnover
Learn how Kadiska helped Leroy Merlin overcome these challenges and achieved their goals by reading the case study, or watching the webinar.