Kadiska is Transforming Digital Experiences with Seamless Monitoring to SaaS and the Cloud
The following is a summary of the CIOReview article naming Kadiska as a most promising digital experience solutions provider, and the reasons behind that award.
The visibility of user experience (UX) has never been more important in assisting firms to remain competitive and effective as they adjust to the new, remote working paradigm.
However, IT teams struggle to maintain visibility between users and the applications they use due to changing trends like the quick pace of digital transformation, the explosive growth of cloud use, and traffic encryption capabilities. The ongoing use of antiquated technologies and the absence of essential monitoring tools make it difficult for businesses to identify and treat problems with the digital experience.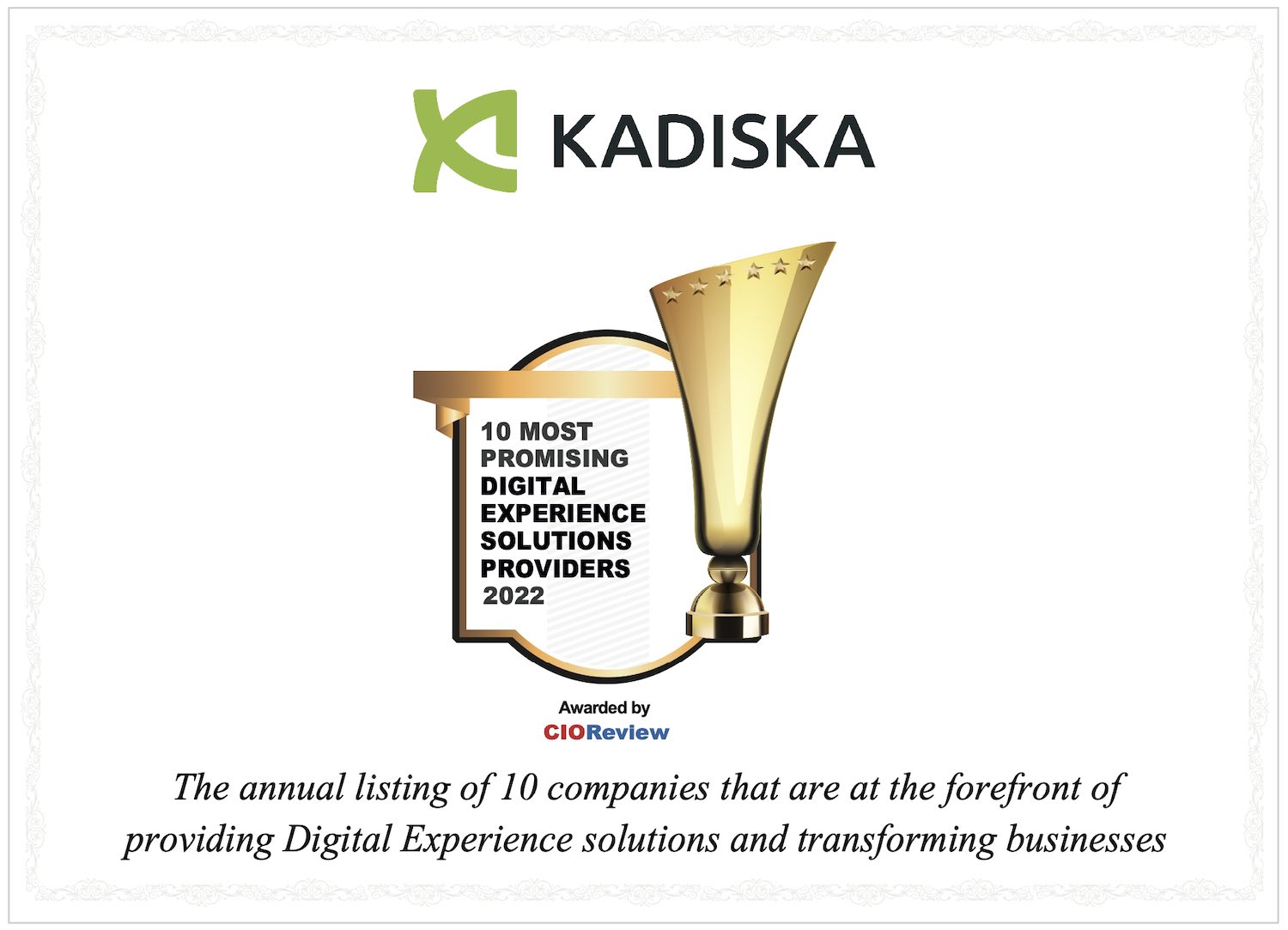 We now have Kadiska, a top platform for digital experience monitoring (DEM), which offers end-to-end network and application performance visibility into employee and consumer experiences. Kadiska is a SaaS-based monitoring solution that is non-intrusive, quick to deploy, and requires little upkeep.
It improves transparency in networks secured by SASE/CASBs, content delivery networks (CDNs), and internet-based SD-WANs that connect users to SaaS applications running on dynamic cloud platforms from anywhere.
Kadiska provides a thorough network path analysis in addition to end-user experience measurements to find issues affecting visibility, connection, and security across hybrid networks. It identifies how SaaS, web-based, and hybrid applications affect business performance and employee productivity and enables IT teams to work effectively with service providers to address performance concerns.
"We offer a unified view that bridges network and IT operations with SRE/DevOps and helpdesk teams, allowing them to regain visibility into network and application performance and their impact on user experience," says Gilles Huguenin, CEO.
Kadiska's Fortune 1000 clients are global leaders in the aerospace, transportation, telecom, natural resources, digital advertising, industrial equipment, and IT service provider industries. The platform can handle a wide range of difficult use cases due to its capacity to quickly correlate with network infrastructure and performance testing and identify issues as they are experienced by consumers.
Network testing capabilities reveals the source of the issue, be it a SaaS vendor, cloud provider, or ISP, while the UX metrics assist clients in precisely detecting and localising connectivity issues. From the user's point of view, Kadiska analyses network performance and spots issues caused by subpar browser performance and other unnoticed elements. Clients can use it to find and fix regional performance issues that affect both onsite and remote personnel. A global network of managed Kadiska test stations is available for customers to use as part of the platform.
Kadiska excels in delivering automated insights across user experience and group performance based on location, transaction, and device. This is accomplished by correlating UX and network performance testing. As a result, IT teams can quickly ascertain whether user-impacting issues are caused by the network, an application, a browser, or the cloud.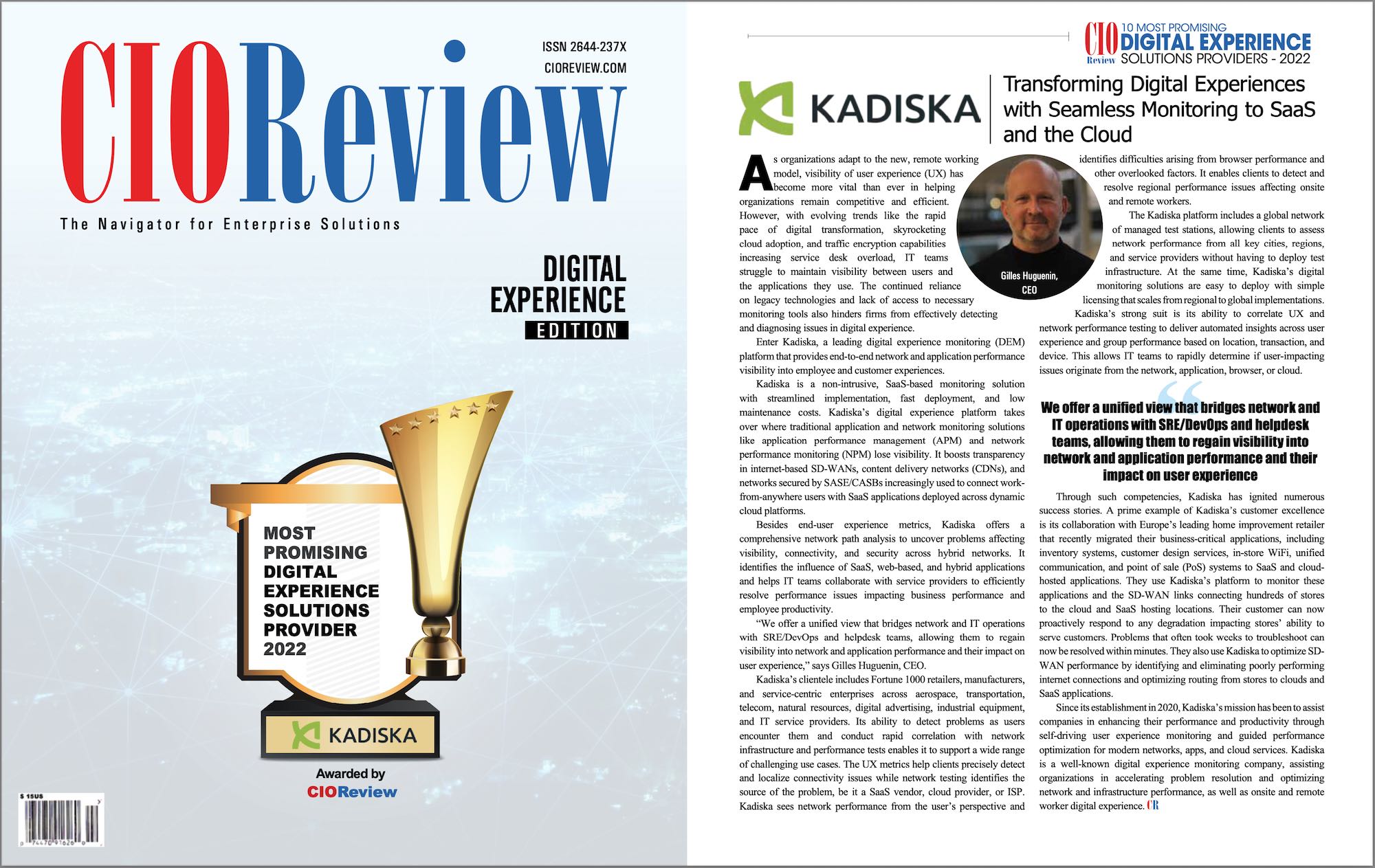 Kadiska has ignited several success stories through these skills. Kadiska's partnership with Europe's top home improvement retailer, which recently migrated their business-critical applications, including inventory systems, customer design services, in-store WiFi, unified communication, and point of sale (PoS) systems to SaaS and cloud-hosted applications, is a shining example of its commitment to providing exceptional customer service. They keep an eye on these applications as well as the SD-WAN links linking hundreds of stores to the cloud and SaaS hosting facilities using the Kadiska platform.
Now, their customer can proactively react to any deterioration affecting the capacity of retailers to service customers. Problems that once required weeks to address can now be fixed in a matter of minutes. By identifying and removing underperforming internet connections and improving routing from stores to clouds and SaaS apps, they also employ Kadiska to improve SD-WAN performance.
Kadiska's aim has been to help businesses improve their performance and productivity through self-driving user experience monitoring and guided performance optimization for contemporary networks, apps, and cloud services since the company was founded in 2020. A well-known provider of digital experience monitoring services, Kadiska helps businesses improve network and infrastructure performance, as well as the digital experiences of both onsite and remote workers.