IT Service Management Requires Digital Experience Monitoring
IT service management is one of the most essential elements of a well run IT infrastructure. The best IT infrastructure monitoring (ITIM) software maps out services, servers, cloud and non-cloud applications and hosts, virtual and physical network elements and devices, ensuring that there is a clear view of inventory and assets, and helping IT professionals manage IT services with clear visibility across their sites, data centers, clouds, servers and user devices.
IT infrastructure monitoring tools, however often lack visibility into user digital experience, SaaS application performance and internet-based networks that interconnect them. Monitoring the effectiveness of end-to-end IT services and IT infrastructure is insufficient to evaluate a company's performance; additional monitoring of the quality of internal and external customer experiences is required. Even the best IT infrastructure monitoring software is limited without insight provided by application performance and real-user monitoring.
Extending IT service management and infrastructure IT monitoring tools with digital experience monitoring capabilities is increasingly important to detecting, troubleshooting and rapidly resolving application performance and user experience issues affecting business performance and productivity.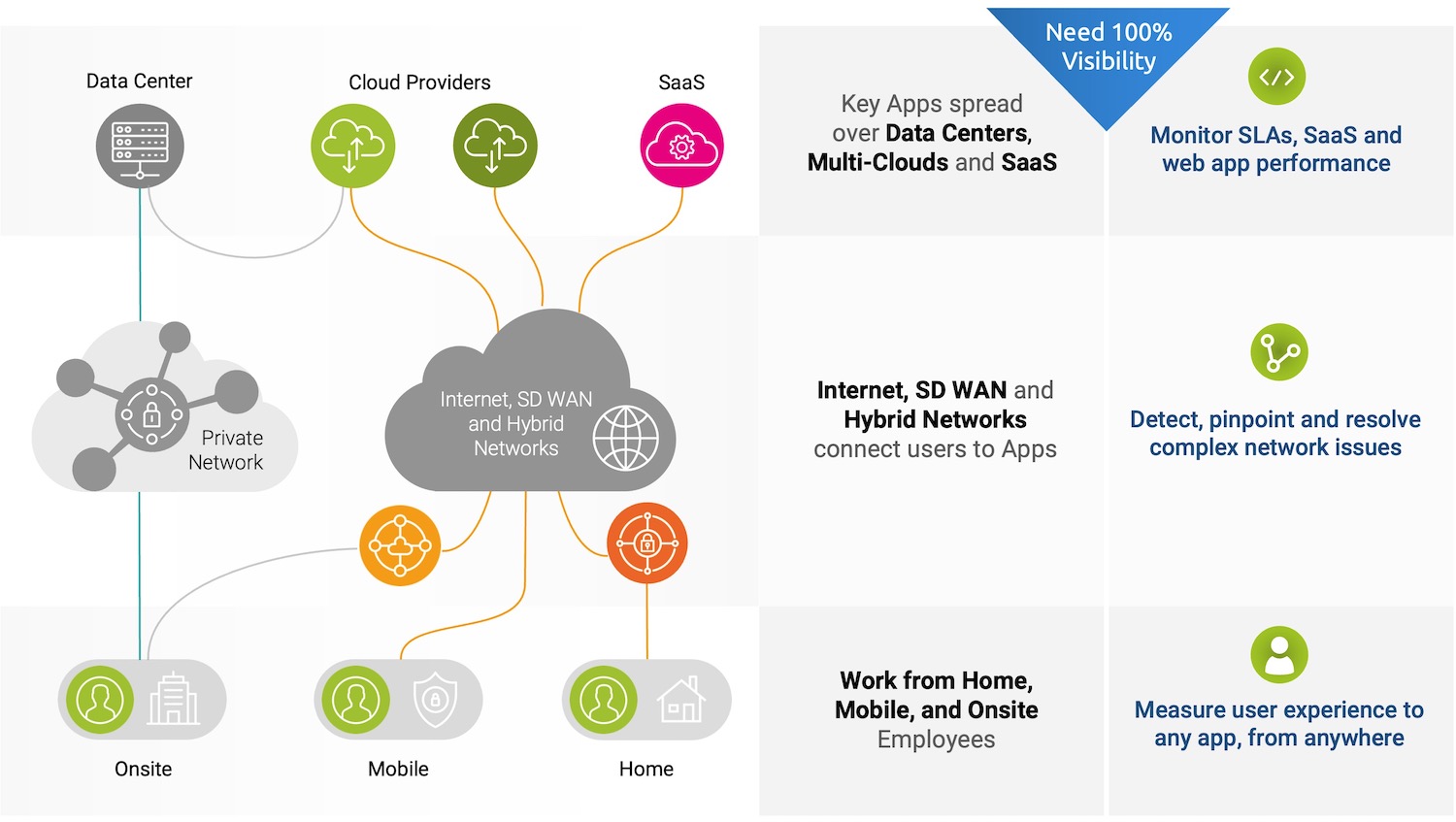 Consider the fact that the majority of user-reported issues are hidden from traditional network and application performance monitoring tools. Without a digital experience management platform to guide IT operations and the service desk workers lose an average of 2 hours a week due to:
unresponsive software
frequent micro-outages
degraded Microsoft Teams or Zoom calls
slow downloads, and difficulty accessing cloud storage *
With apps scattered over numerous clouds and SaaS providers, hybrid workers dispersed across work from home, remote and onsite locations, and diverse, interconnected networks in between, it can be difficult to determine who is affected and where issues originate from.
IT service management specialists need knowledge of how the performance of clouds, SaaS hosting, the internet, and zero trust networking affects employees' digital experiences in order to quickly discover, diagnose, and resolve these problems.
* Source: The Digital Experience 2020 Report
IT Monitoring Meets Digital Experience Management
IT service management enriched with digital experience monitoring empowers IT professionals to spot issues and reduce the probability of service degradation impacts: the knowledge required to proactively optimize the performance of critical SaaS, web and cloud-hosted applications is provided by a combination of synthetic network performance monitoring and actual user transaction data.
With this in mind Centreon extended its IT monitoring capabilities to Digital Experience Management (DEM) by incorporating real-time performance and user experience monitoring insights from Kadiska.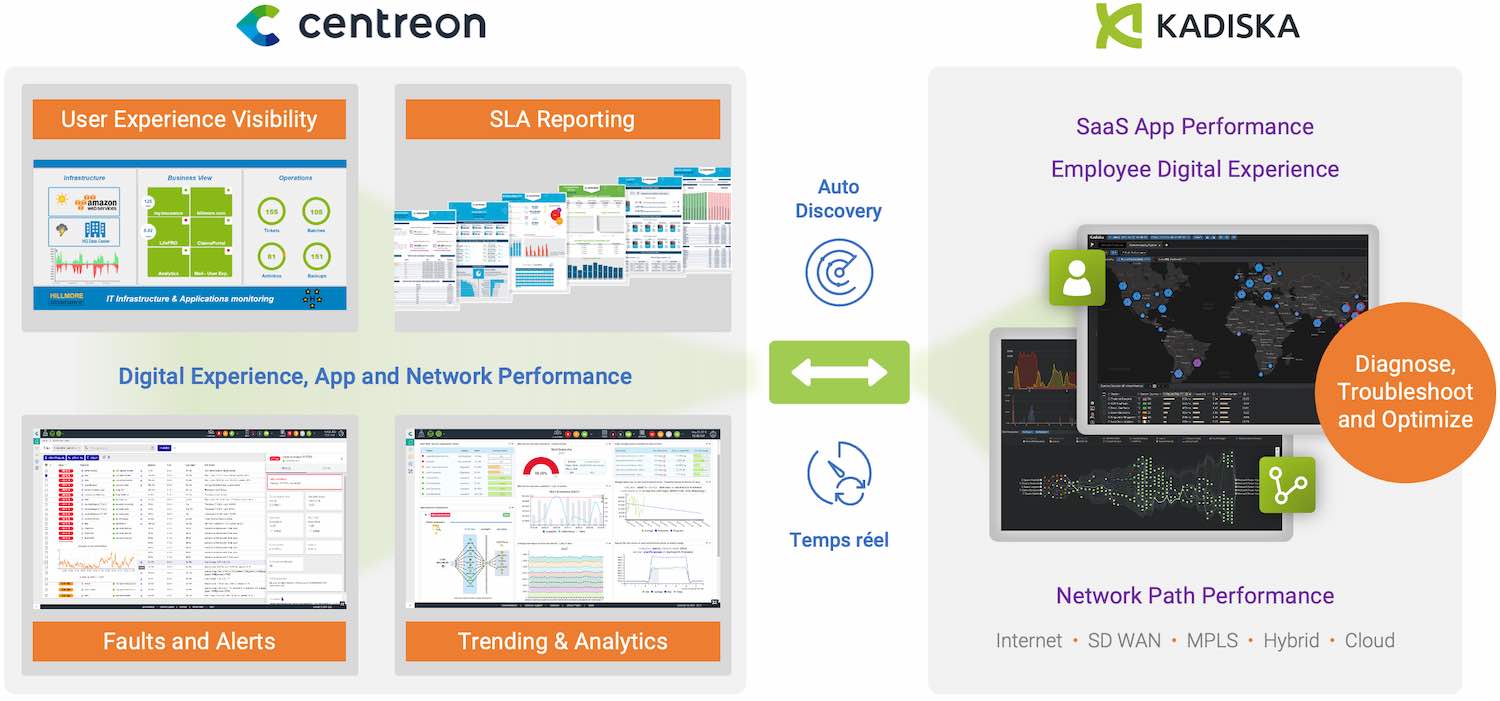 By integrating digital experience monitoring into the Centreon IT service management platform, IT organizations gain complete visibility across their IT services, IT infrastructure and their users' digital user experience across web, SaaS and hybrid applications.
The Centreon IT monitoring platform automatically discovers digital experience management KPIs, streaming data feeds and alerts from the Kadiska platform, bringing them into context of IT infrastructure, IT services, cloud and non-cloud application components and servers, and their dependencies.
This integrated viewpoint comprehensively covers user experience, network connectivity, cloud and non-cloud, applications and business processes to optimize performance and the bottom line.
Kadiska's Digital Experience Platform
Employee Digital Experience Monitoring
Analytics from real-time network and user monitoring integrate app response times from user devices to SaaS and cloud locations non-intrusively. This provides detailed visibility into foundational infrastructure layers, including network setup (DNS, TLS), internet routing, CDN, cloud, page load, and API processing, to capture the impact of session setup, redirections, and host performance on SaaS and cloud applications.
In order for businesses to deliver and manage a productive digital experience anywhere, at any time, Kadiska monitors SaaS and web application delivery performance and stability across every user, device, region, and network—whether employees work from home, onsite, or hybrid combination. This ensures hybrid connectivity, CASB/SASE, VPNs, and CDNs perform at their best.
Kadiska's User-Watcher
The User-Watcher is a browser add-on that records session metrics for transactions for SaaS and modern web apps in real time without requiring the installation of a software agent. Only business critical services are monitored in order to adhere to enterprise security regulations.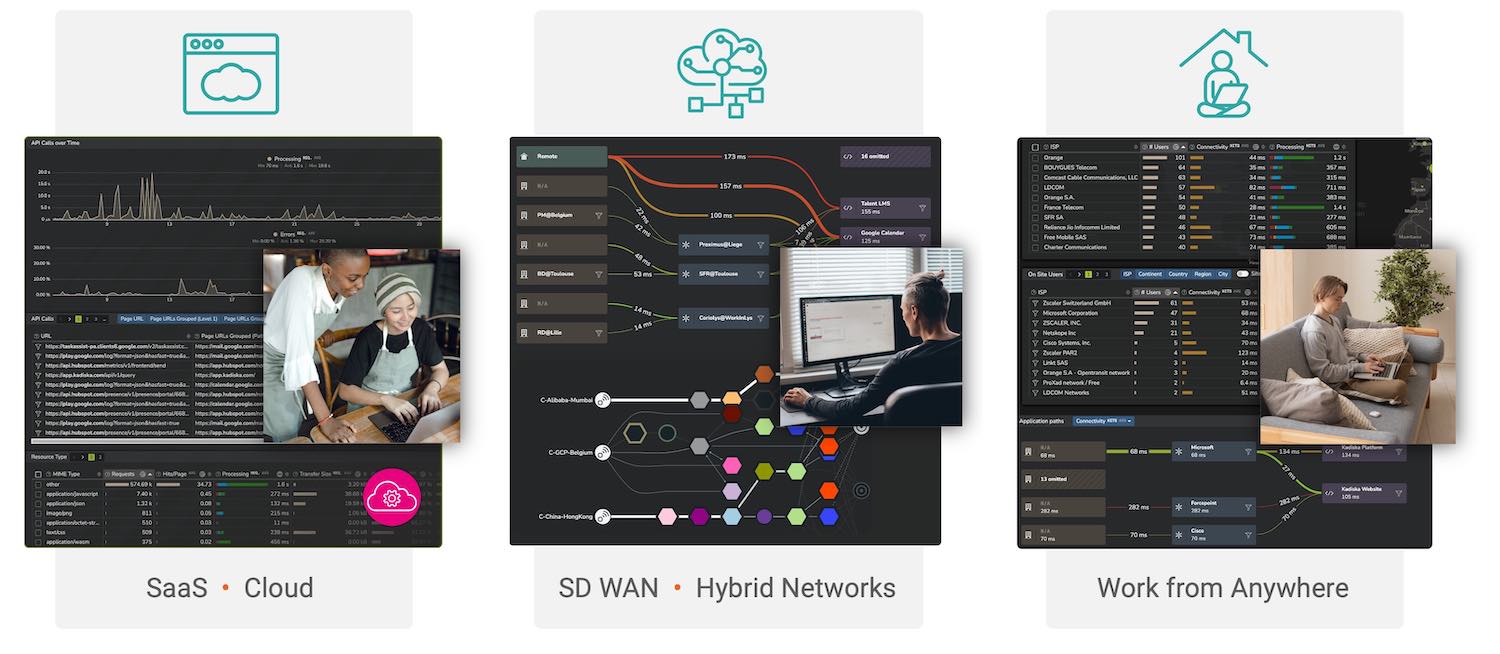 Hybrid Connectivity Performance Monitoring
Kadiska's digital experience platform keeps track of hybrid connectivity performance to web and SaaS applications, hybrid applications and multi-cloud architectures to uncover hidden problems in the complex networks that support your business. A worldwide network of test stations continuously monitor network performance to business-critical SaaS, web and cloud applications to identify regional connectivity problems. This allows IT service management, IT and network operations teams to track down problems with SD WAN and hybrid connectivity from the user and application perspectives.
In order to pinpoint the region and layer where performance degradations originate, Kadiska monitors the performance of SD WAN overlays and underlay networks, ISPs, DNS, TLS, and applications across user devices, clouds, and apps. As a result, businesses can maximise the performance and financial benefits of SD WAN while providing dependable access to SaaS, clouds, and data centers.
Kadiska's Net-Tracer
Performance of DNS, path, latency, TLS, and HTTP from any location: Net-Tracer is a synthetic test that offers thorough analysis of the network's performance and path from start to finish and hop by hop. By integrating this capability into the Centreon IT infrastructure monitoring, users are informed of any variation that affects user experience via the Kadiska platform.
Kadiska's digital experience platform seamlessly integrates into the Centreon IT infrastructure and service management platform, bringing IT monitoring, network path performance and application performance and digital experience monitoring together.
Learn how this unified perspective can assist you in managing and proactively optimizing productivity and the digital experience in the context of your organization.