Release Date: 7 June 2022
64% of enterprises report they lack sufficient monitoring tools to rapidly detect and resolve application and network performance issues reported by work from home and branch office employees, locations that redefine the network edge.1 With over 80% of enterprise applications now SaaS or hosted in the cloud, network traffic is highly distributed and challenging to capture and analyze.2
Profitap and Kadiska address this visibility gap by combining traffic monitoring and analysis at the network edge, combined with network and path performance and digital user experience monitoring. This seamless view from user device to SaaS and web applications — across all network links and locations — allows IT and network operations to regain control over the complexity introduced by decentralized sites, SaaS, hybrid clouds and applications, SD WAN and public networks.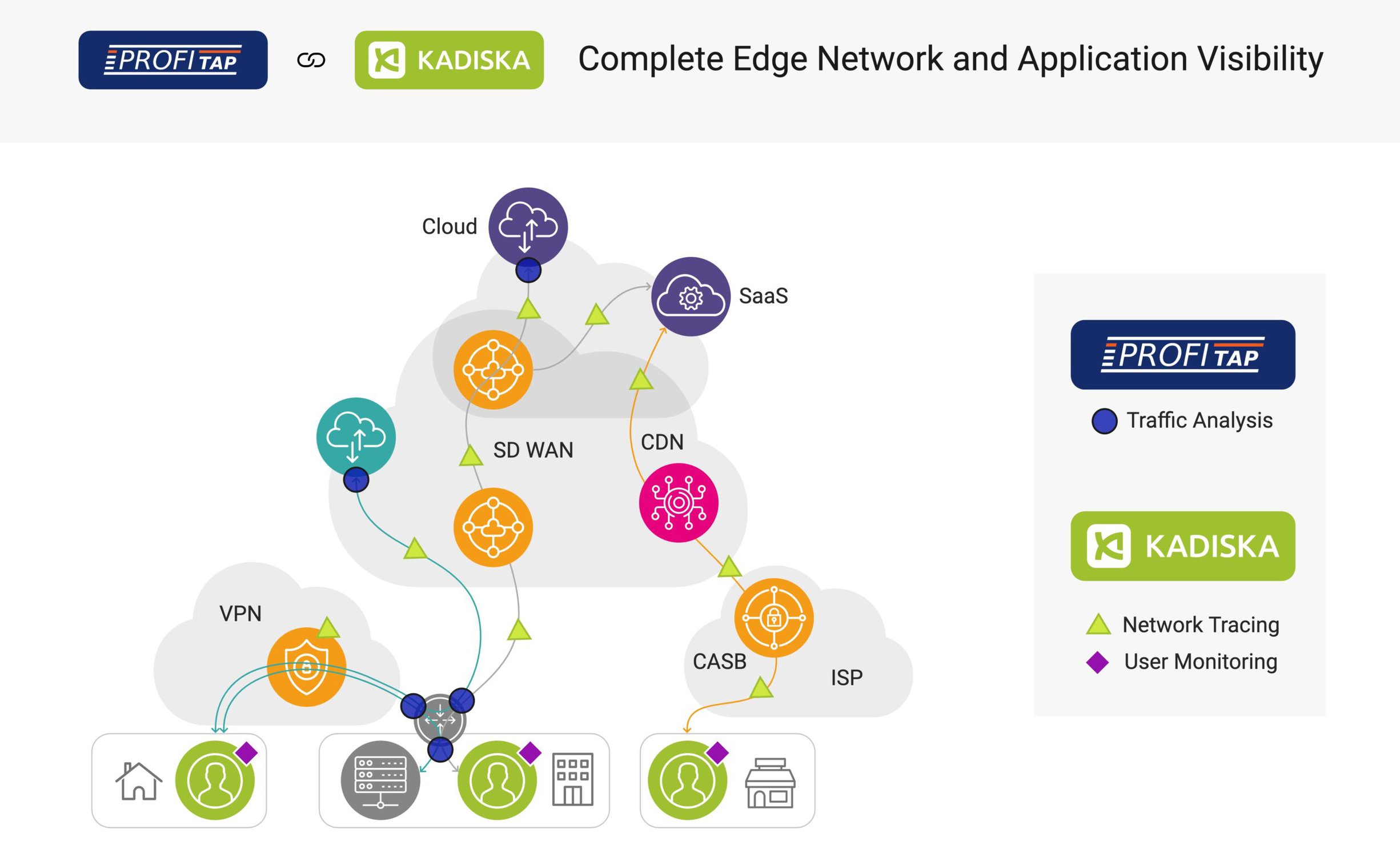 The resulting solution delivers important benefits:
Accelerated problem resolution with guided fault identification, segmentation and diagnosis,

Intelligent analytics to proactively optimize end-to-end infrastructure performance and scalability,

Enhanced remote and onsite employee digital experience and productivity. 
Laurent Schirck, CTO at Profitap explained that with Profitap and Kadiska joining forces, "It's now easy to regain visibility and control over edge network locations. It's simple to deploy these complementary solutions at enterprises with highly distributed sites, dynamic networks, and cloud-hosted applications". Boris Rogier, Kadiska's co-founder and COO added, "With IOTA from Profitap providing visibility into network usage and performance at the edge, Kadiska extends coverage to cloud and SaaS connectivity as well as real user performance monitoring."
Together, the solutions uniquely offer seamless monitoring and analytics from problem detection to resolution to deliver enhanced business productivity.

About Profitap
Profitap develops and manufactures hard- and software solutions that drive network visibility and analytics on all traffic across physical and virtual infrastructures. These network visibility solutions are designed with the security, forensics, deep packet capture, and network & application performance monitoring sectors in mind.