Digital Employee Experience Monitoring
Maximize digital employee experience and productivity from every region, location and application.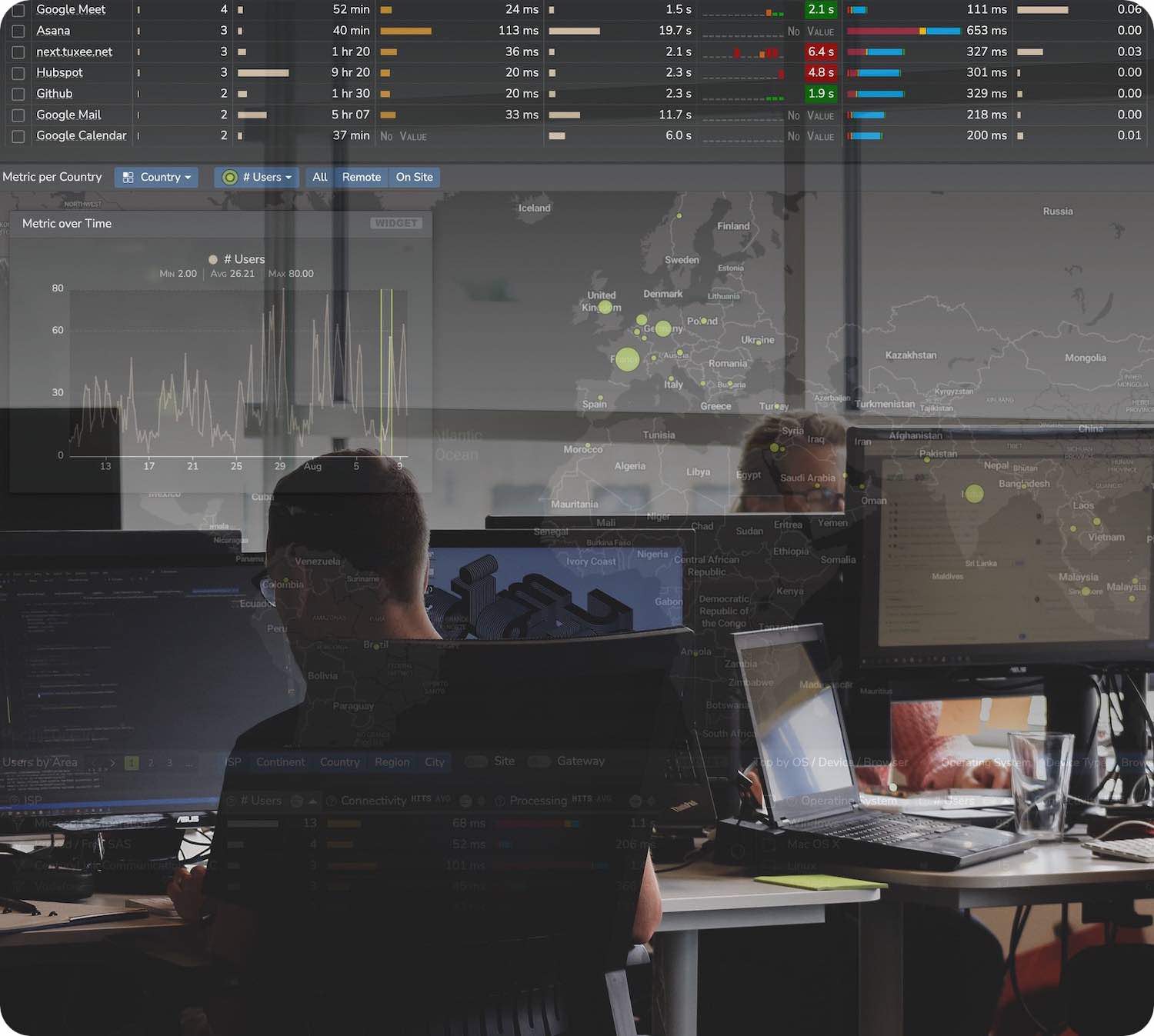 Your employees rely on SaaS and internal applications from your offices, branches and home-offices. They require an outstanding digital experience to maximize their productivity and conduct business operations efficiently.
At the same time, applications and digital workspaces have shifted completely in the last years:
What are the Problems Solved by Kadiska?
Traditional performance monitoring struggle to address the new digital workspace:
Kadiska delivers 100% visibility on SaaS – SaaS performance is a gap both for NPM and APM solutions.
Kadiska brings 100% clarity on SD-WAN and Cloud infrastructure levels – SD-WAN and secured web gateways bring visibility challenges by multiplicating possible paths, dynamic behaviors and overlays and underlays.
Kadiska monitors user performance, whatever the application, wherever users are located – IT helpdesks struggle to deliver end user support to remote workers (WFH) complaining about application performance. User Performance for All Apps
Kadiska's analytics engine stores and manages the digital experience of all applications:
Internal applications (self hosted, cloud hosted) and Internet facing applications
3rd party applications and SaaS (Software as a Service)
Digital Experience for All Users
On site users and remote branch users
WFH (Work from Home) users
Agentless endpoint monitoring
Non-intrusive browser level instrumentation
Low overhead analytics generation
Continuous tracking of your users inside your network and working from anywhere
Real User Transaction Tracking
100% of your apps covered
100% of your transactions captured
User performance fault isolation
Kadiska analyzes all user interactions with their applications and breaks down response times between all the infrastructure layers involved (end point operating system, browser, LAN/WiFi, DNS, internet path, CDN, cloud and API processing).
Pay per use licensing model
Deploy widely at a low entry cost
Pay only for users active on the apps you actually track