Digital Customer Experience Monitoring
Digital customer experience monitoring for your web and hybrid applications in context of user location, device, network and application performance.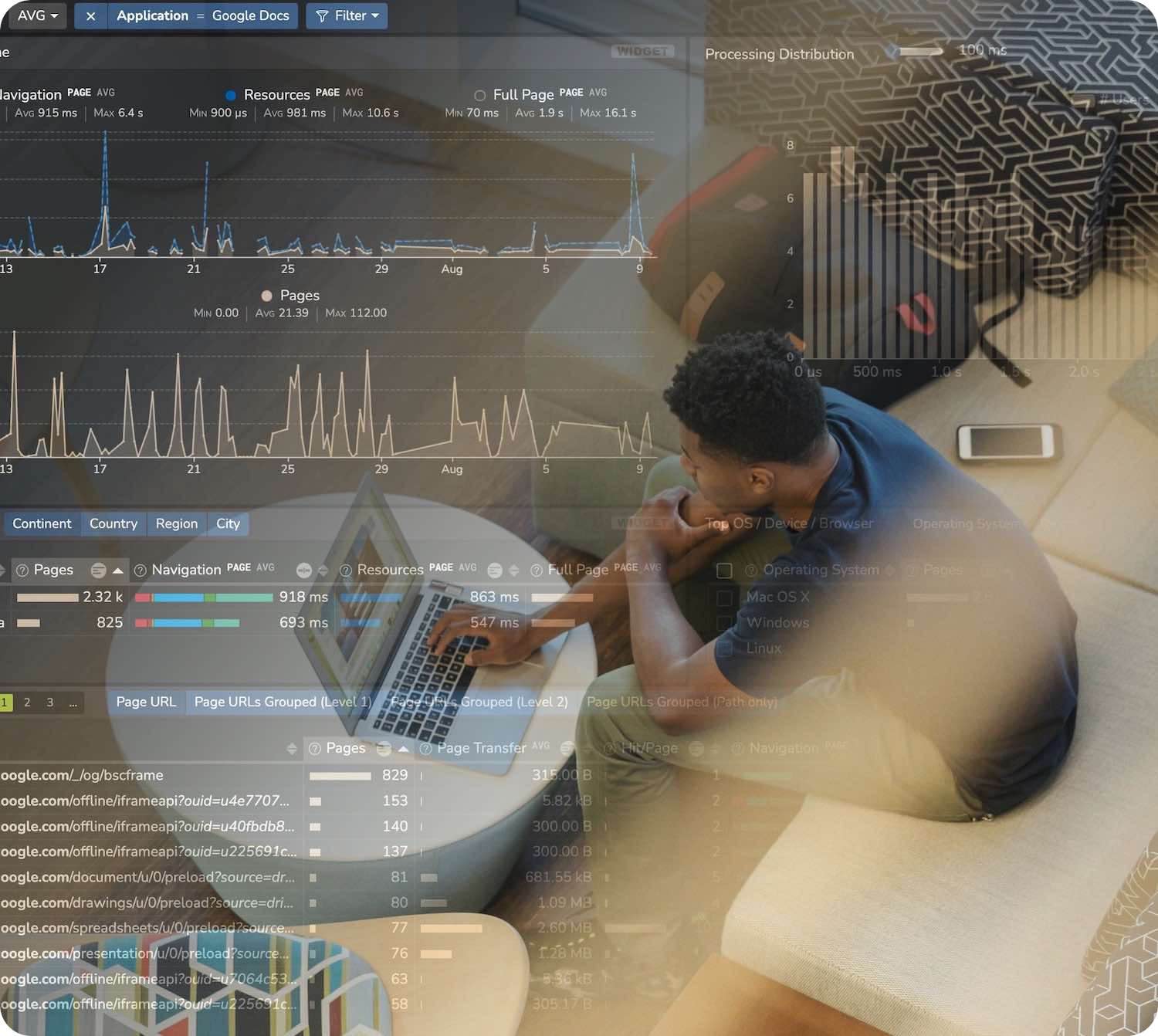 End user response times and errors strongly affect a digital business' efficiency. Digital services and E-commerce in particular are massively impacted by any customer experience degradation:
One second of additional latency costs $1.6Bn in sales for Amazon.
Every second of improvement drives an increase in conversion by 2% at Walmart
A 100-millisecond delay in load time cause conversion rates to drop by 7%
What are the problems solved by Kadiska?
Traditional performance monitoring struggle to address modern apps
Kadiska delivers 100% visibility on modern applications. Traditional APM solutions struggle to instrument new type of cloud infrastructure such as PaaS (Platform as a Service), CDNs and 3rd party services, that drive the experience of your customers.
Kadiska adapts automatically to applications developed using Agile methodologies and DevOps practices. Modern apps rely on CI/CD (Continuous Integration / Continuous Deployment) processes and tools to accelerate the release of new features.
Kadiska monitors digital performance at true global scale. Applications are built to support businesses at a large or global scale. Both cloud hosted services, DNS, CDNs and 3rd party services operate with different level of performance depending on the region and the connectivity available locally. Visibility on user experience at any time
Understand usage patterns (where, volume, what transactions are they using)
Measure load times, interactivity and processing times
Track errors impacting users
Guided performance troubleshooting
Automatically detect the scope of a degradation: when (what changed vs your baseline), for which users (device type, browser, geo location), why (which part got degraded – network, server, content loading, errors)
Guide your team to the root cause through AI based drill down processes: network, DNS, network path, latency / loss, TLS, server, content loading, poor compression / caching, CDN/3P performance
Proactive alerting by a global network of test stations
Managed performance stations testing your app permanently at all layers (DNS, Network, TLS, HTTP)
Leverage a worldwide network of test points to identify any regional issue
Receive real time alerts with clear insights on the root cause
Enhance user experience
Identify performance hogs
Pinpoint infrastructure layer where an optimization can be achieved
Get recommendations to optimize CDN and cloud computing platform based on peer benchmarks